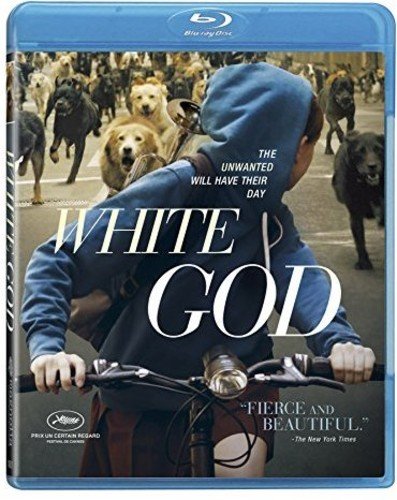 As a certain Italian schlockumentary once reminded us many moons ago, it's a dog's world out there. And some distant cousins of the Italians – the Hungarians – have seen fit to impress that old adage upon us once more, with their multiple award-winning 2014 hit Fehér isten, better known in the English-speaking parts of the world as White God. Here, writer/director Kornél Mundruczó paints his audiences an ugly reminder that – despite our alleged progress when it comes to being humane towards everyone, animal or human alike – we're still just a bunch of stinkin' savages. Ignoring another timeless adage from the world of film – never work with animals or children – Mundruczó brings us a story that is best described as the canine equivalent of a contemporary Planet of the Apes preboot.
After the government decides to impose a mongrel tax upon dog owners with impure breeds on their leads, young Lili (Zsófia Psotta) has to grow up early after her best friend – a seemingly innocent doggie named Hagen – is set free by her father. As our young teenaged lass embarks (ha-ha) on a mission to reclaim her lost companion, Hagen amasses a venerable following of lost, unwanted, and forgotten mixed-breeds – and promptly begins a war on the hu-mans. Snatching up two awards at Cannes, one and the Sarasota Film Festival, and numerous nominations from all over the world, this fascinating (if admittedly flawed) offering from a country that rarely – if ever – has any of its filmic outputs even modestly noted abroad certainly deserves a look-see. Just for that very aforementioned fact if nothing else!
But Magnolia Home Entertainment's recommended release of White Dog isn't the only item of interest this week. As a cult movie aficionado, I am pleased to report the Blu-ray debuts of several classics from the other side of cinema's proverbial train tracks.
Flash Gordon (1980) and The Thing (1982): Two of Universal's crowning classics – neither of which were appreciated when they were originally released to cinema in the early '80s – receive new, limited Steelbook packaging boasting new Mondo X artwork. The duo, which is part of a series, will be sold as Target Exclusives only, I'm afraid – but at least you won't have to walk into Walmart to get 'em!
Ghost Town: Shout! Factory, in-between their numerous Mystery Science Theater 3000 and old school Universal horror movie releases, have picked up the rights for this crazy 1988 horror/western hybrid, which hasn't seen the light of day since it was released on VHS in the late '80s.
Prime Cut and Monte Walsh: Kino Lorber – the company that unabashedly wins this week's award for The Hottest Releases of Coolest Shit – starts out an impressive list of goodies with two Lee Marvin flicks. Prime Cut finds the cinematic tough guy icon cast with Gene Hackman (yes!) and Sissy Spacek; Monte Walsh finds Mr. Marvin cast alongside Jack Palance (yes…again!) and Jeanne Moreau. Be still, my beating heart.
Cherry 2000 / Zone Troopers / Miracle Mile: Even more titles from the folks at Kino Lorber. This batch of cult classics includes the oddball post-apocalyptic title Cherry 2000 with Melanie Griffith; the extremely guilty pleasure of a Charles Band WWII alien invasion flicks Zone Troopers (more about that illustrious piece of work here); and the in-your-face '80s nuclear holocaust masterpiece Miracle Mile. The latter film scared the piss out of me as a kid – and not just because it featured an old John Agar in a supporting role as an imposter Henry Fonda, either!
The Erotic Rites of Frankenstein: The late Jess Franco could construct a movie like no other, having cranked out more movies than even he could remember during his long and varied career as an exploitation filmmaker. Redemption adds yet another sleazy European cult classic to its roster with this tale of construction, destruction, and deconstruction in a bizarre Frankenstein flick that truly defies explanation. Dennis Price, Howard Vernon, and Franco's late wife, Lina Romay, star.
Lost Soul: The Doomed Journey of Richard Stanley's Island of Dr. Moreau: We don't see a whole hell of a lot of releases from the folks at Severin Films much anymore, so it's always nice to see something from them. And here, they most assuredly give us a big "something" – a lengthy documentary from David Gregory as to what really went wrong with that disastrous 1996 Marlon Brando/Val Kilmer version of The Island of Dr. Moreau. Because, 19 years later, inquiring minds want to know.