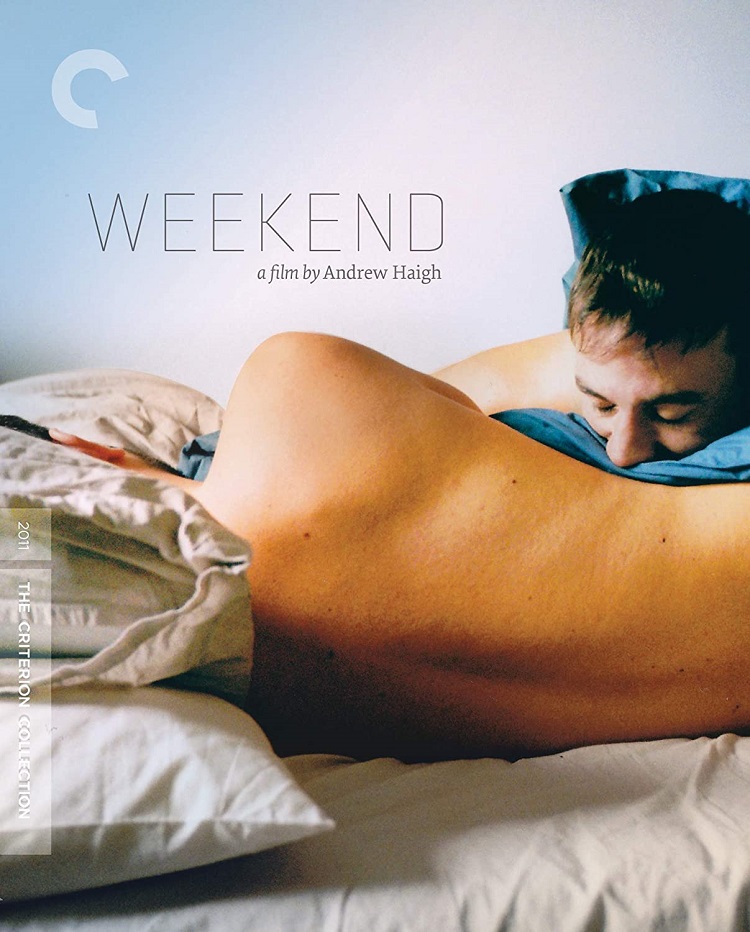 The Film
When I first saw Andrew Haigh's Weekend last year during a blitz of awards-season catch-up, I appreciated its charms but mostly dismissed it as a minor, fleeting work. It was accomplished, well-acted and beautifully photographed, but not what I'd call especially meaningful. I'm glad I got a chance to revisit, courtesy of the Criterion Collection's very nice Blu-ray, because Weekend is hardly insubstantial fare at all, though its ostensible goals may be modest and its timeframe short.
Anchoring the film are two exceptional performances from two relative unknowns, Tom Cullen and Chris New, who star as a pair whose one-night stand turns into something much different over the course of a single weekend. Russell (Cullen) is a kindhearted lifeguard, apparently timid about his sexuality and mostly everything else. New's Glen is a polar opposite — a brash, outspoken aspiring artist who's compiling audio recordings of everyone he's had sex with, the morning after.
A cursory plot summary makes Weekend sound utterly familiar, as the pair's purely physical encounter morphs into much more emotionally vulnerable territory. Certainly the film owes a debt of gratitude to Richard Linklater's Before films, as the concept of a romance of conversation is clearly on display here. But Haigh isn't just making the gay Before Sunrise; there's an inherent truthfulness — both in the frank but tender sex and the increasingly open conversations — that makes it clear Haigh's vision is his own.
Weekend is also a film with a distinct formal vision, a quality that eluded me initially. While the bulk of the film is shot with intimate, handheld cameras — an effective choice if not a novel one — Haigh's bookend shots of static, suffocating high-rise apartments in the English Midlands and highly composed long shots of the pool or traffic are striking reminders of Russell's isolation. Glen's invasion into his personal space is made all the more monumental because of these moments.
And lest you think the film still sounds clichéd or familiar, consider the ever-shifting relational dynamics between Russell and Glen, who are hardly rigid stereotypes, but have the volatility of real human beings. Both Cullen and Glen are a revelation in that regard — one of several in Haigh's very moving, deceptively complex little film.
The Blu-ray Disc
Weekend is presented in 1080p high definition in its original 1.85:1 aspect ratio. Shot digitally, mostly on a Canon 5D, the film makes an effortless transition to Blu-ray here, preserving the image's clarity and rich colors. Detail remains strong even in low-light scenes and there are no signs of excessive digital tampering to be seen anywhere. The 2.0 DTS-HD Master Audio track is mostly a front channel affair, but dialogue is consistently clean and intelligible.
Special Features
Substantial interview segments with Haigh, Cullen, New and producer Tristan Goligher shed light on the conception of the project and the production process. A separate interview piece features Haigh talking about the sex scenes. New's on-set video gives a glimpse behind the scenes, while two audition clips show the beginning stages of Cullen and New's character development.
A piece on set photographers Oisín Share and Colin Quinn also includes some indelible images that became the basis for some of the film's look. Also included are two of Haigh's short films, 2003's Cahuenga Blvd. and 2009's Five Miles Out. The film's theatrical trailer rounds out the disc.
Also included in the package is a booklet with an essay by Dennis Lim, who discusses the film's place in the world of gay cinema.
The Bottom Line
An impressive sophomore feature from British filmmaker Andrew Haigh, Weekend is well worth a look — and maybe even a second.