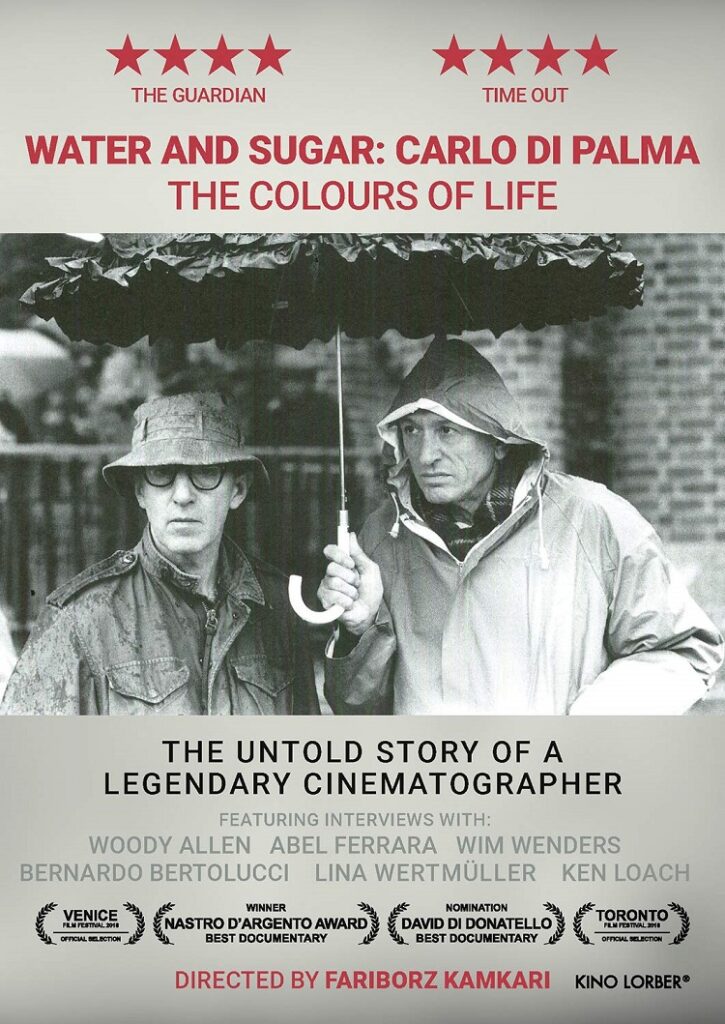 Next to the director, the cinematographer is one of the most essential components to making great art. Cinematography can capture emotion and depth with vision, almost always better than words can ever do. Many of film history's greatest masters of light, including Roger Deakins, Karl Struss, Gordon Willis, Gregg Toland, Sven Nykvist, and Haskell Wexler, among others, have successfully demonstrated how images can truly increase the impact of any film, even if certain movies themselves, are not particulary meaningful. However, if there was one who somehow continues to be forgotten in the annals of the history of the medium, it is the legendary Carlo Di Palma.
In director Faiborz Kamkari's warm-hearted, if not entirely groundbreaking portrait Water and Sugar: Carlo Di Palma – The Colours of Life, produced by Di Palma's widow Adriana Chiesa, somewhat showcases the master's craft of detail in masterpieces such as Red Desert and Blow Up. You get viewpoints from iconic filmmakers including Woody Allen, Bernardo Bertolucci, Ken Loach, Lina Wurtmuller, Abel Ferrara, Wim Wenders, as well as reflections from the man himself (told in vintage/archival interviews) and Chiesa herself.
There are also clips of the great Monica Vitti in films that he shot and directed. Considering they were both an item, you actually get the sense of her allure and how he photographed her most stunning features, especially her eyes. What the doc does capture is the amazing way he filmed women (their faces, emotions, and movements, etc.), and how he depicted Rome at a certain time and place.
There is a good chunk centering on Di Palma's time in New York and his working relationship with Woody Allen, with whom he made twelve films with, many of them: Hannah and Her Sisters, Husbands and Wives, Radio Days, and Shadows and Fog, are considered classics of both their careers. I did appreciate how Allen described his friendship with Di Palma and how their admiration/understanding for one another translated extremely well to the screen.
There are no special features, except for a trailer. I guess with a documentary like this, that is not exactly as extensive as it could have been, then don't expect lot of additional material. However, it is not going to make you that angry either. If Di Palma happens to be one of your favorite cinematographers, and if you're looking for a type of film education, then this doc could be a little enlightening for you, especially since it does include a journey through over seventy years of classic world cinema, despite its obvious shortcomings.