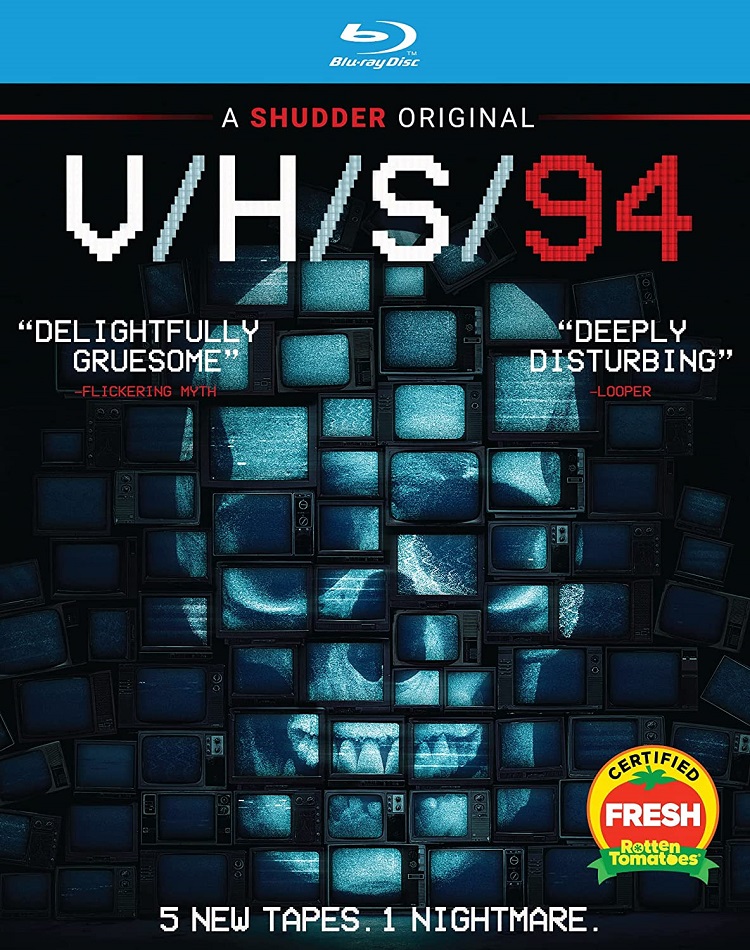 As much as I'm into horror, I have to admit that found footage isn't usually my go-to in the genre. So, the V/H/S franchise went straight over my head and isn't on my radar. I guess it's a series of films that reintroduce the raw, grainy, and gritty aspect of VCR nostalgia. After doing some research and watching V/H/S 94, the fourth and newest installment, I find that it is perhaps the most entertaining one, for better or worse.
The main story, Holy Hell (directed by Jennifer Reeder), has a SWAT team investigating a ramshackle warehouse that is supposedly a drug raid, where they find corpses (posed as 'viewers') with their eyes gouged out and VHS tapes with found footage on them. It's actually a cult. While the team go into even darker places in the compound, that's when the next segments begin.
Storm Drain (directed by Chloe Okuno) centers on a determined TV news reporter and her cameraman as they try to make the best of sightings of a supposed rat-man like creature living in the sewers. They foolishly decide to tread even further into the darker corners of the sewer and definitely find more than what they bargained for.
The Empty Wake (directed by Simon Barrett) has a young woman left in charge of a late-night wake in the funeral home she works at. She is assigned to film the whole thing, which no one shows up for. To make matters worse, there is a raging thunderstorm outside which causes the lights to go out several times, and then she finds that the coffin is empty.
The Subject (directed by Timo Tjahjanto) is your classic mad-scientist tale where a brilliant but incredibly deranged doctor attempting to create cyborgs out his victims. But the police get involved, and madness ensues as the doctor is killed and one of his already transformed victims fights to stay alive.
The fifth and final story, Terror (directed by Ryan Prows), has a group of crazed right-wing gun nuts planning to "repurify" America, getting their comeuppance as their secret weapon (a vampire) gets loose and turns on them.
As I mentioned in the first paragraph, I feel that this installment is the most entertaining one, again for better or worse. Yes, I know I said I haven't seen the previous three, but I think I have enough to go on after watching this fourth one. There is more diversity here because a few of the segments are directed by women. It also has ideas and themes, including class distinction, the boundaries between man versus machine, politics, journalism, teen independence, and police confusion.
There are segments I liked more than others. Storm Drain has its heart in the right place because the news reporter seems to take a genuine interest in helping people living in the sewers. The Empty Wave, albeit straightforward, is particularly creepy and the lead character is likable, and she takes her job seriously. It's just that the job itself isn't returning the favor. Although it goes on way too long, there is a sadness in The Subject that is unexpected, meaning that the victim sees herself in a mirror and hates what she has been turned into, but wants to fight for her survival. She forms a kinship with one of the remaining policemen, but it doesn't work out for either of them in the end.
Then there's the two other segments, which I really didn't like. Holy Hell has really awkward acting and dialogue, and I didn't get the ending. I just didn't understand what the point was. The only thing I admired about it was that it was directed by a woman. And Terror was just plain nasty, where all of the men in it are pretty unpleasant, but the creature in it killed them all, so I'll give it that.
Overall, I felt that it was a rather mixed bag. But, if you're a gorehound, then V/H/S 94 definitely delivers in sheer abundance.
The Blu-ray has many special features, including a behind-the-scenes doc; San Diego Comic Con Panel interview; commentary with filmmakers and producers, hosted by The Boo Crew; The Empty Wake commentary by Barrett; deleted & extended scenes; special FX featurette with Patrick Magee; The Empty Wake visual FX; full-length Veggie Master commercial (parts of it shown in the Storm Drain segment); and behind-the-scenes images.