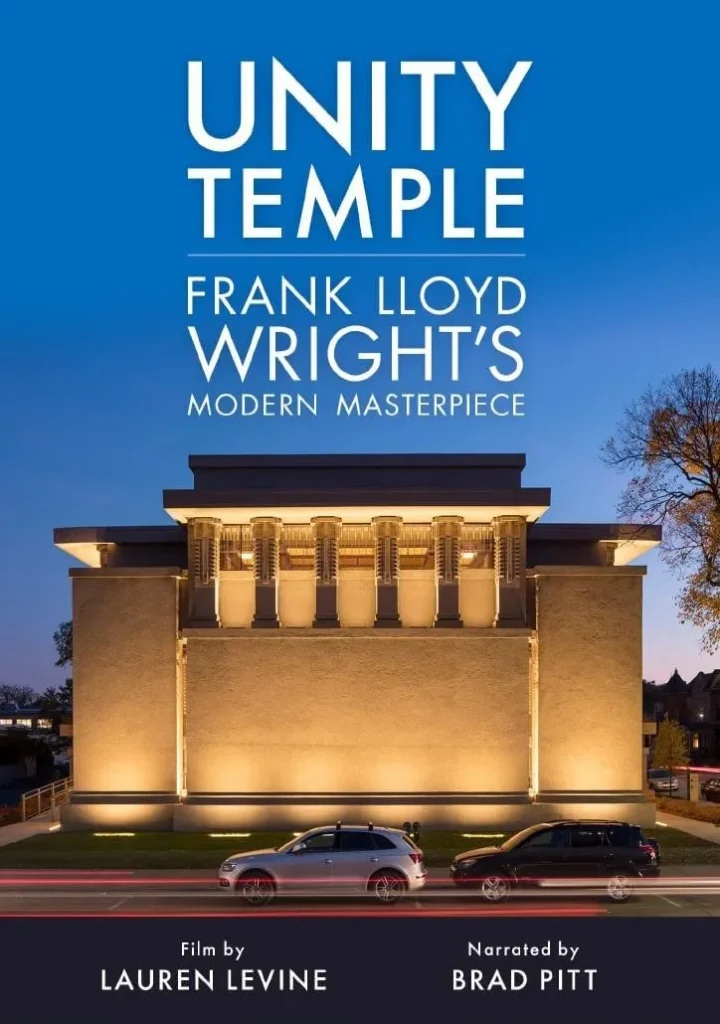 Many people know Frank Lloyd Wright for his incredible home designs such as Cedar Rock and the Hollyhock House. However, Wright also designed other structures in his lifetime. His first public building was the Unity Temple in Oak Park, Illinois which was commissioned by the Oak Park Unity church in 1905 after their old building burned down. The Unity Temple is not only a testament to Wright's stunning design eye, but also an offering to the Unitarian faith that Wright and his family belonged to for generations. The landmark that stands today is a melding of Wright's attitudes towards both architecture and theology.
In the new film Unity Temple: Frank Lloyd Wright's Modern Masterpiece, producer and director Lauren Levine documents the restoration and reopening of this historic and beautiful landmark. Viewers not only get to follow the process of what it takes to undertake a project like this, but they can truly begin to understand how every choice, even down to the type of paint stroke, has to go into the careful restoration of a historic building if it is to be done correctly. And in the case of the Unity Temple, this restoration does not just need to be done right, but it needs to be done Wright. Frank Lloyd Wright.
Unity Temple does not just document the building's restoration, but truly explores the science of restoration. Viewers will find themselves considering little details about structural building that they may never have before. Levine combines footage of the restoration along with interviews with the experts who are clearly putting not only their expertise, but their heart into healing this stunning landmark.
While actor and architecture aficionado Brad Pitt is billed as the film's narrator, this documentary does not utilize his role in a traditional manner. Instead, Levine chose to highlight specific quotes from Wright himself which Pitt gives voice to. These quotes give viewers a glimpse into the architect's philosophy and process.
I really enjoyed this documentary and not just because I am a fan of Wright's work. Unity Temple really made me consider historic preservation and restoration in ways I had not thought about before. Watching these experts discuss their individual processes and the overall process in accessible ways really guided my understanding of every single decision that goes into such a project.
​Unity Temple: Frank Lloyd Wright's Modern Masterpiece is not rated and has a runtime of 55 minutes. The documentary is available now on DVD or for streaming on Apple TV.