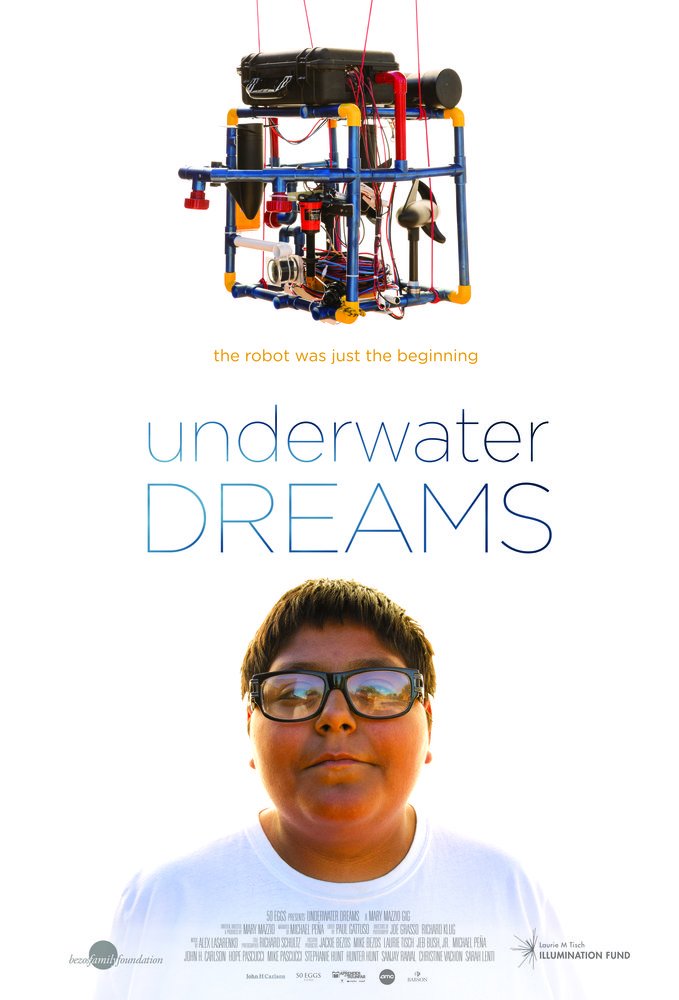 The synopses for the documentary Underwater Dreams talk about undocumented Mexican high school students building an underwater robot for a competition with the likes of MIT's best and brightest. They also talk of "lasting effects" and "inspiration" and "activism." What none of them mention is that the last third of the documentary is essentially a mouthpiece for the benefits of the DREAM Act legislation and immigration reform. That's a perfectly good and relevant topic to discuss, but it threw off the film's pacing and my expectations going in.
Act One is all about the unlikely Davids from Carl Hayden Community High School in Phoenix, AZ who took on the Goliaths from the Massachusetts Institute of Technology back in 2004 to build a machine that could operate and perform specific tasks underwater by remote control. It all started with a sign-up sheet at school that stood empty for months until four boys decided to give the task a try. They worked with their teacher to determine at what level they should compete. If they went up against other high schools and did poorly, that was going to sting a lot more than running with the big dogs on college campus with serious budgets and design experience and coming in last. No one would expect them to fare well against professionals — except they did. This chapter covers the design and construction of "Stinky," their submersible, as well as the recollections of the MIT team on building their own device, and what it was like going up against unexpected upstarts. Ultimately, despite some controversy, the points added up to put the boys from Carl Hayden at the top of the scoreboard. Huh, I was only about 30 or 40 minutes into the film, which left me wondering what was next.
Jump ahead five years for Act Two and find what the boys have done with their lives in the meantime, and see them returning to their alma mater to visit the current teams gearing up for the competition and attempting to fill the large shoes forged in 2004. The boys meet with the team, revisit former instructors and advisors, and even take old "Stinky" out for a race against the 2009 team's machine. At this point, we learn that two of the boys work in catering, another tried to join the U.S. Navy and ended up getting deported for his efforts, and the fourth took the first two years of an engineering degree, but then dropped out when he lost his funding due to legislative changes in Arizona that took away any financial aid from undocumented students. At the same time, their contemporaries at MIT went on to develop products for Apple, design new advanced submersible watercraft, or do research for the Monterey Bay Aquarium in California, all opportunities made available because they had education funding and baked-in citizenship, having been born inside the U.S. instead of outside. The Carl Hayden boys were all held back by limited education and their undocumented status, in one way or another. There's a lot of potential in this group of young men. What? There are still another 30 minutes left? Okay.
Jump ahead another five years. Act Three. It's 2014. Now we get into the meat of it. The activism. The sit-ins. The protests. The blocking of deportation buses with human barricades. The arrests. The civil unrest. The media attention gained by being an unlikely victor against a powerhouse technical school shone a light on the perils of black and white immigration and deportation policies, and who is at fault when parents smuggle their young children into the country, raise them here, and then they get sent back to a land they've never known as home, where they don't even speak the language. It's a complicated issue, to be sure, and watching this did get me doing some more of my own research into the issue of "getting documented" and why so many forego it. The short and extremely simplified answer is that it takes a really long time to apply and get approved, visas are in short supply, and the odds of getting turned away are pretty high for people who are unskilled and/or lack connections. This isn't just true of Mexico, though – it's true for all immigration. The fact that the majority of undocumented workers in the United States happen to be Mexican isn't a coincidence, though. You don't have to cross an ocean to get from there to here or enter through a specific port of call.
This film treads an uneasy line. I can imagine a version of it where it's released in another year or two and the government has passed immigration reform that benefits the heroes of this story, looking back at "how it all started" and ties it up with a happy ending and a bow. However, if it doesn't work out that way, it ends up beating a dead horse about what could have been. On the other hand, release now while Congress is still twiddling its thumbs, and you have a shot at raising awareness of the issues and their ramifications. Underwater Dreams puts a face (or four, or twenty) and an identity and a story of triumph over adversity on the issue and demonstrates what we could lose by enforcing blind deportation. However, you do this at the risk of having a more ambiguous and less feel-good ending.
The only problem here for me is the way it's being sold. Yes, there are people who won't watch it if they know it's essentially about the challenges with the current state of immigration and documentation, but I seriously doubt it would have changed those people's minds anyway. I'm generally on board with the message of the film, and even I felt the sudden shift away from the teams and the competition into politics and legalese was jarring.
I recommend seeing this documentary. Even if the political underpinnings don't appeal to you, the story of perseverance and the legacy these young men have built is worth checking out. The teachers and advisors who brought it all together and gave the competitors confidence and praise they never got at home or anywhere else is a reminder to each of us that it's important to inspire and support our young people as much as we can. Sometimes all it takes is hearing "You did a good job" to really elevate and motivate and reward someone, even if the performance wasn't quite perfect. With that in mind, to the makers of Underwater Dreams and everyone involved, I say, "You did a good job."