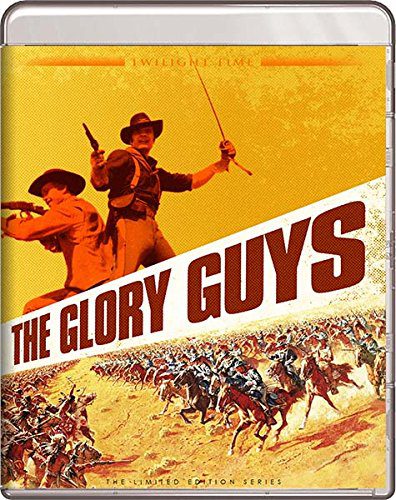 It's easy to get carried away sometimes, particularly when the target of your obsession is something (or someone) you love. And you won't find a single protagonist or villain afoot in this wave of new Blu-ray releases from Twilight Time incapable of agreeing with you. Featuring the unparalleled talents of many motion picture greats, these releases ‒ all but one of which make their HD home video debuts ‒ this assortment of flicks touches upon all sorts of human emotion people throughout history have fallen prey to: an unbridled love for something, be it lust, pride, glory, and/or greed.
Our first offering, 1965's The Glory Guys from United Artists and screenwriter Sam Peckinpah, offers viewers an excellent view of how the waning American Western genre tried desperately to hold onto its classic, outdated formula during a time when the European Western was riding into town to take over. Peckinpah's script, based on Hoffman Birney's The Dice of God, was reportedly written many years before the film was put into production, which might explain why it has that big 1950s CinemaScope aura about it. Indeed, that aforementioned, already archaic quality rips straight down the seams of the story, which centers on two very bitter cavalry men ‒ Tom Tryon and Harve Presnell ‒ whose onscreen battle over starlet Senta Berger seems to extend all the way up to the top of their skyscraping Conway Twitty-esque hairstyles.
Meanwhile, in the part of the story which actually matters, Tyron's Capt. Harrod, still holding an understandable grudge against a genuine glory whore of a general (Andrew Duggan, whose character is based off of General Custer) who had sent Harrod's previous regiment off to die as a distraction, is requested once more by the madman to select a new troop of expendables. Included in this mix are Michael Anderson, Jr., the inimitable Slim Pickens, and a young James Caan (later cast in Peckinpah's The Killer Elite), who is by and far the most complicated and likable story in this otherwise mediocre entry into the very large foray of cavalry westerns (although that huge fort set is pretty damn impressive). Arnold Laven directs, James Wong Howe photographs, and Euro western regular Riz Ortolani ‒ whose presence must have been UA's way of bridging the gap ‒ composes.
Also appearing in The Glory Guys (be warned: the movie has its own male chorus theme song, which is prone to giving viewers traumatizing flashbacks of another Twilight Time, Major Dundee, though at least we are spared the Mitch Miller sing-along approach here) are Adam Williams, Peter Breck, Michael Forest, and Wayne Rogers, the latter of whom just sort of seems to pop up every now and again for no reason whatsoever other than to get a medium close up under his belt. MGM's print of this so-so flick varies in quality from scene to scene, accompanied by a DTS-HD MA 1.0 soundtrack. An isolated score (DTS-HD MA 2.0); audio commentary by film historians Paul Seydor, Garner Simmons, and Nick Redman; several vintage featurettes (including one salvaged from a decaying 8mm print); and the original theatrical trailer are also included.
Another Sam Peckinpah title ‒ one directed and co-written by the late industry game-changer ‒ returns for an Encore Edition from Twilight Time. Bring Me the Head of Alfredo Garcia, Peckinpah's gritty 1974 tale of madness and greed starring the one and only Warren Oates, finds a powerful Mexican crime lord placing a sizable million-dollar bounty on the head of his unwed teenaged daughter's future baby daddy. Thus, the floodgates open for all sorts of nefarious individuals, including a desperate expatriate with an unhealthy love of money. Twilight Time's re-release includes all of the special features found in their initial release of the title (which sold out fast), with a newly-recorded audio commentary with Assistant to the Director Katy Haber and historians Paul Seydor and Nick Redman added to sweeten the pot for true Peckinpah fans.
Perhaps the standout release from this wave is the Blu-ray debut of Vincent Price's 1973 horror/comedy, Theatre of Blood. A longtime favorite of not only yours truly, but any classic horror movie lover in general, this wonderful tongue-in-cheek tale of revenge from one of filmdom's most beloved icons finds a revved-up Price ‒ in complete and total charge ‒ as a hammy Shakespearean stage performer who more than an axe to grind with the snooty theatre critics who shunned him. Appearing as the ill-fated reviewers, each of whom dies according to their assailant's twisted take on the play they so harshly judged, are many of Price's own friends, all of whom were in need of a little boost (which I suppose makes this a labor of love, too), including Harry Andrews, Jack Hawkins, Dennis Price, and a jaw-droppingly flamboyant Robert Morley.
Also starring in this campy cult classic (which in many ways is an uncredited remake of Price's Dr. Phibes films from AIP) are Diana Rigg as Price's daughter (she would later succeed Price as the host of the classic PBS series Mystery), Ian Hendry as our effectively baldening hero, and the marvelous Coral Browne ‒ the casting of whom serendipitously introduced the good Mr. Vincent to his true love. Douglas Hickox aptly directs this funny and fairly bloody thriller, which proves why The Price is Right (one look at him as a gay hairdresser with a huge afro, and you too will be sold!). This must-have release from Twilight Time sports a beautiful HD print and DTS-HD MA 1.0 soundtrack; an isolated DTS-HD MA 2.0 isolated score, a fun and informative commentary by David Del Valle and Nick Redman, and theatrical trailer are also on-hand.
Revenge takes flight again in our next feature, La Moglie Piu' Bella (The Most Beautiful Wife) from 1970, which makes its Blu-ray debut from Twilight Time courtesy Rewind Film. An Italian drama from Damiano Damiani (whose work ranged from Euro westerns such as A Bullet for the General to the less-illustrious Amityville II: The Possession), this release marks the official debut of a 14-year-old the Ornella Muti. Here, Flash Gordon's future Princess Aura plays a nubile Sicilian beauty who stands up to the unwanted attention of Mafioso wannabe Alessio Orano as he tries to make the young girl his bride via an old Italian custom in need of a serious revision after his mafia kingpin boss is arrested.
Previously released on Standard-Definition DVD by the now-defunct NoShame Films label, Twilight Time's Blu-ray of this fairly obscure offering (which was based on actual 1965 case of a similar nature) is a huge improvement as far as the feature film itself goes. The new HD transfer contains two primary audio options ‒ the original Italian audio and a dubbed English track ‒ in DTS-HD MA 2.0, with optional English subtitles for the Italian selection. Ennio Morricone's score gets an isolated (DTS-HD MA 2.0) track, while the rest of the special features from the NoShame release ‒ a featurette with various cast/crew, introduction by the late Signori Damiani, and a hard-to-watch trailer, which looks like the end-result of an improper PAL to NTSC conversion. Sadly, hardcore insert footage from an alleged alternate French version of the film is not included.
Well, since I used the word "hardcore," I suppose there is no time such as the present to present you with Paul Schrader's cult classic from 1979, Hardcore. Starring the late great George C. Scott and featuring a marvelously eclectic soundtrack from Jack Nitzsche, Hardcore tells the tale of a conservative Calvinist business owner from the midwest (Scott), who is forced to step far beyond his comfort zone after his underage daughter (Ilah Davis) disappears on a church trip to California. Initially hiring a sleazy private detective (a sublime Peter Boyle) to find the missing girl, Scott soon takes over the course of the investigation himself after the PI unreels a particularly unnerving 8mm stag loop to his client in an empty adult theater (a classic moment in film, which has now become the basis for more than one video mashup parody).
Also starring in this sleazy dive into the (sadly) long-gone red light districts of several Californian metropolises are Season Hubley as the young pornographic actress/prostitute who assists Scott, and Dick Sargent as Scott's concerned brother-in-law. Future former TV-movie Captain America Reb Brown (star of Yor, the Hunter from the Future, which I'm hoping will receive a Twilight Time release someday [gag]) has a brief bit as a bouncer; and Hal Williams is the chocolate icing on the cake for his cameo as Big Dick Blaque. Two audio commentaries ‒ one with writer/director Schrader, the other with historians Eddy Friedfeld, Lee Pfeiffer, and Paul Scrabo ‒ an isolated offering of Nitzsche's oft-funky score (in DTS-HD MA 2.0), and a theatrical trailer wrap up a beautiful HD presentation of this classic with marvelous DTS-HD MA 1.0 audio.
Lastly on our roster is a double-barreled blast of late '60s Neo Noir starring another Hollywood legend, Frank Sinatra. 1967's Tony Rome and its 1968 sequel Lady in Cement receive the Twilight Time double feature treatment here. Both titles star the Rat Pack leader as a hard-boiled Miami detective who, despite his sexual prowess, can't land a lady to love to save his life. And that's mostly because his life is in constant jeopardy during these two adventures based on the works of Marvin H. Albert, the first of which, Tony Rome, finds Frankie escorting a drunken society princess (Sue Lyon) home to her powerful big-wig father (Simon Oakland, of Psycho and Kolchak: The Night Stalker fame), only to become the target of several other parties, all obsessed with the lady's missing diamond pin.
But that's just a drop in the ocean compared to Sinatra's second and final outing as Tony Rome, Lady in Cement, which finds Tony on the hunt for the cruel bastards who threw a perfectly good hot blonde away into the cold sea with only a concrete shoe to her unknown name. Former film noir heavy Richard Conte is Sinatra's police detective pal in both movies; Gena Rowlands, Jill St. John, Raquel Welch, Lloyd Bochner, Dan Blocker, and Car 54, Where Are You? star Joe E. Ross are among the many familiar faces (and figures) seen over the course of both films. In addition to beautiful new HD transfers, these two films boast DTS-HD MA 1.0 soundtracks, isolated DTS-HD MA 2.0 scores, and trailers. Tony Rome also features a commentary by historians Eddy Friedfeld, Anthony Latino, Lee Pfeiffer, and Paul Scrabo.
All six (or seven, as it were) titles also feature gloriously loving liner notes from Twilight Time's resident scribe Julie Kirgo, who offers her own take on each film. Each release is limited to only 3,000 copies each.