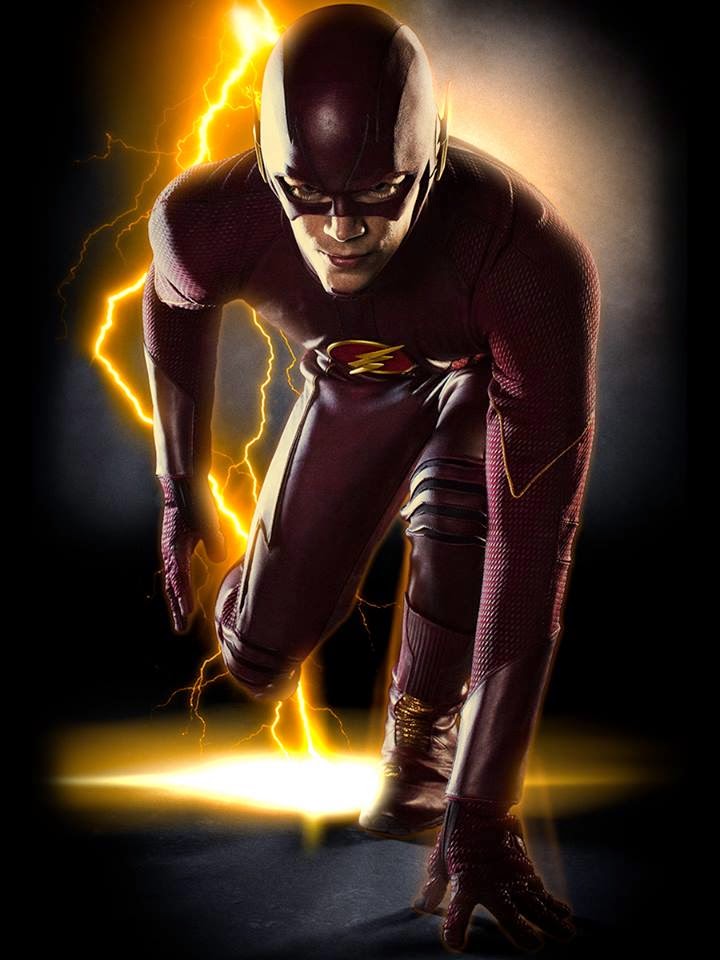 After two appearances in the second season of Arrow, Barry Allen/The Flash (Grant Gustin) has been spun off into his own CW television series set to make its network debut tonight. Since I had only ever seen the Arrow pilot previously, this was my first introduction to this iteration of the Flash.
The episode, written by Arrow co-creators Greg Berlanti and Andrew Kreisberg, Arrow pilot director David Nutter, and Geoff Johns, begins 14 years in the past, on the night at the Allen home when 11-year-old Barry's mother was killed. Although young Barry, and the audience, witness an inexplicable electrical storm of some sort occurring within the house, his father was convicted for the mother's death. Detective Joe West (Jesse L. Martin), an officer at the crime scene that evening, adopts Barry. In the present they work together for the Central City Police Department, with Barry working as an assistant forensic scientist. Barry hopes to find his mother's killer and prove his father's innocence. There's a slight clue provided about who else was there that fateful night, which those familiar with The Flash comic books will recognize.
Dr. Harrison Wells' (Tom Cavanagh) S.T.A.R. Labs plays an integral role in the series. A freak accident with a particle accelerator not only gives Barry his superspeed and abilities that comes with it, like his body being able to heal quickly, but it has also affected a number of other citizens, referred to as "metahumans," like the villain in this episode who has the ability to control weather.
While there's no denying its a CW show and at times it comes across like Central City 90210 with its many good-looking actors and melodramatic moments, there's a lot to like about the series. The script is interesting and delivers some very good plot twists, particularly a revelation about a major character that had me curious about what was to come. As a young actor having to step up to be the lead in a TV series, Gutsin fit the part well of a young man coming to grips with his new responsibilities and having to step up and be a hero. The special effects team did a very good job. Arrow fans will likely be excited by the scene the heroes share, and there's more subtle DC Comics Easter eggs for those paying attention, such as a "Ferris Air" sign (Green Lantern reference) at the airfield Barry's speed is tested.
With the success of Smallville and Arrow, I imagine The Flash will find a similar audience and do just as well. Possibly even better since I am going to add it to my queue. Recommend for superhero fans.