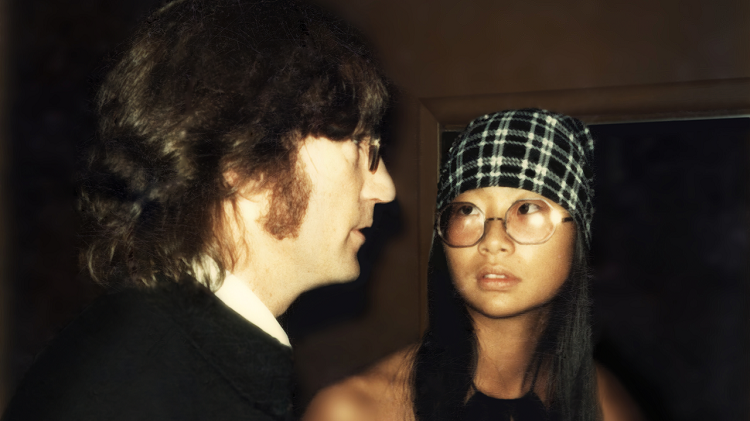 Produced and directed by Eve Brandstein, Richard Kaufman, and Stuart Samuels, The Lost Weekend: A Love Story documents the love triangle between John Lennon, Yoko Ono, and May Pang, a story which May related in her 1983 memoir, Loving John. Not having read the book nor having a deep knowledge of John's personal life, I can't speak to there being any new revelations for the public. As a fan of the Beatles and of John, I knew the highlights. However, I find myself torn in response to the film.
May and Julian Lennon, John's son from his first wife Cynthia,are the major participants interviewed for the film. It was wonderful to see them together as they clearly have a deep bond because of how close May was to him and to his mother. The others appear through archival material in the re-telling of this story.
May Pang is a first generation Chinese American, who grew up in New York City's Spanish Harlem. A fan of rock and roll music, she got a job at ABKCO Records, which represented Apple Records and the individual Beatles sans Paul McCartney. After the Beatles broke up, John and Yoko came to New York, May was assigned to work for them as they made a couple of avant garde films. Weeks later, May became their personal assistant.
Yoko and John were having martial problems, which is partially indicated when Yoko orders May not to put through calls from Julian. The reason why is never explained. Yoko caught John cheating on her and then she demanded May get involved with him, possibly thinking she could control the situation. May was hesitant until John pursued her. They ran off to California together on September 22, 1973. They had limited funds due to John's legal troubles, but still lived a good life, hobnobbing with celebrities, especially John who indulged in quite a bit of alcohol with his famous friends.
One night, John pushed May around and broke up with her in the morning. May returned to New York and informed Yoko, which seems odd. Yoko told May she must go back because Cynthia and Julian were heading to Los Angeles, and John couldn't handle them on his own. Later, John and May moved back to New York. They ran into Yoko a few times. She offered John help to quit smoking and he never returned to his apartment with May. After 18 months, John reunited with Yoko, but it didn't feel so good for May, who is still hurt by it. While John referred to the break from Yoko as his "lost weekend," for the remainder of his life, May says they continued to have affairs.
For new Beatles/John Lennon fans, The Lost Weekend: A Love Story is worth watching. John was a compelling figure who lived a fascinating life. He was as good an interviewee as he was a musician so just listening to him speak is quite enjoyable. May is entitled to have her story told and there's a voyeuristic thrill from the peek into their lives and lifestyles, but I am not sure what's gained by rehashing it all over again, especially for longtime fans and especially when all the participants in the relationship can't respond to May's version of events.