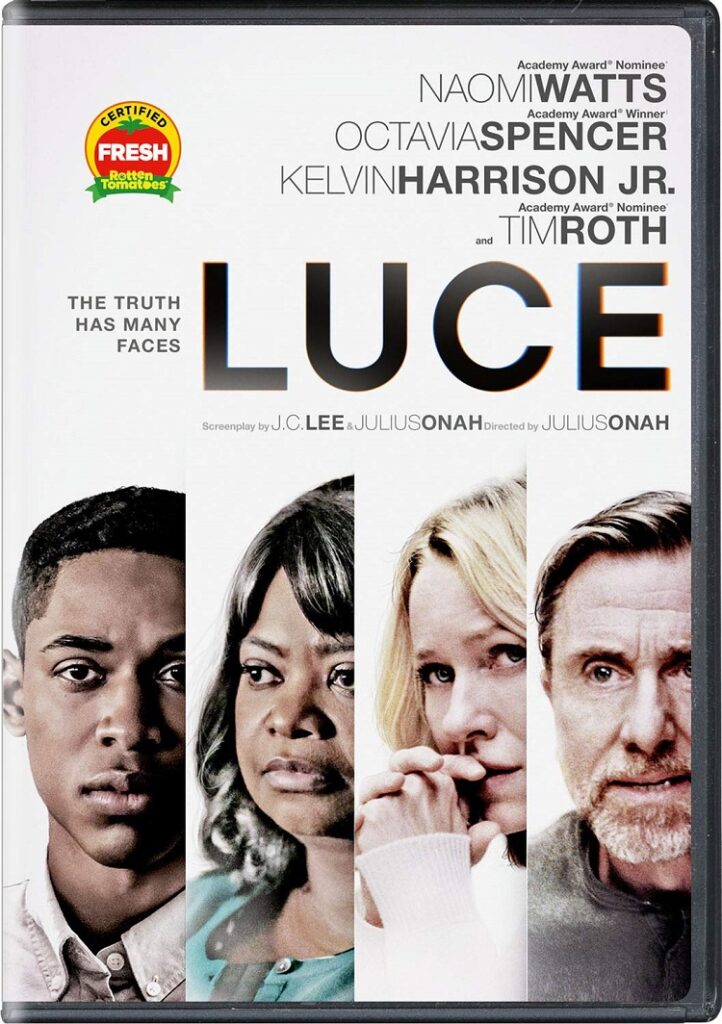 One amazing thing about the drama Luce is that practically every character is hard to pin down. Despite the film dealing with the topic of race and facets within that topic, there's no real good or bad guy. Even characters with the best intentions have something secret to hide. As a result of its grand ambiguity, Luce is wonderfully labyrinthian and will hopefully ignite some thoughtful conversations by the time the credits roll.
Luce Hodge (Kelvin Harrison, Jr.) is the model student at his high school. He's the class valedictorian, captain of his debate team, and a star athlete on the school track team. In addition, he has two loving parents (Tim Roth and Naomi Watts) who adopted him from a war-torn African country. Luce seems to have it all but his seemingly tranquil existence becomes disrupted by his history teacher, Ms. Wilson (Octavia Spencer). After reading a disturbing homework assignment and finding illegal fireworks in his locker, Ms. Wilson attempts to insert herself into the lives of Luce and his parents.
While Ms. Wilson's behavior does borderline on obsessive, there is still a level of genuine concern to make it seem like she's looking out for her pupil student. The delicate balance of possible psychopathy and empathy is brilliantly demonstrated by Octavia Spencer. She has previously established herself as a strong source of comic relief in dramas like The Help, which won her the Oscar for Best Supporting Actress, and The Shape of Water. However, this is easily the best work of her career which is saying something since she delivers every single time.
That being said, Naomi Watts does her best work since King Kong. Like Spencer, she has a tricky balance to navigate. As Amy, Luce's adoptive mother, Watts presents her as loving and concerned while having us question why she becomes a bit too protective. Is she fighting to maintain her son's perfect reputation? Could she be attempting to protect her own possible wokeness? It's hard to pinpoint what makes Amy tick even as she undergoes a drastic arc.
Of course, one can't talk about the film's great acting without mentioning Kelvin Harrison, Jr. as the title character. One way to describe his performance is that it is quite detached. He plays Luce with such distance that it's continuously impossible to find out whether he's truly up to no good. He does demonstrate how the pressure for perfection has a searing effect on Luce. However, there's a bit of possible artifice to make us suspicious about his intentions.
In addition, Tim Roth does terrific work as Luce's adoptive father. Also, Andrea Bang shines in her small role as Luce's on again-off again girlfriend, Stephanie Kim. She even has an incredibly haunting monologue about an awful party experience that is surely one of the most well-acted scenes of the year.
Along with Luce being a flawless ensemble piece, its screenplay from J.C. Lee and co-writer/director Julius Onah is incredibly sharp. The expositional monologues that the actors throw help give the film its political edge that's as sharp as a razor blade. Meanwhile, the musical score by Geoff Barrow and Ben Salisbury is quite atmospheric and calls back their similarly haunting compositions on Ex Machina and Annihilation.
The name "Luce" may be Italian for light but the movie Luce is anything but luminous. It's a well-crafted yet stinging commentary on the nature of privilege and racial stereotypes. Rather than give answers to the questions that it asks, it forces us to conjure up our own answers with necessary aggression. Simply put, it is a vital piece of filmmaking and sure to be one of the year's best films.