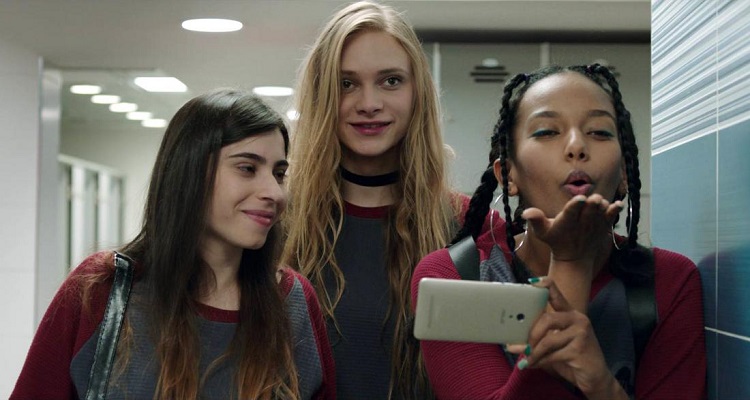 Typically, films about high school students deal with conflicts like trying to fit in or the outcasts overcoming the villainous popular clique. However, the Israeli film Flawless chooses to slightly break free from the traditional narrative found within such films. Instead of being about trying to be popular, Flawless is more about learning to love who you are on the outside.
One reason high school can be a harsh place is because teenagers tend to feel insecure about the way they look. For instance, best friends Keshet (Noam Lugasy) and Tigist (Netsanet Zenaneh Mekonen) are insecure to the point where they want plastic surgery. Keshet wants a nose job while Tigist wants breast implants. Meanwhile, a new student named Eden (Stav Strashko), who's trans and befriends both Tigist and Keshet, wants her own implants so that her body can be in line with her gender identity. In their pursuit of physical beauty, they put their kidneys on the black market in exchange for their surgeries. Guiding them through this risky process is Keren (Asi Levi) who is nurturing yet inadvertently keeps letting her mysterious guard down.
That last part of the storyline may sound crazy. Understandably, most people likely wouldn't expect a high school movie to depict organ harvesting. However, it still is an exaggerated indication of how far people will go to look more desirable. Not to mention, a few popular students who the three girls go to school with don't make things easier for them. As the popular girls keep bullying them, they steal attention from their male classmates as prom draws near.
As for the actresses who play the three best friends, they are quite exemplary. However, the MVP among them is trans actress Stav Strashko as Eden. Strashko is brilliantly three-dimensional as a woman who appears unphased by the hatred she faces yet still struggles to bury the pain that prejudice makes her feel. Even her concerned father who loves her unconditionally still gives her faulty hormone pills.
In addition, both Strashko and Arad Triffon Reshef, who plays Eden's love interest Itai, have rather naturalistic chemistry. Itai may not be as physically swoony as the jocks that Eden's friends pursue, but he still has a slight heart of gold that makes up for it. Also, the fact that he's a victim of bullying himself allows the love between him and Eden to be more bittersweet.
In conclusion, Flawless is a take on the coming of age story that is refreshingly new even as it demonstrates typical machinations within the genre. While most teen films are about trying to be accepted by your peers, Flawless is about accepting yourself. Lastly, it also thrives thanks to a star-making performance by Stav Strashko. Simply put, it is a profound gem.