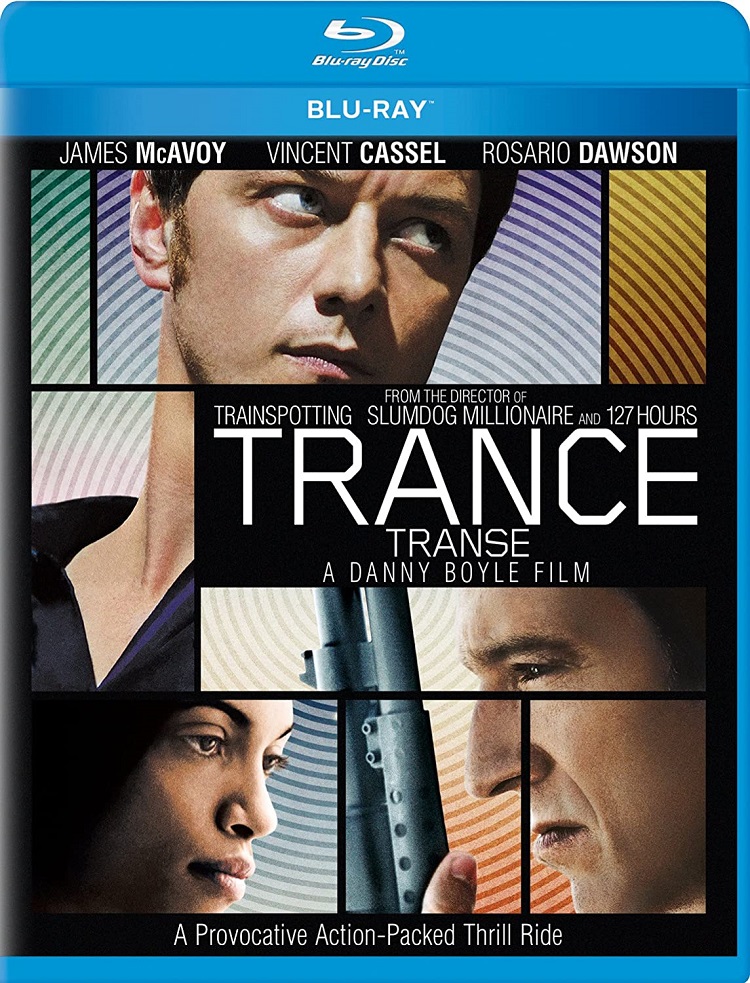 Danny Boyle is one of the few directors who garners instance attention for any new film. His history of interesting and unique films is continued with Trance, a psychological thriller with twists and turns you won't see coming.
Simon (James McAvoy) is involved in security for fine-art auctions. We quickly learn that due to his insider connections, he is behind a complicated heist of a $27 million painting with local gangster Franck (Vincent Cassel) and his gang of thugs. In order to escape, Franck is forced to hit Simon in the head with a shotgun. Once Franck gets away, he discovers that the painting is missing from the case Simon turned over to him. After intense torture, it becomes evident that the hit in the head has caused Simon to forget where he secured the stolen painting. To recover his memory, Franck sends Simon to hypnotherapist Elizabeth (Rosario Dawson). As Simon starts to remember, the relationships between Franck, Simon, and Elizabeth get extremely complicated and the line between reality and illusion blurs.
The Blu-ray video has been given a 1080p/MPEG-4 AVC encoded transfer at an aspect ratio of 2.40:1. Boyle and his camera crew used a variety of digital-video cameras to create an intentional aesthetics. Colors are well rendered in light hues and blacks are rich. The image is clean but on occasion a digital artifact pops up. The audio is presented with an immersive DTS-HD Master 7.1 Surround track that engulfs the viewer. The score, effects, and dialogue are well balanced and help keep the audience slightly off balance like the main character.
There are several special features offered with the Blu-ray release. "The Power of Suggestion – Making Trance" is several behind-the-scenes featurettes focusing on the nod to film noir, the research into hypnotherapy, the look of the film, and the critical role editing played in the final result. A Danny Boyle retrospective covers the filmmaker's impressive career. The delete scenes provided are disappointing since they don't provide any additional sights into the film. Lastly, "Eugene," a strange short film by Spencer Susser is included.
I thoroughly enjoyed Trance. James McAvoy delivers in a complicated lead role requiring a wider range than I have seen him perform previously. Vincent Cassel always seems to play the bad guy but does it so well it isn't surprising he gets typecast in this manner. I have never been a fan of Rosario Dawson and feel she is overrated; she does what is needed but is the weakest link compared to McAvoy and Cassel. The film is intense, provocative, suspenseful, and surprising. It is reminiscent of the twists, turns and dark tone of Shallow Grave, which is my favorite Boyle film. It was a treat to see him return to this style of film and he didn't disappoint.