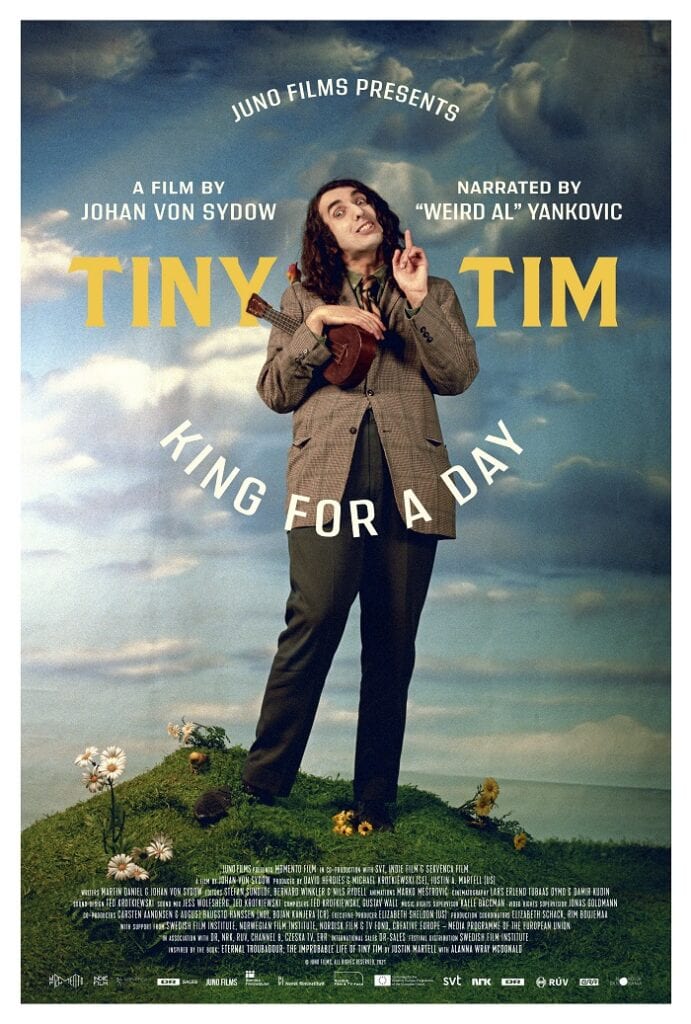 Wacky and somewhat unhinged reality TV (or YouTube) stars are common today, so common that we're way past asking, "Is he/she for real"? In the late 1960s, however, eccentric entertainers didn't have much staying power – that is until scraggly-haired, ukulele-playing Tiny Tim made his TV debut. Best known for his falsetto singing voice and his novelty hit "Tip Toe Through the Tulips", Tiny Tim: King for a Day tells the story of an outcast who made the best of the cards life dealt him.
Swedish director Johan von Sydow artfully arranges excepts from Tiny Tim's journal (as narrated by Weird Al) with dour black and white animation that underscores Tiny's internal struggles. The film follows Tiny from his troubled childhood to his mainstream fame and decline and death in 1996.
Born Herbert Khauray in New York City, Tiny Tim really had no choice but to steer his quirkiness into stardom. His elderly parents thought of him as a nuisance, according to a cousin. Young Herbert took refuge in old Bing Crosby and Russ Columbo records, and taught himself how to play ukulele and guitar.
Tiny found some success in the burgeoning club/experimental film scene in the Village. There are several clips of the Village circa 1963, including one of Tiny performing in a club shot by filmmaker Jonas Mekas. Tiny's early attempts at show biz included busking on street corners and a stint in the infamous Hubert's Flea Circus in Times Square. (Tiny went by the name "Larry Love, the Singing Canary".)
Tiny Tim was a real-life Forrest Gump. He hobnobbed with the crème de la crème of the entertainment and counterculture world in the 1960s. Through rarely seen clips and photos, we see Tiny work (or pal around) with Wavy Gravy, Neal Cassady, Andy Warhol – even Bob Dylan wanted Tiny to appear in a film project. Diane Arbus photographed him, and he opened for musical groups at a rock club in the Village. And you thought he was just that wacky guy who sang "Tip Toe Through the Tulips"! He was variously described as sexually ambiguous, a combination man/woman/child, naïve, or somewhat insane.
Even though he struggled with insecurity, Tiny knew that he would be famous. His quirky persona attracted the attention of Reprise Records, and he moved to Hollywood. It wasn't long before he made his debut on the irreverent comedy/variety show Laugh-In. Tiny's popularity grew, and reached its pinnacle when he married Victoria Budinger (Miss Vicki) on The Tonight Show. The ceremony drew in millions of viewers and made Tiny a star. He appeared on magazine covers and even had a TV special. But the public moved on by the mid-'70s, and Tiny's schtick fell out of favor.
Tiny still had a media presence as his career faded. Talk show hosts still interviewed him, but now Tiny was an object of pity, not an earnest novelty. After Tiny's star faded, he returned to the circus as a generic clown. By the 1980s, not many people remembered him anyway. He played high schools, civic organizations, carnivals, and took any gig he could. It's especially poignant to see Tiny's downfall chronicled by clippings from the Enquirer and "Where are they now?" talk show interviews.
Despite his ambiguous sexuality, Tiny had lots of groupies back in the day – and he married three times, most famously to Miss Vicki, but also to Miss Jan and Miss Sue. Miss Sue, his third wife pursued him and accompanied him on his last tour. She was in the audience when he suffered his fatal heart attack onstage in Minneapolis, and her commentary is the fulcrum of the last section of the documentary.
Tiny was one of a kind. When an associate warned his soon-to-be L.A. manager that Tiny was crazy, the manager said "Oh, they're all sorta crazy," "No, this one is really crazy," his associate replied.
The documentary features interviews with two of his wives (Miss Vicki's interview is audio only), his daughter Tulip, singer Tommy James, Laugh-In director George Schlatter, Wavy Gravy, producer Richard Perry, and various friends. Despite his eccentricities, Tiny sure seemed to have touched a lot of people's lives and is fondly remembered. Stick around until the credits for a great story about one of Tiny's wackiest adventures.
Juno Films will release TINY TIM: KING FOR A DAY in theaters on April 23, 2021.