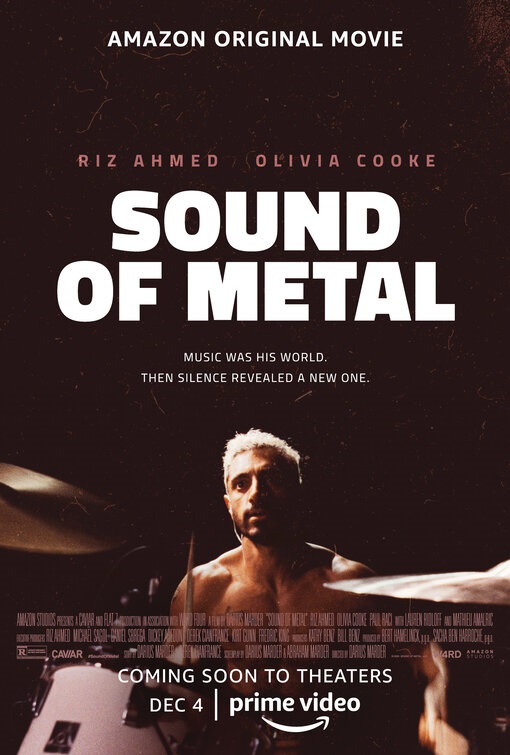 Sound of Metal is definitely my tempo. One key reason is that it's a starring vehicle for Riz Ahmed. He's been a consummate supporting player in films such as Nightcrawler and Rogue One. Now, he gets an opportunity to show he's leading man material and effortlessly seizes it. As Ruben, a drummer that loses his ability to hear, Ahmed is a complete powerhouse.
Because drumming is all Ruben knows, it feels like his world is starting to crumble. His struggle is an encapsulation of what happens when an artist is deprived of their canvas. How is the artist able to go on? Is there a life outside of the artistry that person is created? When you develop a deep connection to your art, it's hard to imagine doing anything else. Even if Ruben may be a difficult character, it's still devastating seeing a musician being told he can't make music anymore.
Initially, Ruben shows rage-fueled anguish with Ahmed's eyes showing his fear of what may lie ahead. As the picture progresses, Ahmed shows a man slowly at peace with his condition and does so in just his silence. Whether he's screaming in agony or talking through sign language, Ahmed is a captivating screen presence. That being said, credit should also go to Paul Raci as Joe, the owner of a house for deaf people like Ruben. Raci is a constant source of sympathy as someone who empathizes with Ruben's suffering while forcing him to come to grips with reality.
The casting of Raci, a CODA (child of deaf adults), also helps give the film some authenticity thanks to his expertise in American Sign Language. Additionally, deaf actress Lauren Ridloff, who'll be seen in Marvel's The Eternals next year, has a supporting role as a teacher who Ruben bonds with. Both Ridloff and Ahmed have genuine chemistry that gives the picture some slight flippancy.
As for Olivia Cooke, who plays Lou, Ruben's girlfriend and singer of their rock duo, she does a fine job despite having an underwritten role. It's the same "stand by your struggling boyfriend" role we've seen time and time again, but Cooke is still able to do wonders with it. Mathieu Amalric is similarly underused as Lou's father yet he's in reliable form.
Along with Ahmed's performance, the sound design carries the picture, signifying Ruben's drastic character arc. When the film begins, Ruben starts banging his drum loud which signifies the jarring sounds that continuously envelope him. As it progresses and Ruben loses his hearing, it's like we get a glimpse into his mind, feeling the tranquility which he slowly feels.
Its length at two hours and twenty minutes might be a deterrence for some. However, Sound of Metal is still worth a watch based on its rhythmic and slightly authentic look at the deaf experience and Riz Ahmed's commanding lead performance. Should there be a drum being beaten for Ahmed to get an Oscar nomination, it'd be quite deserved.