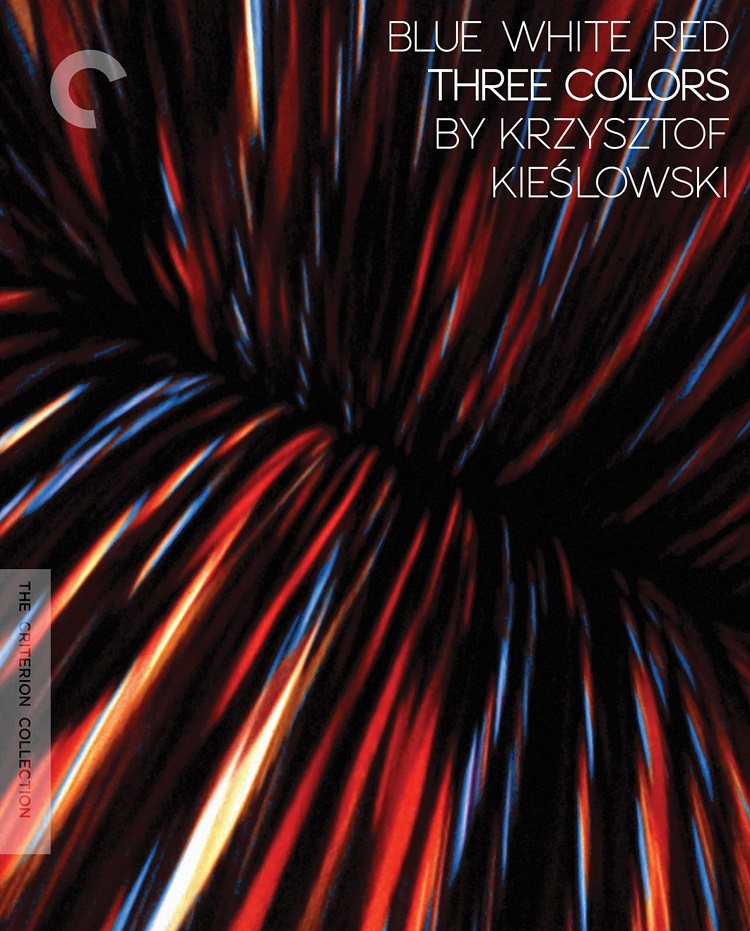 The Three Colors of this film trilogy, Blue, White, and Red, are so-chosen for the French tri-color flag (sorry, U.S.A.) The colors represent the values championed by the French motto: liberte, egalite, fraternite. Freedom, equality, and brotherhood. As basic guiding principles, these are useful, but do not come close to expressing the totality of the themes of these enigmatic, mysterious stories.
Blue stars Juliette Binoche in a justly celebrated performance as Julie, the wife of a world famous composer. She loses that husband and her daughter in a terrible car accident. After a failed suicide attempt, Julie divests herself of any connection to her old life. She put their house on the market, sells all of their possessions, and moves away. She even goes so far as to destroy her husband's final composition, throwing it into the garbage where it is immediately compacted.
But separation from life is not so easy. Her efforts to be disconnected connect her to others. When she refuses to sign a petition to throw a prostitute out of the building ("I do not want to get involved"), the girl adopts Julie as a new friend. Again and again, her past finds her, and she cannot divest herself of it so completely.
White is maybe the strangest film in the trilogy. It has the story and actions of a comedy, but not the tone or rhythm. Zbigniew Zamachowski (and I am never typing that again) stars as Karol Karol, a Polish hairdresser who has married a French woman he met at a hairdressing competition. Unfortunately for them both, he can't seem to consummate the marriage. She divorces him, and when he won't leave her alone frames him for arson. His only solution is, of course, to be smuggled back into Poland (his passport has long since gone missing) in a suitcase.
Once back there, after the suitcase was stolen by very disappointed thieves, he schemes to find money and build a business so that he has enough to entice his ex-wife back into his life. By, again of course, faking his own death and leaving his new fortune to her.
In bare description, the plot is absurd and could be hilarious. But the movie is logical, and the tone so subdued and realistic that comic scenes play almost tragic. And everything in the film is turned on its head in a final scene between the ex-lovers that reveals the seemingly stupid characters in the film to have a deep understanding of themselves and each other.
Red is the most celebrated of the trilogy (it is one of two movies, Wikipedia informs me, that has a perfect review score on Rotten Tomatoes and Metacritic, for whatever that's worth). The absolutely gorgeous Irene Jacob stars as Valentine, a model who is perpetually missing her world-traveling boyfriend Michel, who himself is constantly distrusting her. Where was she last night? Why didn't she answer his phone call? She has answers for everything, and seems to be a sincere, lovely person.
Who runs over a dog.
When she does, she brings the damaged animal directly to her owner. He tells her to do what she wants with it. He's an old man, unconcerned with anything. Valentine, disgusted, bring the dog to a vet, who tells her it will be fine… though it's deeply pregnant.
The old man turns out to be a retired judge with the creepy habit of using electronic equipment to listen in on his neighbors' phone calls. Valentine is horrified, but finds the situation more complicated when she learns the secrets revealed by the phone calls might be better left undisturbed.
A relationship grows between the two. Not a romantic one – he's far too old, she's devoted to her (undeserving) boyfriend. But there's a mysterious connection between the two. It deepens as he learns he might not be far too gone to love, and she might not hate him as much as she wants to.
There are connections between the three films, but their stories are not particularly related. The method of storytelling is. Every story presents a plain scenario and seems to deny it the normal emotional reaction. Blue, despite being about desperate loss is not a tearjerker. White is not funny, despite its comic scenarios. Red has all the elements of romance but it cannot be a romance. The characters are totally unsuited to that, so they become stories about the mysteries of life.
In Blue, it's insinuated the Julie really was the composer of her husband's work. And she is clearly capable of having done so. She deals with the orchestrator and copyist and can make expert suggestions on how to continue the music. But she also uncovers music that was clearly made by her husband. It's never clear what the truth is.
In Red, there's a subplot about a neighbor of Valentine's whose girlfriend is in the Judge's neighborhood, so he hears their conversations. He predicts the dissolution of their relationship, and when it happens, the man falls apart. In a final, angry, desperate act, he abandons his dog, tying it to a post and leaving it. The next time we see him, he's boarding a ferry, the dog in his arms. Whatever transpired between the abandonment and the rescue, we have no idea.
Obscured views are a constant visual motif, and the Three Colors films are extremely visual. The colors of their titles tend to be visually prominent. Camera movements and compositions are expressive and often unusual. In Blue, there are some gorgeous shots which are the reflections of characters on Julie's eyeballs.
All three films feature relatively simple stories, but they have so much humanity about them. Kieslowski provides the material for melodrama and farce, but he lets the air out of the tires. The stories simply can't go in that direction, because the people involved can't move out of reality.
On one level, I imagine this makes these films sound kind of austere and maybe dull. But they're not. There is richness and texture to these stories, with their constant mysteries. They are quiet, and mostly small. But the details and small segues of these films invite constant speculation, and consideration. Three Colors deserves its reputation as one of the greatest of film trilogies.
Three Colors Trilogy has been released on 4K UHD and Blu-ray by Criterion Collection. Extras on the discs are all included on Blu-rays, not the 4K discs. On the Blue disc, there are the following video extras:
"On Blue" (21 min), a video essay written and narrated by film studies professor Annette Insdorf; "Kieslowski's Cinema Lesson" (8 min) where Kieslowski discusses a scene of the film; Juliette Binoche scene-specific commentary (25 min); "Zbigniew Preisner" (22 min), an archival interview with composer Zbigniew Preisner; "Reflections on Blue" (18 min); "Kieslowski: The Early Years" (15 min), an interview program about the director from 2003; "The Tram" (6 min), a student film from 1966. "The Face" (7 min), a student film from 1966.
On White, the following video extras: "On White" (22 min), a video essay by film critic Tony Rayns; "Kieslowski's Cinema Lesson" (11 min); "Zamachowski and Delpy" (19 min), an interview with the actors; "Krzysztof Piesiewicz" (22 min), an interview with Kieslowski's co-writer; "The Making of White" (17 min), a behind-the-scenes featurette; "Seven Women of Different Ages" (17 min); and "Talking Heads" (15 min), two documentaries by the director.
On Red, the following video extras: "On Red" (22 min), a video essay by film writer Dennis Lim; "Kieslowski's Cinema Lesson" (9 min); "Irene Jacob" (17 min), video interview with the actress; "Marin Karmitz" (11 min), video interview with producer Marin Karmitz; Jacques Witta (13 min), video interview with editor Jacques Witta; "Behind the Scenes of Red" (24 min); "Kieslowski Cannes 1994" (16 min); "Krzysztof Kieslowski: I am so-so…" (56 min), a 1995 documentary film on the director. A booklet includes several essays on the films.