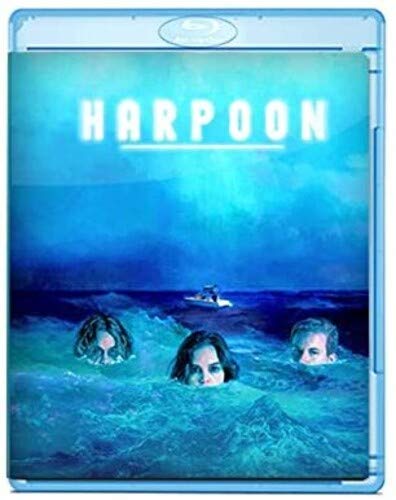 Written by Michael Frank
Most profile pieces begin with a description of what the celebrity was wearing when they were interviewed. These pieces talk about the location, about the coolness and power the A-lister emoted, about how they felt to be in their presence. Rob Grant, director of Harpoon, is a different type of filmmaker.
I sat down with Grant on a brisk morning in Brooklyn. We were bundled up in jackets, and the wind was blowing deeply into the recorder, leaving most of it ripe with static. He had bright blue eyes, a beard, a huge smile on his face. It was his idea to sit outside.
Grant's film Harpoon, which we have previously reviewed, is a film about friendship, betrayal, and what happens when three people get stranded in the middle of the sea. It's gory, thrilling, and speeds towards enjoyment with a short runtime and a killer cast. When making a film, he just asks, "Would I enjoy this?"
Grant grew up in Canada, dropped out of film school, grabbed a degree in Philosophy, and started his film career as an Editing PA on the cult hit Cabin in the Woods. Like so many of us, he grew up watching whatever his dad watched.
Harpoon
I was nervous to talk with Grant. I enjoyed Harpoon immensely, regardless of my indifference to the horror genre. I haven't had many opportunities to speak with directors, writers, or actors, yet I'm overjoyed that Rob Grant is so relaxed. He answered my questions, something most people just skirt around, but he also asked my questions of his own. He wanted to know about me just as much as I wanted to know about him.
Harpoon was shot in 15 days. All of the inside scenes were shot in Calgary in nine days, and the outdoor scenes, the ones on the boat, were shot in Belize for six days. This was in early 2018.
Grant, serving as editor, worked meticulously throughout 2018, shaving off minute after minute. They submitted for every film fest they could, mostly sending in rough cuts and unfinished products, just hoping for the best.
"Everyone said no," Grant said with a laugh. Everyone, but the International Film Festival Rotterdam. "If Rotterdam said no, probably no one would be watching this film." My eyes gave away how shocked I was, because he kept talking.
"You've got to win the lottery for people to see your movie. You've got to win [it] at least five times. Thousands of people submit to these festivals and you have to hope to get chosen"
Grant hasn't watched Harpoon since the Rotterdam premiere, though. It makes him too anxious. "You're thinking why aren't they laughing. Someone gets up to go to the washroom and you think they're walking out."
He's got a great big smile on his face the whole time he's talking about his film. He's proud of it, and he should be. GQ named it one of the top 10 horror movies of the year, but it's just not that simple for Grant.
Being an Indie Filmmaker
Harpoon isn't Grant's first film, but it may be his last. "I'm treating this as my last one," he told me.
I was shocked. The film has received rave reviews from almost every major outlet, and boats a 97% on the popular Rotten Tomatoes. People overwhelmingly love the film.
"People say, oh, you made a movie, that could be fun to try. But they don't know what they're getting into," Grant told me. He's not cynical, rather he's pragmatic in his approach. He knows his films aren't for everyone, and they're not what might be called 'mainstream'.
An air of uncertainty clouded Grant for the latter half of our meeting. He was still chipper, the smoothies didn't hurt, but he was realistic in what he was saying. Independent filmmaking isn't a walk in the park and it's certainly not a profession one can take lightly. It has stresses, disappointments, and failures like any other line of work.
Grant continued to state how lucky he's been in his career. He's worked with fantastic actors and people who have believed in him. He was even grateful that I wanted to cover his film and learn more about him as a filmmaker. It was all so genuine.
He told me about his thoughts on the industry, his concerns with the independent market, and that he's constantly writing. He has new ideas, but he doesn't know if he should continue making films. He wants everyone to be successful that he works with, and he doesn't want to waste anyone's time or money.
"Is this just an expensive hobby?" he asked. He's not fazed by the blood in horror flicks, but instead always asks how they made that happen. He's intrigued, not grossed out. After about an hour of sitting in the cold, I can say I didn't mind the weather because of the company. He was a down-to-earth creator, grounded in the highs and lows that we all share.
We talked more about our shared anxiety while working, about how he has pages and pages of notes in his phone on story ideas, and how we both are obsessed with the TV show Fleabag. I tell him that I wasn't anxious until I moved to New York and started to pursue writing. He gives an answer I understood and appreciated more than he knew.
"I wasn't anxious until I started to make movies."