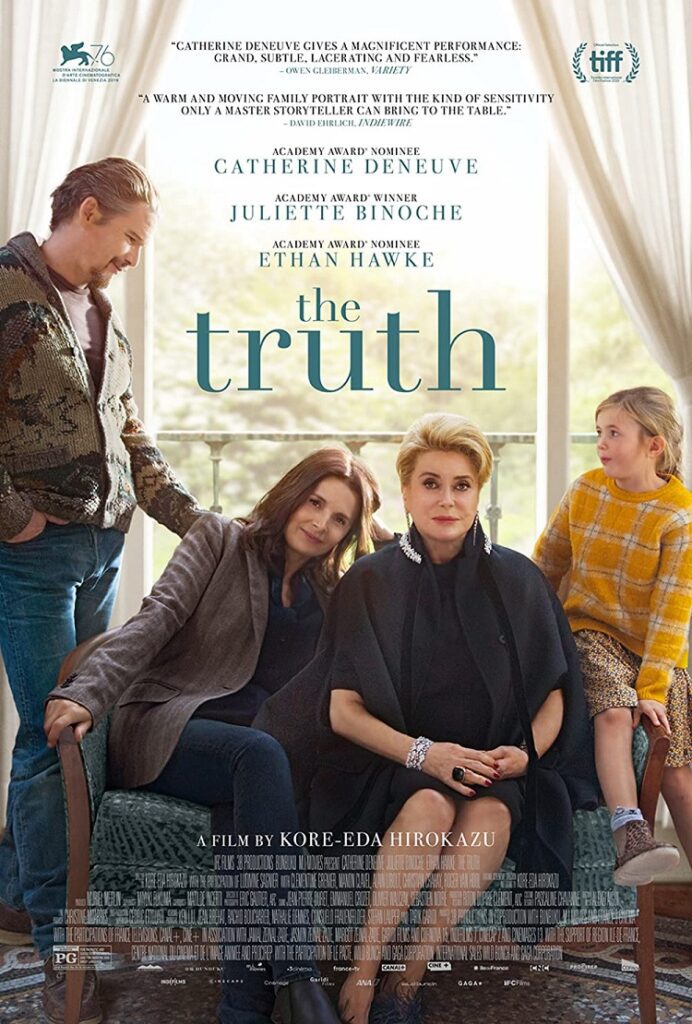 In a way, The Truth feels like a spiritual sequel to Clouds of Sils Maria. Another film distributed by IFC Films dealing with a French actress diva grappling with aging in the film industry as she works on a new project. Only this time, Juliette Binoche plays the daughter of said actress instead of the actress herself and gets to have Catherine Deneuve, a fellow screen icon, playing her mother. A pairing like this is enough to get any film buff giddy with excitement and "truthfully," it's the most saleable thing the picture has going for it.
Watching Binoche and Deneuve go toe-to-toe, giving intricate performances as a daughter and mother feuding over the release of the mother's new memoir, is enough to get fans of both actresses intrigued. It also helps that their soul-bearing performances are what give the rather frigid film its heft. Binoche offers quiet desolation as Lumir while Deneuve is a dominant force as the prismatic Fabienne. Even as Fabienne keeps everyone at a ribbing distance, there's still a fragility to her that she only seems to show on set.
In some of the film's best moments where Fabienne is filming scenes of an arthouse sci-fi picture, Fabienne uses her character as a guise and an escape from her grating reality. They may be small sequences that illustrate the general psychology of actors who play characters to both fulfill their passion of performing and inhabit a life that is different from their own. Given how Fabienne is doing a sci-fi film, portraying a woman seeking a life in outer space, it proves just how detached from reality she wants to be.
Additionally, Fabienne putting on a face while dealing with family issues brings back themes present in director Hirokazu Kore-eda's previous feature, the Palme D'Or winner Shoplifters. Although Shoplifters was more about how a family doesn't need to have blood ties, it still similarly presents the relatable conflict of hidden family secrets reaching the surface in a nearly maze-like fashion.
Yet, the picture is still a maze where the screenplay sometimes gets lost. As Kore-eda offers a meditative screenwriting approach, letting long conversations draw out the palpable tension between Lumir and Fabienne, his approach becomes meditative to the point where the film occasionally gets tedious. Even Ethan Hawke, who pays Lumir's TV actor husband, feels out of place despite him giving a lively performance. Hawke does offer bouts of humor as his American character gets confused when the other characters converse in French, yet his comical crassness contradicts the melancholic tone that Kore-eda seems to be aiming for.
In closing, the truth about The Truth is that both lead actresses elevate an understated telling of family as well as the concurrent connection between actor and performance. It meanders as it delves into the former while proving to be a missed opportunity as it mainly scratches the surface of the latter conflict. Neither a colossal disappointment or as masterful as it could've been, The Truth is simply in the middle.
The Truth will launch on demand/digital on July 3rd.