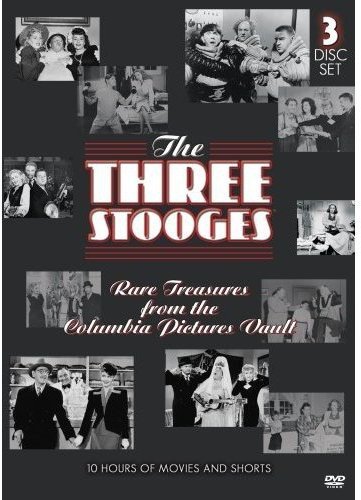 Anyone who has always been a fan of the immortal slapstick comedy The Three Stooges brought us over the course of several decades and was around to remember the glorious days of home video in the '80s and '90s will no doubt recollect the various VHS releases we used to get in the stores (to say nothing of LaserDisc and Beta in the early days). They consisted of three shorts per cassette (rarely totaling over 45-minutes) and the classics seemed to be chosen at random. When DVD came about, we were treated to digital releases which contained more titles per disc, but were still somewhat unsystematic in their variety.
Finally, Sony Pictures Home Entertainment started listening to Stooge fans and released chronological sets of these comedy classics. With all of the original two-reelers featuring Moe Howard, Larry Fine, Curly Howard, Shemp Howard, and Joe Besser at long last available to one and all, it seemed the only place a company could go to appease fans any further would be in reverse. And, surprisingly, that's exactly what they've done with The Three Stooges: Rare Treasures from the Columbia Pictures Vault — a three-disc set of (mostly) unreleased-to-legitimate-home-video gems that primarily highlight the brief solo careers of Shemp, Joe, and the final third stooge, Joe DeRita.
Disc One features two feature-length motion pictures Rockin' in the Rockies (1945, not to be confused with the two-reeler short, Rockin' Thru the Rockies from 1940), and Have Rocket — Will Travel (1959), as well as three animated subjects from the '30s and '40s. Frankly, the cartoons (the only items from this set which are in color) are god-awful, especially if you're a Stooge fan: crude caricatures of the comedic icons are only seen very briefly in each one, and rarely speak (and when they do, the voices do not belong to Larry, Curly, or Moe). Rockin' in the Rockies — a western/musical/comedy finds Larry, Curly, and Moe in their last feature film together, though they do tend to take a backseat to the film's more "romantic" leads.
The second and last film on Disc One, Have Rocket — Will Travel is a comedy made during a time when science fiction films were becoming the new sensation. It was the first appearance of Joe DeRita — released just a few months after the last Joe Besser short, shortly after the Columbia shorts department had been disbanded — and the first feature film any assortment of the boys made since 1951. The story finds our heroes accidentally being launched in a spaceship to Venus, where they meet a talking unicorn and even some evil alien clones! Silly to say the least, but it's infinitely better than those dreadful cartoon shorts (why couldn't they dig up those feature films where the Stooges just made cameos instead, such as The Captain Hates the Sea?)
Disc Two should be celebrated as a home video milestone in itself, for it features nothing but Shemp. Prior to being drafted as Curly's replacement (although Curly, himself, was Shemp's replacement when the act moved from vaudeville to film), Shemp was a well-known comedian who frequently popped up in Universal's Abbott & Costello movies, as well as making cameos in such classic franchises as the Dead End Kids and Thin Man series. He also co-starred in several Columbia shorts with Andy Clyde, some of which open up this disc.
The majority of Disc Two, though, shows us what Shemp could have become had he not joined the Stooges, as he is often seen here being a leading (comical) man, frequently cast with regular Three Stooges co-star, the beautiful and talented Christine McIntyre. The true highpoint here is what many claim to be Shemp's greatest solo short, Mr. Noisy. Though itself a remake of Charley Chase's The Heckler, Shemp nevertheless shines here as an obnoxious baseball spectator who disrupts the entire game as he screams, "Watch him miss it!" It's also interesting to note that several of the shorts here had previously been filmed as Stooge vehicles, so one can observe what Punch Drunks might have been like with Shemp instead of Curly!
Disc Three is another Rare Treasure for me indeed, as I have always been a loyal fan of Joe Besser. Another Abbott & Costello regular (to say nothing of his memorable amount of time spent on The Joey Bishop Show and his latter years as a voice for many Hanna-Barbera cartoons), Joe has — sadly — earned a bum rap over the years as being the weakest Third Stooge. However, like Shemp, Joe was quite the brilliant comic: it just so happens that most of his two-reelers with Larry and Moe were duds (but I still watch 'em anyway) thanks to the decreasing budgets and rising laziness of Columbia's shorts unit. Just like the Shemp shorts, these starring ventures also give us an idea of what Besser was like as a main comic.
Again, there are several remakes of Stooge shorts here, usually with Joe and forgotten straight man (Jim) Hawthorne. A real classic here — 1949's Waiting in the Lurch — has Joe starring as a fire-obsessed eccentric who is given an ultimatum by his frustrated fiancée (Christine McIntyre). The title was even remade as The Fire Chaser in 1954, recycling most of the footage from the original (both versions are included here). Lastly in this excellent collection of odds and ends are four two-reelers starring Joe "Curly Joe" DeRita from the late '40s. Ironically enough, DeRita's short solo career ended as a result of him refusing to mimic another performer, so one should also cherish these with great care.
Sony's much-needed The Three Stooges: Rare Treasures from the Columbia Pictures Vault brings us approximately 11 hours of fascinating fun. Each short and/or movie is shown in its original theatrical aspect ratio, with the 1.85:1 offerings presented in anamorphic widescreen, and English (SDH) subtitles are included. This whole set was designed to serve as the special features section of The Three Stooges: The Ultimate Collection. As such, there are no additional goodies to be found here. Fortunately, the set is also available on its own, so you won't have to double-dip to get it. All in all, this is a true gift for any Stooge fan, as well as a prospective way to get anyone you may know who hates The Three Stooges to watch them (albeit separately).