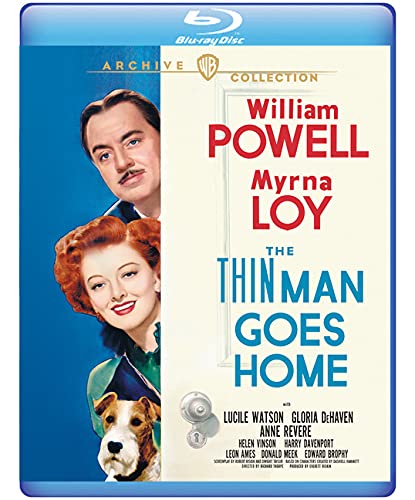 The Thin Man Goes Home (1945) is the fifth of the six Thin Man films starring William Powell and Myrna Loy as Nick and Nora Charles. He is an ex-private detective, although you wouldn't know from the films as he is always thrust into a new investigatation, and she assists him in solving the cases, although not always directly. Four years had passed since Shadow of the Thin Man, and during that time, the director of the first four films, W.S. Van Dyke, died in 1943. Richard Thorpe stepped in for Van Dyke. Harry Kurnitz, who came up with story and co-wrote the screenplay for Shadow, is co-credited with Home's story along with Robert Risken, who co-wrote the screenplay with Dwight Taylor.
The Charleses, minus Nick Jr, but with Asta, leave the big cities behind for a bucolic vacation in Nick's hometown, Sycamore Springs, for his birthday. They stay with his parents, who disapprove of alcohol. In addition, his father disapproved that Nick didn't follow in his footsteps and become a doctor.
The townsfolk are excited Nick is back and presume he's working a case, which he isn't. At least, not until a young man is shot on his parents' doorstep before an introduction can be given. Nora has a perverse pleasure in this because it will allow Dr. Charles to see his son made the right choice becoming a detective.
Turns out the young man is Peter Berton, who worked at the local aircraft factory. Nick's old school chum, Dr. Bruce Clayworth is the town coroner and he reveals Peter was shot with a .45 although no one heard the gunshot. Naturally, Nick is pulled into the investigation, but a few town elders don't like Nick's meddling and threaten to nix his father's plans for a hospital. He ignores their threat and interviews different people who knew Peter. Clues begin to present themselves through the conversations Nick has and the locations he visits. Nora finds the most important clue when she buys a painting for Nick that the Draques are eager to get their hands on, offering $500 for a painting she paid $60.
After Nick gathers all the suspects for the traditional revelation of all the shenanigans and guilty parties, viewers get to see if their suspicions are correct. Some of the clues are in plain view for the attentive audience, but others are so subtle, one wonders how anyone but the screenwriters could have cracked the case. Thankfully, there's enough comedy to go with the mystery to keep the audience entertained as well as engaged.
The video has been given a 1080p/MPEG-4 AVC encoded transfer displayed at its original aspect ratio of 1.37:1. The image looks clean, free of dirt and defect, while also retaining light film grain. Blacks are inky and there are a spectrum of grays. The image has a sharp focus, and texture details are well rendered.
The audio is available in DTS-HD Master Audio Mono. While the levels are a touch low, dialogue is clear and is balanced well with the effects and composer David Snell's score. There is a slight hiss throughout due to its age.
The special features are
Why Daddy? (9 min) – A Robert Benchley Miniature where Joe Doakes (Benchley) competes on a new quiz show called Why Daddy? where he competes against a child, but not as well as he expected.
Screwball Squirrel (7 min) – This Tex Avery cartoon features the debut of violent lunatic Screwy Squirrel.
Trailer
It's always a delight to see the charming pair of Powell and Loy together, and with the folks at the Warner Archive Collection doing such great work on on the Blu-ray's video, I recommend bringing home The Thin Man Goes Home.