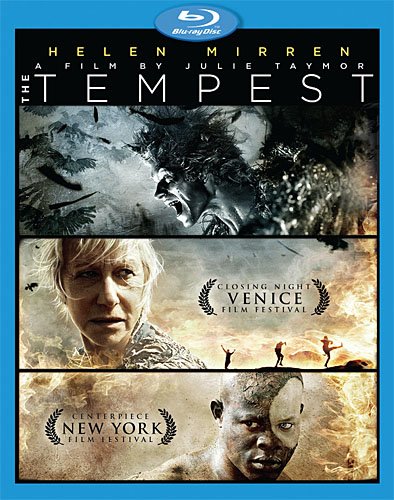 In the recent Big Box of Wood release from S'More Entertainment, filmmaker/Ed Wood historian Ted Newsom commented that, while Wood's dialogue seldom wandered into the territory of greatness, it would have ultimately made more of a favorable impression had it been read by professional actors. In watching Julie Taymor's interpretation of Shakespeare's The Tempest, however, I observed a similar, though adverse notion: even the world's best dialogue can be ruined by staggeringly horrendous overacting and a smug aura of farty pretentiousness.
Yes, I know I just mentioned Ed Wood and William Shakespeare in the same paragraph. But hey, they're both greats in my book. And, honestly, were Wood to have filmed one of The Bard's tales on his patented fly-by-night method of filmmaking with one of his famous $1.98 budgets during even the most hazy of his notorious alcoholic binges, he probably would have cranked out something more enjoyable than this steaming pile of horseshit.
At first, this (mostly British) star-studded tale looks like it might be a halfway decent production, filled to the brim with impressive CGI effects. And then, the award-winning Helen Mirren (as a genderly-altered "Prospera") invokes the spry, light-footed fairy Ariel (an extremely laughable Ben Whishaw) and it automatically turns into the best unintentional comedy of the year, as Ariel is juxtaposed atop of a doomed ship, accompanied by some god-awful rock music. I laughed so hard, I cried. Really, I did; it was that funny.
The comedy soon stops, of course, once the ever-annoying Russell Brand pops up as Trinculo, the jester: a surprisingly-subdued performance of queasiness that proves just how unfunny the so-called "comedian" really is. Among the other actors (many of whom are without restraints) in this artistic nightmare are Felicity Jones as Miranda, Renee Carney as Prince Ferdinand, Djimon Hounsou under a lot of cool makeup as Caliban, Alan Cumming as Sebastian, Chris Cooper (!) as Antonio (who pretty much succeeds at feigning a British accent), David Strathairn as King Alonso (who doesn't), Tom Conti as Gonzalo, and Alfred Molina as Stephano.
If you're feeling plucky enough to submerge yourself in this lurid hallucination of self-importance, Disney's Blu-ray is an excellent pick to test out your home theater set-up. The 1080p 2.35:1 feature is very strong and impressive, while the disc's DTS-HD Master Audio 5.1 soundtrack is fantastic — even if the movie itself isn't. Spanish and Portugueses 5.1 tracks are also on hand, and there are optional subtitles in English (SDH), Spanish and Portuguese if you have to visually read Shakespeare's Early Modern English dialogue in order to understand it.
The Tempest tempts its faithful Shakespearians with an array of special features here, such as two audio commentaries (one by Julie Taymor, the other by a group of Bard experts), some behind-the-scenes stuff, a music video (yes, there are songs in the film, kids), and another nauseating peak at Russell Brand and his method of "comedy." There are also a couple of promos for other Disney titles with this release, all of which attempt to inveigle you into watching this disaster.
Personally, I'll stick to Forbidden Planet if it's all the same to you.