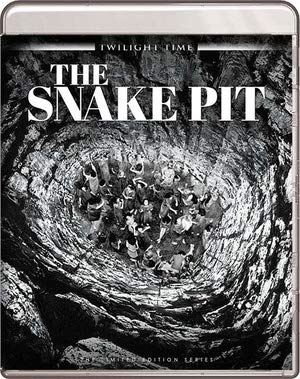 The topic of mental illness today is still a really prickly issue that may people refuse to discuss with others. Either they are dealing with it and don't want anyone else to know, or that they may have someone in their family that's suffering from it. However, there are modern films, such as One Flew Over a Cuckoo's Nest (1975), A Beautiful Mind (2001), and Melancholia (2011) that depict in their own way, the confusion and misunderstandings that comes with mental illness. Way before all of those films, the 1948 classic The Snake Pit, directed by Anatole Litvak, was one of the first and best motion pictures to bring it to life, especially in a time where taboo subjects were often swept under the rug.
Based on the best-selling novel by Mary Jane Ward, the film stars Hollywood great Olivia de Havilland as Virigina Cunningham, a woman who finds herself in a mental aslyum with no recollection on how she got there. Told from her point-of-view, the story unfolds as she is tormented by the demons and delusions of her past, and is unable to recognize her own husband Robert (Mark Stevens). She is treated by Dr. Kik (Leo Genn), a sympathetic and rather charming psychiatrist, who is determined to help her get to the bottom of her struggles. As she desperately tries to find the light in the darkness, the treatment forces her to remember everything from her childhood that lead her to the state's she in. We see flashbacks of her as a little girl trying to receive love from a mother who doesn't like her; the love she got from her father, which didn't last long, especially because of a disease; and a failed engagement from a pervious beau who was just like her father. Eventually, she starts to get better and more aware of her surroundings. From there on, she is able to leave with her husband, to a uncertain but hopeful future.
It was a very provocative film for its time, meaning that the subject matter was handled in a matter-of-fact way. It was praised mostly positive for its shocking honesty. However, feminist groups condemned it because of the fact that the character of Virginia believes that being just a wife was part of her recovery. I do have to agree, because she, a promising author, never mentions writing again. Despite that and a few dated elements, the film manages to outdo its flaws with intelligence and starkness. The film's title refers to the now-famous shot where the camera goes beyond de Havilland and shows other women like her trapped in an endless pit, which is the image used for the Blu-ray's cover art.
Ms. De Havilland's electrifying performance tears up the screen, and she is given full leverage by a terrific supporting cast, including not just Stevens and Genn, but also Celeste Holm, Helen Craig, Glenn Langan, Beluah Bondi, Ruth Donnelly, Natalie Schafer, Lee Patrick, and Betsy Blair as a particularly dangerous inmate who warms up Virginia. It's a testament to how actors can really elevate such taboo material and bring it to life. Director Litvak's sublime direction and Alfred Newman's amazing score contributes beautifully as well. It's no wonder why it received six Oscar nominations: including Best Picture, Best Actress for De Havilland, Best Director, Best Adapted Screenplay, Best Music, and Best Sound Recording, for which it won.
The limited edition Blu-ray from Twilight Time includes these special features:
Isolated Music Track showcasing Newman's incredible score
Audio Commentary with Film Historian Aubrey Solomon
Fox Movietone Newsweels: N.Y. Film Critics Honor Olivia De Havilland; National Magazine Make Film Awards; Showmen Honor "The Snake Pit" (No Audio); Special Film Award Is Presented For "The Snake Pit"; and Motion Picture Academy Awards Film "Oscars"
Two Vintage "The Snake Pit" Radio Shows: one starring De Havilland, and the other starring actress Agnes Moorehead
Original Theatrical Trailer
Also on the Blu-ray is a Twilight Time Catalogue, where you can see what other films are available and sold out. Not only that, there is a new essay by essayist and creative director Julie Kirgo.
As a person who suffers from mental illness, the film really did speak to me, to the point where I felt really uncomfortable while watching it. That is the essence of impactful cinema; cinema that reflects real themes and human emotions. In terms of this, The Snake Pit is one of the very best.