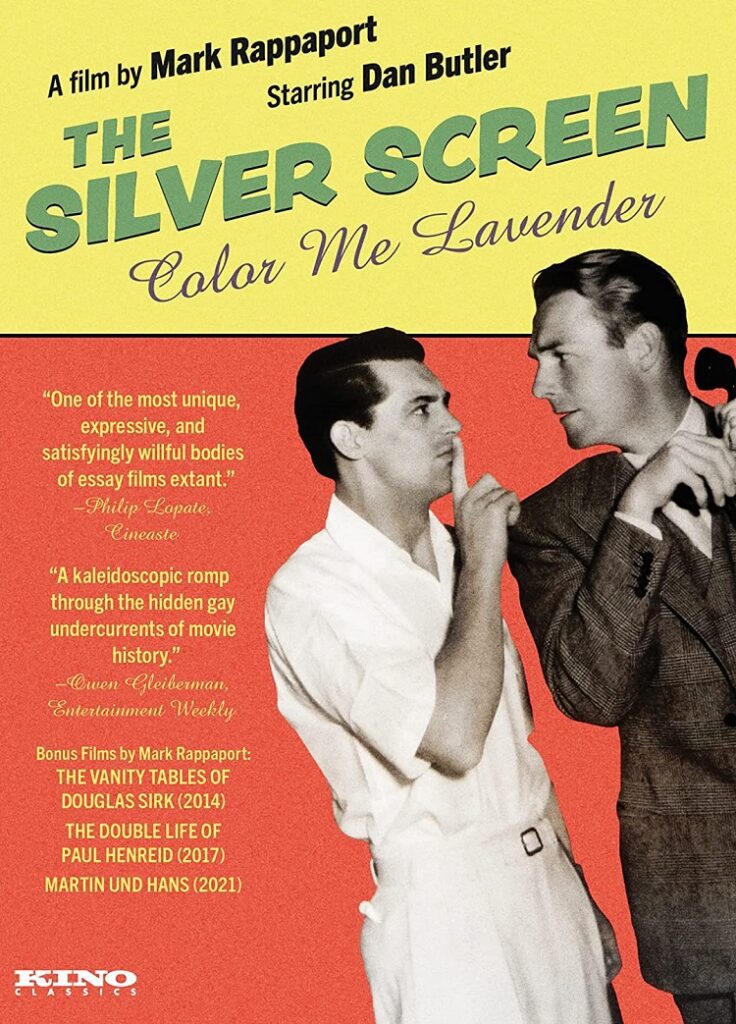 Sometimes I don't get Hollywood. It has an infamously tedious tendency to be really behind the times. It's not exactly the most progressive of entertainment symbols. And leave it to brilliant essayist/film critic Mark Rapport to blow the doors wide open on the hidden and not-so-hidden side of classic Hollywood, especially his 1997 exploration The Silver Screen: Color Me Lavender.
Hosted by actor/playwright Dan Butler, the 103-minute film takes a journey through the homoerotic undercurrents of Golden Age cinema, with a squeamish twist. You witness all the stereotypes that took place back then, from the campiness especially with character actors like Eric Blore, Edward Everett Horton, and others; the subtle/not-so-subtle subtexts of the Road to… film series with Bob Hope and Bing Crosby; the well-known friendship (or relationship) of Cary Grant and Randolph Scott; how famous character actor Walter Brennan's characters really admired their leading men; to the on-screen exploits of Jerry Lewis and Dean Martin, Danny Kaye, and even Red Skelton.
As fascinated as I actually was during it, it's not perfect or as deep as The Celluloid Closet as I thought or hoped it would be. It's missing lots of details and facts, like the queer codes of Peter Lorre in The Maltese Falcon, John Dall and Farley Granger in Hitchcock's Rope, or even Sal Mineo infatuation/daddy admiration for James Dean in Rebel Without a Cause. It definitely overlooks Rock Hudson's status in film history, but considering that this film is based more on camp than seriousness, then I guess I should have expected the lack of more in-depth material.
Despite its obvious flaws and approach, it does deliver in the camp factor and Butler does nail that aspect, and if you happen to enjoy that, then I'm sure you'll get a lot out of it. It is a fun essay I can tell you that.
Bonus films include The Vanity Tables of Douglas Sirk (2014), The Double Life of Paul Henreid (2017), and Martin and Hans (2021).