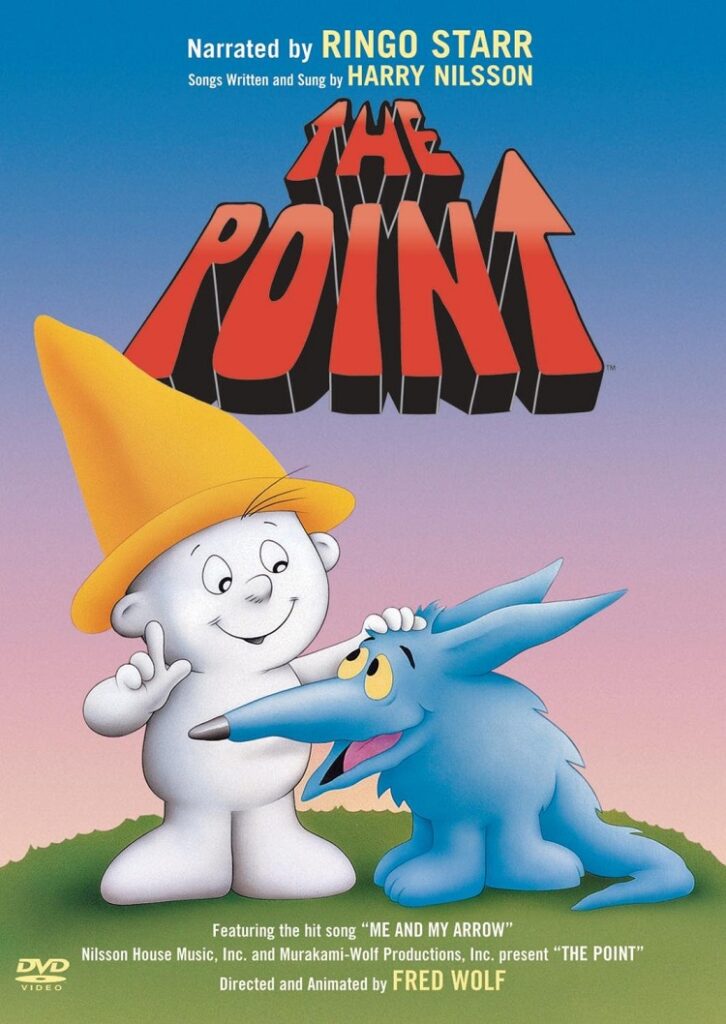 Written by Greg Barbrick
I must confess that I never really "got" Harry Nilsson. Now don't get me wrong, I like what I have heard of his music, and I even own his Nilsson Schmilsson album, but I never quite understood why The Beatles considered him their "favorite American musician." Personal taste is just that though, and evidently they heard something extra special in his music. Evidently he was a lot of fun to drink with also, and that may have been a factor in former party animal Ringo Starr's involvement in Nilsson's animated film The Point (1971).
With the Peanuts specials, and various holiday shows such as Rudolph the Red Nosed Reindeer (1964) being perennial classics, a couple of musicians attempted to create their own evergreen children's shows in the '70s. One of these was Carole King's Really Rosie (1975), and the other is Harry Nilsson's The Point. Neither became yearly traditions, but I have always been curious about the latter. MVD Visual has just released The Point: Definitive Collector's Edition on DVD, and it seemed the perfect opportunity to check out Nilsson's "fable" (as he referred to it).
Ringo narrates the 71-minute movie, which is presented as a bedtime story being read to a boy. "Once upon a time, there was a tiny village where everything had points, even the people had points, right there on the top of their heads. The point was the point of it all," we are told.
The hero of the tale is a boy named Oblio, who is born with a round head, with no point. I had always thought the song "Me and My Arrow" was a catchy tune, and knew it was associated with The Point, but had no idea what it was actually about. As it turns out, Arrow is the name of Oblio's best pal, his dog. Life for Oblio goes along just fine, until he gets on the bad side of the son of the village's count. The Count is not very nice, and he manages to get Oblio kicked out of the village because he has no point.
Oblio and Arrow are banished to the Pointless Forest. This is where most of the action (as it were) takes place. They meet a number of interesting characters there, who all offer some advice to the boy about his predicament. My favorite of them of Mr. Rockman, who is a big round man made out of rocks. He sort of reminds me of the Burl Ives character in Rudolph, but with a total hipster, beatnik rap. Everything is "dig this" and "groove on that" with him.
All of the creatures Oblio and Arrow meet have similar opinions about his situation, and that is to embrace his non-conformity. This is the basic moral of the story, which is not too surprising considering the era in which the show was produced.
Oblio returns to the village after his day in the Pointless Forest as an enlightened youngster. Everyone regrets their decision of banishing him in the first place, including his parents. That is the one glaring hole in the tale that I wish Nilsson or his writers would have addressed. The idea that his mother and father would go along with the eviction without even challenging it makes them look pretty bad. Obviously Oblio needed to be alone with Arrow in the Pointless Forest to learn his life lessons, but his parents' failure to stand up for him in the first place makes one wonder about them.
The King of the village overrides the Count's objections to the boy's return when Oblio explains what he had learned. He tells everyone that the Pointless Forest is actually full of points. They are on the trees, the bird's beaks, even the rocks have points. He realized that everything has a point, so he must have one too, even if you cannot see it. As soon as he finishes talking, Oblio's head pops its very own point, as if to prove his…well, point. From here on out, the village will be tolerant of those who appear to be "pointless."
I guess it is the newly produced bonus features which make this the Definitive Edition of The Point. There are four segments, "Legacy of The Point" (6 min), "Pitching The Point" (4 min), "Making The Point" (13 min), and "Who is Harry Nilsson?" (4 min). Each piece features interviews with co-workers and friends, including Terry Gilliam, Micky Dolenz, May Pang, his daughter Annie Nilsson, and others.
One interesting fact about the legacy of the movie is that prints of it have been requested by a number of schools over the years. Director Fred Wolf says that he has always happily complied, free of charge. This was probably a lot more common before the VHS and DVD era, but it is nice to hear. Unfortunately, my school never asked for one though, so it took many years for me to finally see it.
The Point holds the distinction of being the very first animated made-for-TV movie. This is kind of cool in its own way, but the quality of the animation suffers a bit because of the lower budget than a feature film would have enjoyed. Not that it is bad, but it is definitely not up to the level of something like Yellow Submarine or other, more expensive theatrical animated releases.
The Point features seven Harry Nilsson songs, and they are all very family-friendly tunes. This is a movie which is certainly of its time, but holds up quite well. Whether you are just curious (as I was), or want something to add to the kid's DVD collection, The Point is recommended.