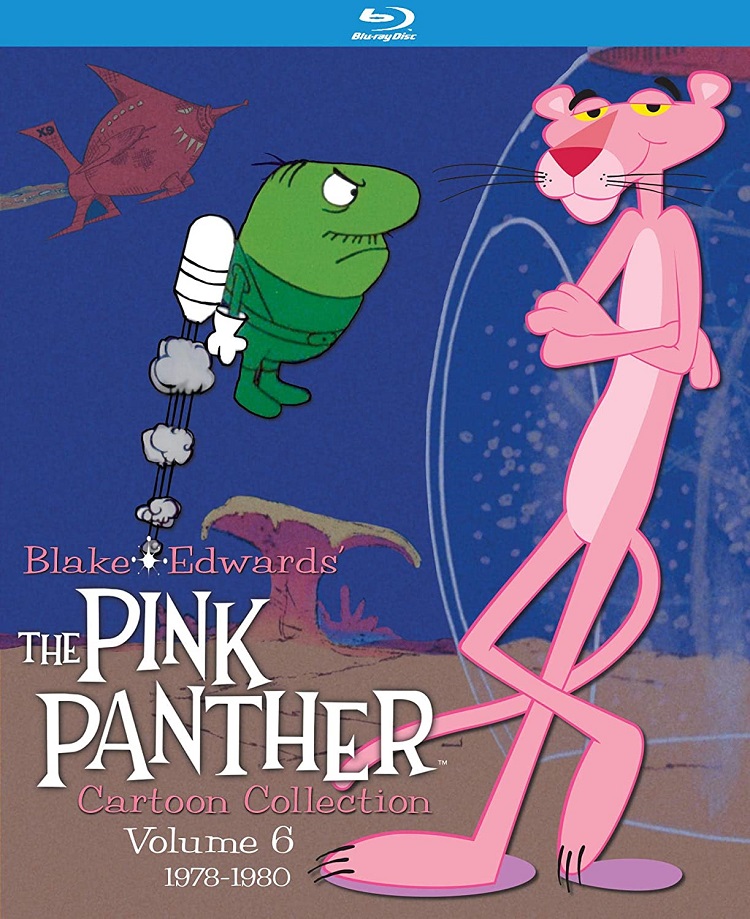 From January 2018 to December 2019, Kino Lorber Animation released the entire run of 124 Pink Panther cartoons produced by DePatie-Freleng Enterprises on Blu-ray in six volumes, which are being collected as The Pink Panther Cartoon Collection, a six-disc set housed in a cardboard case, available May 19. Previously reviewed at this site are Volume 1, Volume 2, Volume 3, Volume 4, and Volume 5.
As mentioned in those aforementioned reviews, Friz Freleng was an instrumental figure in animation history because of his work on Warner Brothers' Merrie Melodies and Looney Tunes. He and producer David H. DePatie went on to form DePatie-Freleng Enterprises. After a few years of creating theatrical Pink Panther cartoons, DePatie-Freleng brought them to television with The Pink Panther Show, which premiered on NBC on September 6, 1969. DePatie-Freleng resumed producing theatrical shorts again in 1971.
The Pink Panther Cartoon Collection: Volume 6 presents 17 cartoons made for The All New Pink Panther Show, which ran from 1978-1980 on ABC. Later, they were screened in theaters. This final collection continues the dual track of stories with the character either a chaotic force or on the receiving end of one.
First up is Pinkologist, which finds the Little Man visiting a psychiatrist using clips from Rock A Bye Pinky, The Pink Blueprint and Pink Posies to tell of the Panther tormenting him. On the commentary track, Jerry Beck states this was the last one produced and also points out the story's flaw in logic. There are also two remakes in this group. The Panther gets a job as a matador in Toro Pink, a remake of Bully for Pink, and a job as a lumberjack in Pink in the Woods, a remake of Pink is a Many Splintered Thing
The stand-out cartoons where the Panther is a chaotic force are as follows: In Pink in the Drink, the Panther thinks he is taking a cruise, but is actually shanghaied by Captain Little Man, which the seaman soon regrets. The animators have a lot of fun gags from the ship rocking on the waves. The Panther makes like Tarzan in Pink Bananas but must deal with an angry ape before being declared King of the Jungle. The Panther is a fuel attendant on a pink planet in Star Pink and has to deal with a villainous Little (Green) Man.
The stand-out cartoons where the Panther is fighting chaos are as follows: In Pinktails for Two, the Panther gets his tail in some Speedy Grow plant food, causing it to grow as long as a garden hose. He repeatedly lets go of it and runs into trouble, from firefighters grabbing it to birds mistaking it for a worm. In Pink Breakfast, he fights household items, such as an alarm clock and numerous things in the kitchen. In String Along In Pink, he gets into some wild misadventures following an improbably long string, not so much a story but a series of gags.
Pink Suds combines both ideas. The Panther uses the laundromat with difficult results, such as getting himself stuck in a pail. The Little Man struggles as well and go at each other, but in a rare twist, the Little Man come out on top in this story. But the victory doesn't last long as the next and final cartoon in this set, Supermarket Pink , finds the Panther causing mayhem in the Little Man's grocery store.
The video has received 1080p/MPEG-4 AVC encoded transfer displayed at an aspect ratio of 1.33:1. The colors standout in strong hues across the spectrum, from bright primaries to rich earth tones. Black are inky and whites are accurate. There video hasn't been cleaned, so specks of black and white appear as do scratches. In Pink Press, there is a brief jitter on an iron fence. Pink Bananas also has a moment of jitter. In both cartoons, the sky is dirty due to dark smudges. In Doctor Pink, the film grain is thicker than other cartoons and a hair can be seen floating around several frames.
The audio is available in DTS-HD MA 2.0. These cartoons feature music and effects with rare guttural noises from the characters, but no dialogue. Music runs during the majority of a short and comes through with good fidelity. The sound elements are well mixed together. No signs of wear or defect were noticed.
For the Special Features, there are 10 with commentaries, including two on Star Pink. Returning speakers from past volumes include film historian Jerry Beck (2); cartoon writer Wiliam Hohauser (1); author Mark Arnold (2); and filmmaker Greg Ford, one on his own, and twice joined by veteran Hanna-Barbera & DFE Storyman Tony Benedict, who is a new speaker to this collection. Also making his debut just on time is film historian Constantine Nasr (2). Pink Links (HD, 63 min) is a lengthy feature about the history of the Pink Panther cartoons. From 2005, Remembering Friz (SD, 9 min) finds Freleng's daughters talking about their father's history and work. Last but not least is a Pink Panther Flakes commercial (SD, 30 sec).
Throughout the 16-year run, the storytellers and animators at DePatie-Freleng created significant work that should continue to be enjoyed. Thankfully, Kino Lorber is helping to make that possible with the release of these cartoons on Blu-ray, providing fans an opportunity to rewatch them and new audiences a chance to discover them. If one was able to hold off buying any individual releases, purchase the entire collection.