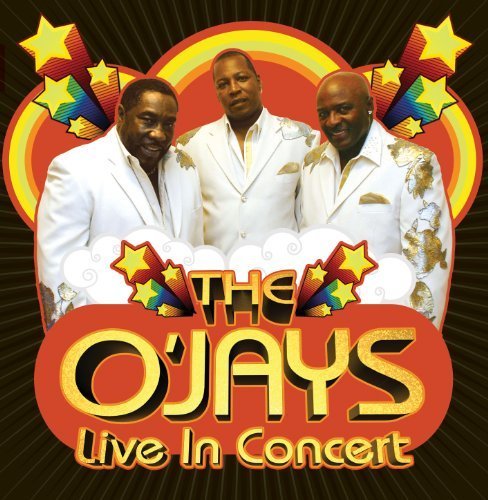 "I love music, any kind of music/ I love music, just as long as it's groovin'/ Makes me laugh, makes me smile," the O'Jays sing on their 1975 smash "I Love Music." For 50 years, the Philadelphia International group have produced memorable singles, many of which virtually defined the 1970s. Amazingly, founding members Eddie Levert and Walter Williams still tour, accompanied by Eric Nolan Grant, a member since 1995. Levert's gritty yet passionate voice, along with the trademark O'Jays harmonies, are on full display on the DVD/CD set The O'Jays Live in Concert, an often enjoyable romp through their greatest hits.
The DVD and accompanying CD features their November 27, 2009 performance at The Bergen Performing Arts Center PAC in Englewood, N. J. From the moment the video begins, you feel as though you are an audience member. Ushers are shown taking smiling fans' tickets; when the lights go down, the crowds' anticipation can be heard. Clad in all white suits, Levert, Williams, and Grant hit the stage running by launching into their appropriate 1974 single "Give the People What They Want." Further nodding to their '70s heyday, they launch into a beautiful cover of Curtis Mayfield's "People Get Ready," transitioning into their still-relevant hit "Love Train." In between songs, Levert charms the audience with his musings on modern life, including an amusing anecdote about telling his grandson to pull up his low-rise pants.
Returning to the hits, the trio thrills the crowd with a spirited rendition of their signature "Back Stabbers," with Williams and Levert performing the choreography as deftly as the youngest member. The Latin-tinged track became a sequel of sorts to the Undisputed Truth's song "Smiling Faces Sometimes," both of which address two-timing friends and lovers. On a lighter note, the O'Jays move on to the love song portion of the show, with Levert demonstrating that he can still emote with that smoky voice. "Let Me Make Love to You," "Cry Together," and "Stairway to Heaven" (not the Led Zeppelin tune) inspire screams from female audience members, and the trio's impeccable harmonizing take listeners on a soul music time warp.
The tempo increases with their 1975 dance hit "I Love Music" (Levert often claims this ranks among the very first disco songs), but slows again with a sexy cover of Skylark's "Wildflower." When Levert delicately croons the line "she's a free and gentle flower running wild," he seems to carefully consider and linger over each word. Not surprisingly, the crowd rises to its feet for the two final numbers: 1977's "Use to Be My Girl" and the funk workout "For the Love of Money." Contrasting the two songs, the former represents a simpler time when good-time songs ruled. "For the Love of Money" illustrates Philadelphia International co-founders/songwriters Kenny Gamble and Leon Huff's ability to write political commentary while not clubbing fans over the head with the message. When the O'Jays sing "Give me a nickel, brother can you spare a dime/ Money can drive some people out of their minds," the words still ring true.
The DVD includes two extras: an interview with the O'Jays and another with some of the backing band members and their management. Watching Levert and Williams reflect on their long careers (and express some resentment that they never won a Grammy) reveals their obvious love and respect for each other after half a century. The package also includes a CD of the concert.
Philly Soul fans as well as O'Jays enthusiasts will thoroughly enjoy this energetic, if too short, concert. Overall, The O'Jays Live in Concert proves that some entertainers get even better with age.