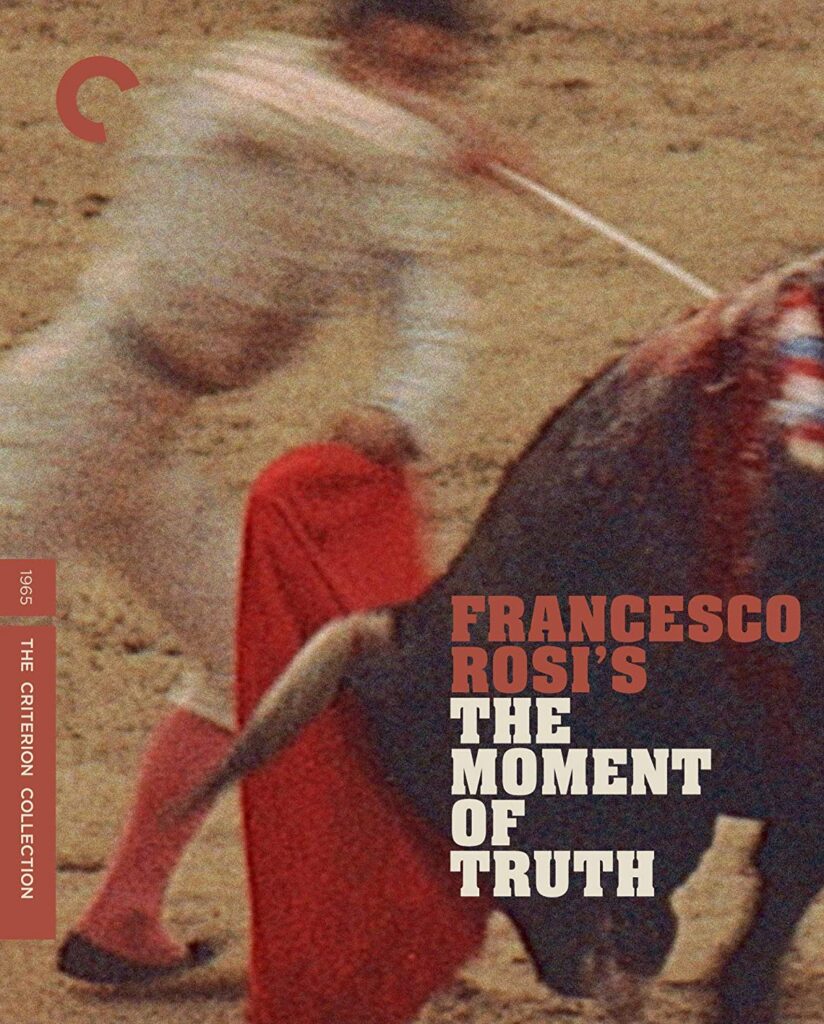 The Film
Francesco Rosi doesn't waste his time on extraneous details in The Moment of Truth, a lean symphony of sound and image — the roar of the crowd and the blood of a bull mingling in a heady, gripping mixture. Using mostly nonprofessional actors and mostly real bullfights, Rosi crafts an intimate, immediate portrait of a torero's (real-life bullfighter Miguel Mateo) unlikely rags-to-riches rise. By reducing moments outside the ring to their barest essentials, Rosi focuses all our attention on the fights, with the ferocious bull bearing down and our gaze rigidly fixed on the present.
Bullfighting is nasty business and Rosi's roving camera doesn't shy away from the bloody brutality inherent in the sport, but he nonjudgmentally grounds the event in its ritualistic context. The film opens and closes with elaborate religious ceremonies, and the simultaneous beauty and menace of the first scene segues nicely into what's to come.
Eventually, Rosi's verité-style camera comes to rest on Miguel in a crowd, chasing a bull in the streets with misguided machismo. Miguel has grown weary of his provincial, agricultural life, and he sets out for Barcelona to break up the monotony. Initially, urban living proves just as mundane and even more austere than his previous life as Miguel struggles to get by working inconsistent odd jobs. Seemingly the only path out of poverty is celebrity, and despite the odds, Miguel works his way into the ranks of elite bullfighters.
Once he reaches a level of stardom, Miguel has no chance to turn back, and the film follows him headlong into the all-consuming nature of the sport. As he gets deeper and deeper in, Rosi's editing becomes more fragmented, eliding large chunks of time and sweeping us up in the fights. These scenes are absorbing — beautiful and ugly, physically gracefully and violent all at once. We grow to understand Miguel's attraction to the sport — beyond celebrity and stacks of money, the vestiges of which we glimpse sparingly — and the way it will destroy him.
Although Rosi rarely uses POV shots to put us in the center of the action, he subjects us to it all the same. The Moment of Truth feels like a relentlessly subjective film, where we meld with Miguel rather than witness him from the outside. It's a bracing effect, and it makes for one of the most viscerally moving sports films I've ever seen.
The Blu-ray Disc
Criterion's 1080p transfer of The Moment of Truth, presented in the film's original 2.35:1 aspect ratio, is outstanding. Textural definition is superb, with the film's prominent grain structure looking impressively film-like and the shocks of red blood looking perfectly rendered alongside the dusty color palette. There's a little inherent softness in the image, but it comes across pretty sharp most of the time. Very little damage and an exceptionally clean digital transfer also help make this disc a stunner.
The uncompressed monaural audio is perfectly adequate, rendering dialogue and crowd noise nicely balanced in this clean mix.
Special Features
A lower-tier title from Criterion, The Moment of Truth is mostly bare bones, but the one major extra is solid despite its brevity. A 2004 interview with Rosi (conducted by Criterion in 2004, so they've likely been sitting on this as a potential release for some time) runs only about 13 minutes, but he provides a nice overview of his inspiration for the film and his outsider status, being an Italian who knew almost nothing about bullfighting making a film about a Spanish cultural landmark. The package also includes a booklet with an essay by critic Peter Matthews.
The Bottom Line
Looking stunning on this high-def disc, The Moment of Truth is a heady, viscerally thrilling sports film.