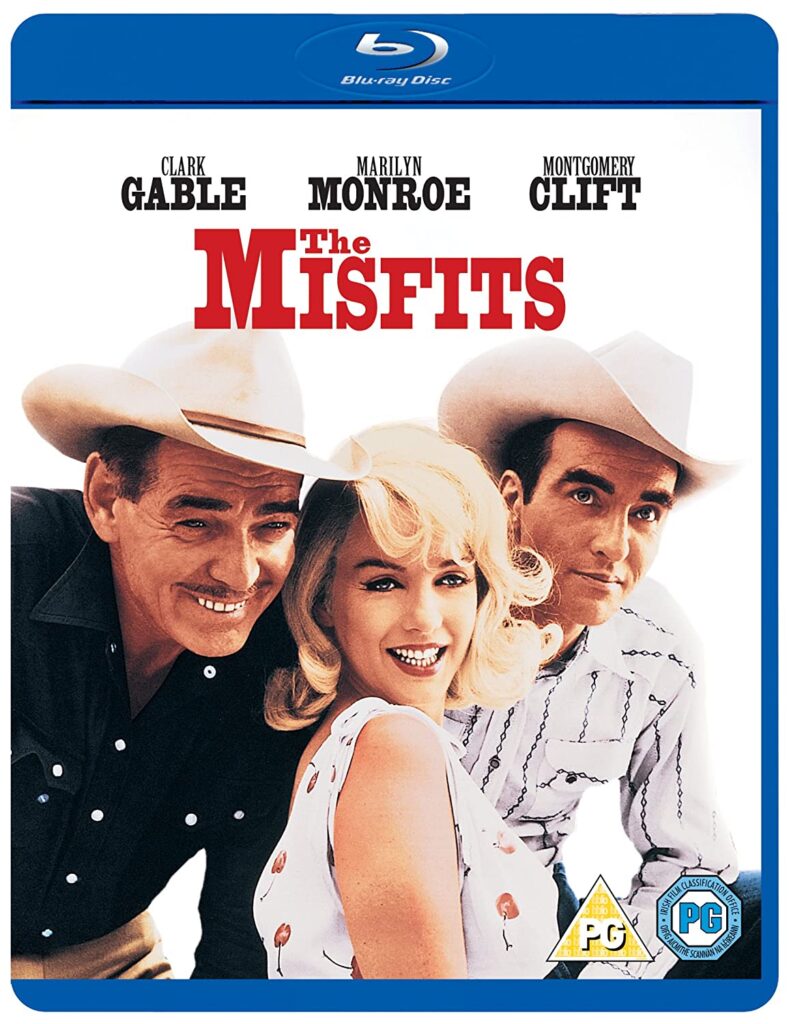 The Film
With the powerhouse combination of writer Arthur Miller and director John Huston behind the camera and the star power of Marilyn Monroe, Clark Gable and Montgomery Clift in front, The Misfits seems like it should be a stone-cold classic. Chances are, it's more likely known for being both Monroe and Gable's last film — he died of a heart attack just days after filming completed and her overdose-induced death came several years later before she could finish another project.
But The Misfits shouldn't be regarded as a mere career footnote for anybody involved, as its tale of midlife disillusionment and the disappearance of the traditional American West is a brilliant, elegiac work. Miller's screenplay rivals his finest plays and Huston highlights the lonely expanses of the Nevada setting that parallel the emptiness of the characters' lives.
Monroe stars as Roslyn Tabor, a woman who comes to Reno to get divorced from her husband (Kevin McCarthy, in a blink-and-you'll-miss-him part). She's helped by Isabelle Steers (Thelma Ritter), who proudly states that she's been the witness for more than 70 divorces. Isabelle introduces Roslyn to cowboy Gay Langland (Gable) and his mechanic friend Guido (Eli Wallach), who convince her to stay in Reno for a while.
Regrets hang over each of the characters. Guido's wife died, and he feels responsible. Gay has watched his way of livelihood practically disintegrate over the past few years, and has driven away his family with his drinking. Later, they meet up with rodeo drifter Perce Howland (Clift), who's estranged from his mother because of his stepfather. All three have romantic inclinations toward Roslyn, who's on the brink of an emotional breakdown, but nonetheless ends up having to be the strong one for each of the three men at various points. She settles into a relationship with Gay, but the road is about to get even rockier when he sets out to capture horses to sell to a slaughterhouse.
The film is presided over by an aura of hard living, which is present in the characters, but also in the actors portraying them, with Monroe and Clift especially struggling with drug abuse during filming. Behind-the-scenes, Miller and Monroe's marriage was also on the rocks, lending added credence to the proceedings. Unfortunate though that all is, the film has an undeniable texture of authenticity where the weary glances and burnt-out dreams feel like more than just a put-on. It's a remarkable film, and a career highlight for everyone involved.
The Blu-ray Disc
The Misfits is presented in 1080p high definition with an aspect ratio of 1.66:1. There is no way I was expecting this film to look nearly as good as it does here, given its relative obscurity and the lack of effort given to most MGM catalog upgrades. Amazingly, the film looks, well, amazing, with a beautifully detailed black-and-white image, superb image clarity and sharpness, deep blacks, vibrant whites and an almost complete lack of damage. The transfer is outstandingly film-like with tons of texture and fine detail apparent in both close-ups and long shots. We're talking about a significant improvement over DVD here.
The mono DTS-HD track gets the job done, although voices sound a little hollow in points. Overall, it's a fine track, with no clarity problems whatsoever.
Special Features
Sadly, just the theatrical trailer in HD.
The Bottom Line
The wonderful image quality for this release makes it an easy upgrade recommendation. The film stands tall as one of the great American films of the 1960s, and will likely never look better than this on home video.