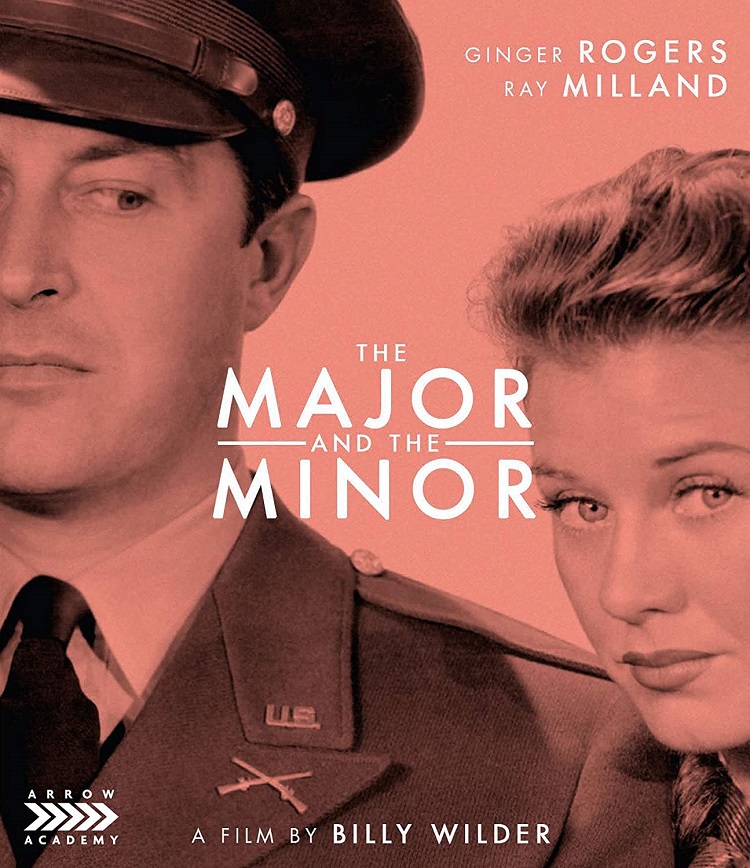 Susan Applegate (Ginger Rogers) has had it up to here with New York City, with fighting off men making passes at her on her job, with just about everything. She's packing it in and heading back to her hometown of Stevenson, Iowa. There's just one problem. She's broke and doesn't have enough for the one-way fare. That is, an adult fare. She could manage the cost of a child's fare ticket. After a quick trip to the ladies' room, she scrubs off her sophisticated New York city-girl face, changes her fancy hair-do to pigtails, and pushes her hat on the back of her head to reveal a shiny, freckle-faced younger-looking alter ego that she dubs Sue-Sue. A pilfered balloon makes the transformation complete.
This is just the beginning of a masquerade that will propel Susan not just out of the big city, but into the life of the very nice, but partially visually impaired Major Philip Kirby (Ray Milland), who tries to protect young Sue-Sue on her trip home. Billy Wilder and his writing partner Charles Brackett had already collaborated on eight screenplays since he had arrived in Hollywood in 1934: including Bluebeard's Eighth Wife, Ninotchka, and Ball of Fire. This would be their ninth, but with a twist – it would also be Wilder's Hollywood directing debut.
The Major and the Minor is a rollicking farce, always hinting at, but never crossing the line of its Lolita-like set-up (the actual novel Lolita was yet to be published, in 1955). Sue-Sue's widespread appeal is exciting, confounding, and disturbing to every male she comes across, from age 12-70. But never once does Rogers or the audience forget that Sue-Sue is an adult pretending to be a child. Sue-Sue never completely fools everyone, either – the train conductors are onto her tricks from the start, as is teenaged Lucy (Diana Lynn in a funny supporting role), who agrees to keep her secret if Sue-Sue can help her in her quest to save Philip from his conniving fiancee and Lucy's older sister, Pamela (Rita Johnson).
The germ of future Wilder comedies like Some Like It Hot and The Apartment, which also dealt with themes of identity and unlikely romance can be seen in The Major and the Minor. The film was released in 1942, but seems to take place before Pearl Harbor, as the impending war with Europe always hovers in the background. Major Kirby feels stifled in his job as a teacher at a military academy and yearns to get an active military assignment. It's a lot of fun watching the young cadets attempts at trying to impress their new crush Sue-Sue, but we are soon reminded that there is frequently a darker side to a Wilder comedy. The viewer can reflect that these hormonal "children" will presently graduate from the military academy and like Philip, be on their way overseas to take part in the Second World War. There is a nice feature in the Blu-ray extras, "Half Fare Please!" featuring film critic Neil Sinyard, who puts the film's subversive wartime subtext in context.
Rogers and Milland and the entire cast are clearly having fun with their roles, and never push the sexual humor into knowingness or obviousness. Rogers gets to play with her Hollywood glamor image and what it means to be always acting. The Major and the Minor may have been the first Hollywood film directed by Billy Wilder, but it is also one of his best.
Also featured in the extras:
An audio interview with Ray Milland (who would win a Best Actor Oscar for the next time he worked with Wilder, The Lost Weekend, in 1945) about his films and career
A radio adaptation of the film from 1943 starring Ginger Rogers and Ray Milland
Audio commentary by film scholar Adrian Martin
The original theatrical trailer
An image gallery
The package also features a reversible sleeve with the film's original poster and a collector's booklet with essay by Ronald Bergan. This is the first Blu-ray version of the classic Wilder film, a high definition Blu-ray (1080p) presentation transferred from original film elements, with an aspect ratio of 1.37:1. The sound is in uncompressed Mono 1.0 PCM audio soundtrack. Optional English SDH subtitles are available. The black and white film's running time is 100 minutes.