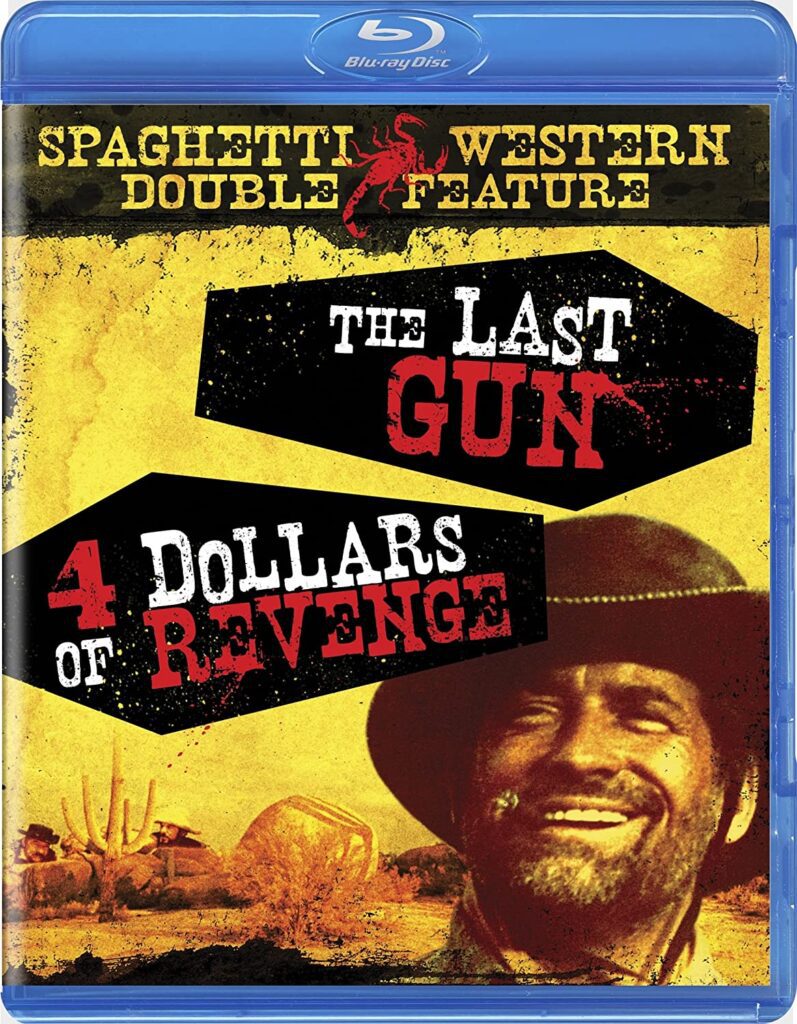 When someone hears the phrase "Spaghetti Western," there's a damn good chance a vision of Clint Eastwood wearing a poncho will pop into their head. And it's for good reason, too: those epic Sergio Leone classics starring Clint Eastwood are — in all probability — the most well-known Euro western titles to audiences worldwide. Indeed, the first Leone/Eastwood collaboration, A Fistful of Dollars is generally considered to be the first spaghetti western to achieve recognition in the U.S. But it wasn't the first spaghetti western made; between 1960 to 1980, the collective film industries of Europe produced and released approximately 600 entries for the subgenre, many of which either didn't find their way to screens here, or went by completely unnoticed.
Mill Creek Entertainment brings us two of those movies in their "Spaghetti Western Double Feature" set, which houses 1964's The Last Gun and the 1968 outing, 4 Dollars of Revenge. Our first feature, the shockingly bland Cameron Mitchell vehicle, The Last Gun (originally released as Jim il Primo), was produced before A Fistful of Dollars — and, as such, doesn't possess the familiar style its predecessors generously copied from Leone. As a matter of fact, it doesn't have any style at all — and relies more on those "masked avenger" movies and the earlier Hollywood westerns instead.
The story here has famous gunslinger Jim Hart giving up his ways to settle down to start life over with a new identity. Unfortunately, the town he has started anew in is besieged by a chubby, bald villain named Jess (to be pronounced as if you've attended the Ricardo Montalban School of Fine Acting), and ol' Jim Hart (whose identity is kept secret throughout most of the film, although it's obvious it's Cameron Mitchell) dusts off his shootin' irons to help the townsfolk. Sergio Bergonzelli (who later made a lot of sleazy sexploitation features) directs this snoozer that co-stars Austrian-born Carl Möhner and Livio Lorenzon as Jess.
Up next (and last) is 4 Dollars of Revenge (Cuatro Dólares de Venganza), which hails from the minds of Bruno Corbucci (who, along with his brother Sergio, brought us Django) Alfonso and Jaime Jesús Balcázar (who brought us all kinds of weird and wacky shit), and Grimaldi brothers Aldo and Giovanni (the latter of whom produced Antonio Margheriti's Web of the Spider in '71). The story here finds poor Robert Woods losing a cache of Confederate gold — to wit he is dishonorably discharged from the army in the final days of the Civil War. His humiliation and imprisonment is not his own doing, though: he was setup as the proverbial fall guy by some manipulative minds. And so, Woods escapes to settle the score in this unremarkable feature.
Originally, this double feature was intended to be one of two sets. A second Blu-ray containing Now They Call Him Sacramento and Django was announced, but pulled once Blue Underground stated they owned the rights for Django and were releasing a new High-Def release of the Franco Nero classic. It's a pity that neither of the movies included in this set featured Signori Nero, as he tends to brighten just about any production (a Terrence Hill flick would have sufficed as well).
Both of the movies here are presented in widescreen aspect ratios (The Last Gun is 1.85:1, and 4 Dollars of Revenge is in 2.40:1) and have soundtracks in DTS-HD 2.0 Master Audio, Dolby Digital 2.0 Stereo, and PCM 1.0 Mono. The quality isn't top-notch, and both titles are littered with grain, scratches, debris, etc. Frankly, as a grindhouse and drive-in movie aficionado, I think that adds to the charm. There are no special features to be found with this release, but when you stop to consider you can find this title for $5 or less in stores or online, you can't deny it's a good deal even if the movies do suck. And, should you choose to not pick this up on Blu-ray, both of these movies are also available in Mill Creek's 12-movie 10,000 Ways to Die: The Spaghetti Western Collection DVD set (which sells for around the same price).