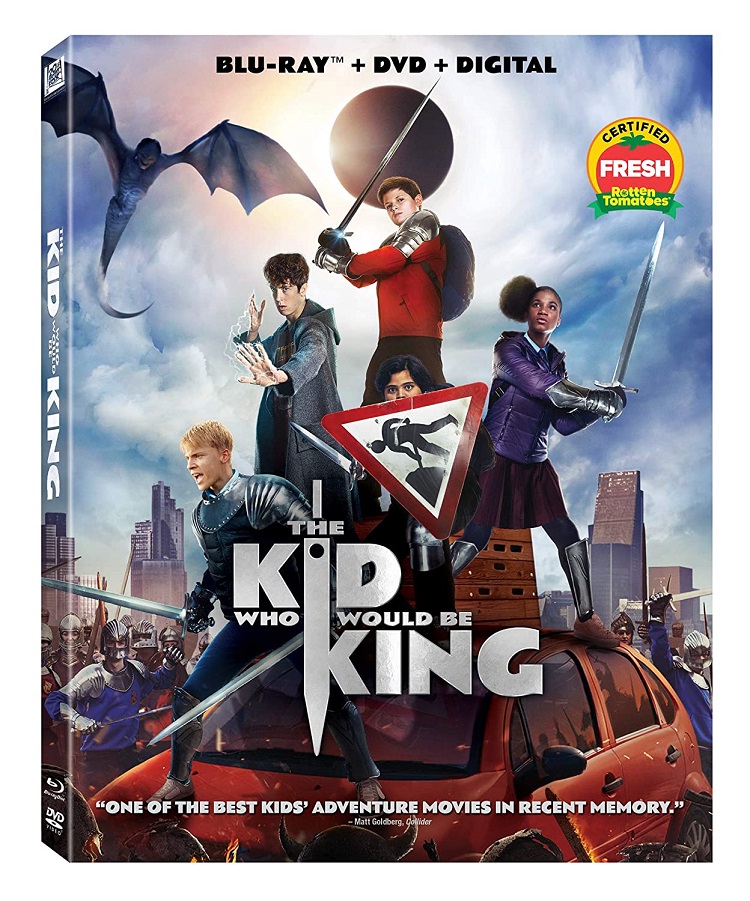 The Kid Who Would Be King is a modern take on the King Arthur legend. Directed by Joe Cornish (Attack the Block), based on an idea that he had as a kid, the film wants to have fun with its source material, and be sure that you will, too. Fans of Arthurian legend will appreciate all the references to the original story: Excalibur, the Sword in the Stone; the Lady of the Lake, the rivalry between Merlin and Morgana, etc. Younger moviegoers will like that most of the action and story focuses on its young actors.
Alex (Louis Ashbourne Serkis, son of actor Andy Serkis) is an ordinary boy who is just trying to get through a school day without being hasseled by resident bullies Lance (Tom Taylor) and Kaye (Rhianna Dorris), who love to torment him and his best friend Bedders (Dean Chaumoo). One night as he is once again trying to avoid the pushy pair, he comes upon the proverbial sword embedded in a rock on a construction site. He hightails it home with his shiny treasure in tow to show it to Bedders. Alex and Bedders know their British mythology, but can't believe the sword could really be Excalibur. But the next day when a very strange, very tall new kid shows up at school (the wizard Merlin), the two quickly find themselves part of a quest to destroy the evil Morgana (Rebecca Ferguson) before she can get her hands on Excalibur.
What kids will love about this film is how Alex decides to enlist the help of his two biggest enemies, Lance and Kaye, on the quest, explaining that one of King Arthur's greatest strengths was that he made friends and allies of his enemies. As Merlin explains, "Evil turns people against each other, to distract them from itself." It's a nice message in these divided, fractious times. Alex, Bedders, Lance, and Kaye enlist all of their classmates for a big finale battle against Morgana and her CGI forces of evil. This empowers all of them to become heroes, and takes place at their school, which is a wish-fulfillment fantasy reminiscent of the Buffy Season 3 finale.
The kid actors are good, but especially impressive are Angus Imrie (son of actress Celia Imrie) and Patrick Stewart in the shared role of Merlin, who ages backwards. Imrie is particularly good as the amusing and charismatic younger version of the quirky wizard. The locations are scenic, with Cornwall and Tintagel, the legendary seat of King Arthur, used to great advantage. There are definitely echoes of Harry Potter, The Sorcerer's Apprentice, and Time Bandits all over The Kid Who Would Be King. The movie is at its best when the focus is on the kids and not the CGI villains which take over the last quarter of the film.
Special features include:
Deleted scenes, Origins of A King, Young Knights, The Two Merlins, Meet Morgana, Movie Magic, Hair, Make-up and Costume Tests, and Promotional Materials featuring Angus Imrie as Young Merlin
Blu-ray + DVD + Digital Specs (Two-disc set: 1 BD-50, 1 DVD, Digital copy):
Video Resolution: 1080p with an aspect ratio: 2.38:1
Audio: English: DTS-HD Master Audio 7.1, Spanish: Dolby Digital 5.1, French: Dolby Digital 5.1
Subtitles: English SDH, French, Spanish