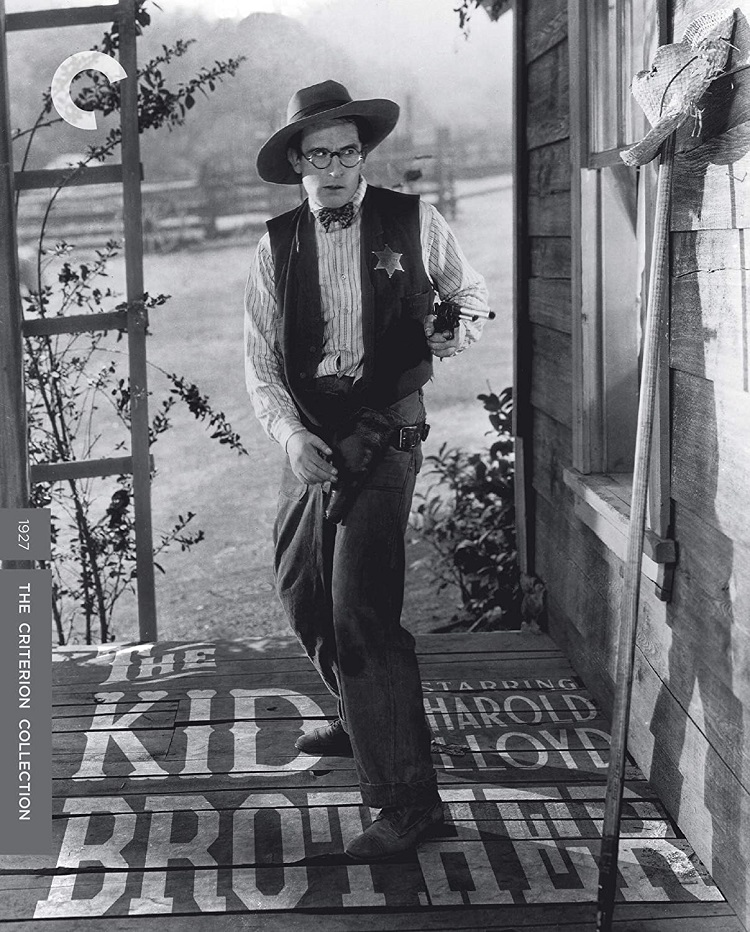 I'm not too familiar with the work of Harold Lloyd, and The Kid Brother is actually the first film of his that I've seen in its entirety. Of course, now that I've finally experienced one of his films, it makes me want to go and seek out what else he has done. The Kid Brother is a hysterical comedy from the silent era, and also one that has a strong emotional core and a few exciting action scenes. It's the perfect genre blend of a movie, one that is hard to come by in modern Hollywood.
Lloyd plays Harold Hickory, the youngest of the Hickory family and also what one would consider the "runt" of the family. His older brothers and father are all brawny men, while he's the scrawny one of the bunch that will do laundry instead of the tough, dirty work like hauling tree trunks around. His father is the sheriff of the town and has banned traveling medicine shows from performing in the town, aptly named Hickoryville. When the older brothers and father are away from the house, attending a meeting that is "for men, not boys" as his dad puts it, Harold decides to fool around with his father's work attire. A traveling medicine show happens to come into town, and Harold is taken aback by the beauty of the show's proprietress, Mary Powers (Jobyna Ralston). With a few signatures, Harold gives the show his approval to perform. And with that brings romance and unexpected adventure that will give Harold the opportunity to show his family how courageous and tough he can be.
The Kid Brother is a perfect example of a film that has you rooting for the underdog the whole time. It never forces its jokes or emotions onto the viewer, and allows Harold to be one of the goofiest and most charismatic characters to grace the screen. The chemistry between Lloyd and Ralston ignites the screen, and there's an action sequence aboard a ship that is exhilarating. It almost seems like, with so much physical humor occupying the screen, the film would become tiresome and repetitive. But there's never a single moment in which it feels like that. It's a brisk, brilliant effort.
The Criterion Collection has released The Kid Brother to Blu-ray in a new 4K scan, presented in its original 1.33:1 aspect ratio. The opening shot is breathtaking and surprisingly clean. The restoration process is absolutely masterful, and would be terrific to watch on a big screen. There are some scratches and dirt that make it into the film, as it is more than 90 years old, but rarely does a film from that era look as good as it does here. The audio track is an orchestra score by Carl Davis from 1989 and sounds terrific through the speakers.
In addition to the new 4K scan and Davis' orchestral score, the special features for The Kid Brother come jam-packed in this release. There is an alternative, organ score performed by Gaylord Carter. Two of Lloyd's earlier short films are restored and feature new scores, and there's a discussion of the formatting by archivist Din Everett. Suzanne Lloyd, the granddaughter of Harold Lloyd, lends a hand to several features including a 2005 special that gives a tour of her grandfather's estate and a new feature, Harold's Leading Ladies, in which author Cari Beauchamp interviews Suzanne about the leading ladies her grandfather had. Lloyd's granddaughter also lends her voice to a commentary track from 2005 with film historian Annette D'Agostino Lloyd and archivist Richard Correll. Filmmaker and critic David Cairns provides a video essay called Anatomy of a Gag: Monkeyshoes, which discusses Lloyd's ability to develop gags. Another video essay, Close to Home, has author John Bengtson discussing the film's shooting locations. A 1962 Dutch television interview Lloyd did, a behind-the-scenes gallery, and a tour of the Wurlitzer organ with composer Nathan Barr and organist Mark Herman round out the special features on the disc. Inside the pamphlet that comes with the Blu-ray is a new essay from film critic Carrie Rickey that explores The Kid Brother and its effectiveness.
Those who have yet to experience silent cinema may want to first check out a film like The Kid Brother. It is one of the greatest examples of films that came out during that time. Not only is it wildly funny, but it has some terrific cinematography and a great orchestra track. It's definitely worth seeking out.