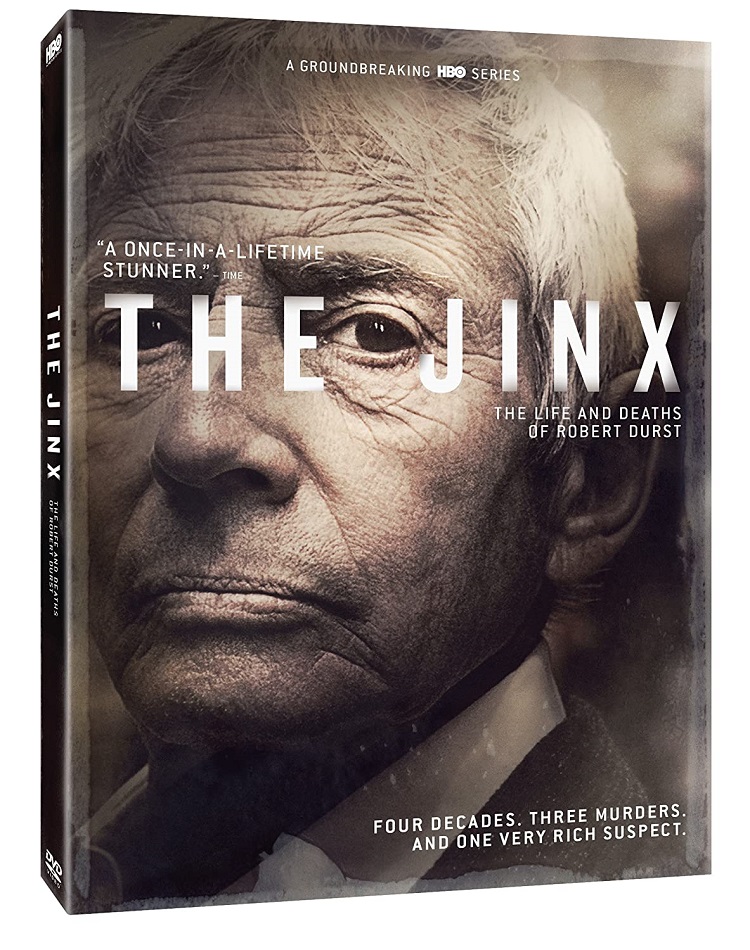 There have been a lot of discussions of late about the injustices of our justice system. About how if you are rich and white, you can literally get away with murder, but if you are poor and of color, you will more than likely find yourself staring at the wrong end of the system no matter your guilt or innocence. Though not its primary intent The Jinx: The Life and Deaths of Robert Durst goes a long way in proving just how far rich white dudes can get away with.
Durst is the eldest son of Seymour Durst, who formed the Durst Company, one of the biggest and richest real-estate corporations in New York City. They own and manage several high rise buildings in Manhattan including One World Trade Center, making them worth billions.
Durst has long been suspected of murdering his first wife in 1982 (she went missing in January of that year and her body has never been found), for executing his friend (and alibi for his wife's murder) Susan Berman, but has never been arrested or convicted of either crime. In 2003, he did go to trial for the murder and dismemberment of his neighbor Morris Black in Texas (Durst was hiding out in Galveston at the time living in a small apartment complex as a woman). Though he admitted to the killing and went to trial for murder, he claimed self defense and was acquitted by a jury of his peers.
All of this and much more is superbly documented in The Jinx. Directed by Andrew Jarecki, who had previously directed a fictionalized version of Durst's first marriage/murder of his wife in the film All Good Things. Apparently Robert Durst enjoyed that film and invited Jarecki to interview him.
It's an utterly fascinating show. Originally when it aired in six 45-minute episodes on HBO, The Jinx caught fire with its inside look into the mind of a man who because of his privileged life seems to have literally gotten away with murder more than once. It became even more popular on social media after an explosive final episode in which Durst accidentally left his microphone on post interview and said some pretty incriminating things. Just before the final episode ran, Durst was arrested on first-degree murder charges.
All of which makes The Jinx must-see TV and this week's pick.
Also out this week that looks interesting:
Blind Chance (Criterion Collection): Krzysztof Kieslowki's film about a man who tries to catch a train and how that ordinary event changes his life. Told in three separate stories, each showing how a small change in what happens as he heads toward the train dramatically alters the proceeding events. This Run Lola Run-sounding film is given the full Criterion treatment.
Sleepy Hollow: The Complete Second Season: This show, about Ichabod Crane being resurrected into the 21st Century and trying to solve a centuries-old mystery (all while trying not to be killed by the Headless Horsemen) sounds ridiculous, but the little bit I've seen has been quite entrancing.
Empire: The Complete First Season: I keep hearing this is a ridiculous but utterly fun show to watch, but have yet to give it a shot.
Lost in Space: The Complete Adventures: The classic 60s sci-fi series is getting a nice boxed set in upgraded HD.
Aquarius: The Complete First Season: David Duchovny stars in this new series about a square cop fighting crime in 1967's Los Angeles. I've not heard anything about this good or bad, but I love gritty cop dramas and Duchovny.
The Age of Adeline: I only know of this film because it filled up my twitter feed with sponsored tweets when it was first released. The plot revolves around Blake Lively playing a girl who has remained 29 years old for eight decades. It's also got Michiel Huisman in it (doesn't everything these days?) and I like him.
Furious 7: The latest in the Fast & Furious franchise got good reviews, but not enough to convince me to give a crap about any of it. For those that do, there is also a new set featuring all of the films in a collectible tire.
Cinderella (2015): Live action version of the classic story. I've heard good things.
The Beast/Immoral Tales: Arrow Video is releasing a nice looking set of these two controversial films by Valerian Borowczyk. I've got copies of them on my desk and you'll be seeing my reviews soon.
Happy Valley: This British crime series has been streaming on Netflix for awhile now but we're finally getting a DVD version. I saw it weeks ago and can highly recommend it. I also just got my disks in the mail so I'll have a full review soon.
The Ultimate James Bond Collection: These films have previously been packed together (and repackaged together) in various ways. This one comes with a new book but from what I can see there is no new special effects. However, Best Buy is coming out with some cool-looking Steelbooks of each film featuring new cover art.
I should also mention that the last several weeks have seen a lot of horror movies hitting the shelves, some of which are newly upgraded to Blu-ray. I'm sure we'll be seeing more of that in the weeks to come as Halloween approaches. So far there's nothing worth mentioning individually but I thought I'd make note of the collectively at least once.