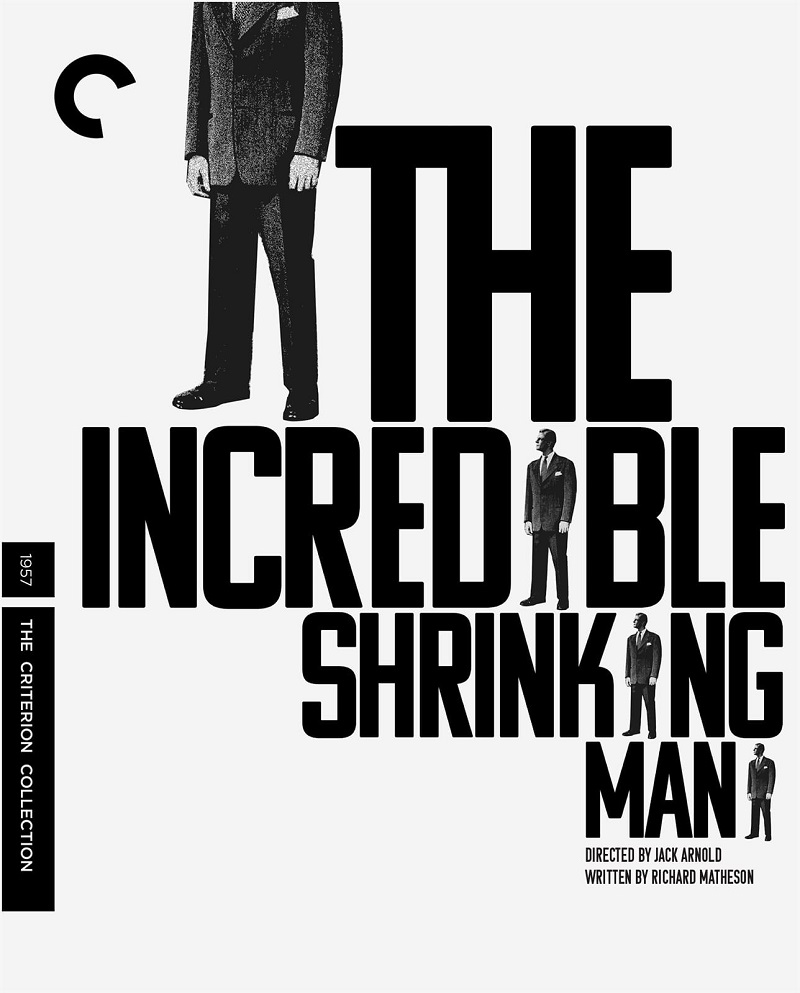 I wonder what it is about stories of humans being shrunk down to tiny size or living in a land of giants that ever so fascinates us. Whatever it is, storytellers have been telling tales about just such a thing for centuries. From fairy tales like Tom Thumb to literature classics like Gulliver's Travels and Alice and Wonderland to animated series for children, Doctor Who stories, and even the Marvel Cinematic Universe, we can't seem to get enough of stories featuring humans getting shrunk.
In 1956, the great genre writer Richard Matheson got into the game with his novel The Shrinking Man. The following year Universal adapted it (as The Incredible Shrinking Man) with journeyman director Jack Arnold at the helm. The Criterion Collection has just released a lovely Blu-ray of that film with their usual batch of excellent extras.
The story pretty much follows the standard framework for these things – a regular-sized man starts to shrink for…reasons…we watch him interact with increasingly larger set pieces until he's finally but a few inches tall. Then he has to battle against various creatures that would give a normal-sized human no problems, but become giant monsters to the tiny man he has become. He uses everyday items like pencils, matches, and scissors as weapons. These stories are almost always about the props and how good the set designers are.
Matheson's script adds in some marital difficulties into the mix (apparently the book gets a little more detailed in how the man's shrunken size destroys his sex life, but in our 1950s-era film that's sidelined), and some post-war existential dread that comes with a finale I almost don't believe.
Matheson wrote the novel in the basement of the house he and his family were renting (as it was the only quiet place he could find). He says his inspiration came from a scene in Let's Do It Again (1953) where Ray Milland puts on the wrong hat and finds it is way too big for him. The idea of someone's clothes slowly becoming too large was interesting to him. But it is clear from the script that other things were swirling around in his head at the time – post-war malaise, anxiety over nuclear war, and anxiety over how he was going to support his family as an independent writer.
It takes just a little too long to get to what everyone watches this film for, mainly the tiny man and the giant props that make him look that way. Scott Carey (Grant Williams) and his wife Louise (Randy Stuart) are out sailing one day when a radioactive cloud engulfs them (luckily, she is inside the boat and not affected by it). Weeks later, he notices that his clothes don't fit exactly right and she no longer has to stand on her tip-toes to kiss him. Soon enough, his feet don't touch the ground when he sits on the couch and small objects such as pencils and telephones are huge inside his increasingly tiny hands. There are visits to doctors as they try to figure out why this is happening and a lot of confrontations with his wife over his feelings of uselessness. All of this is fine, but it's just scaffolding of which to build the more action-filled set pieces.
Once he is really tiny, we find him living in a dollhouse that shakes like there's an earthquake whenever Louise walks down the stairs. While she's out at the store, a cat chases him down into the basement. There he's forced to live in a matchbox, and scrounge for water and food. He uses one needle as a sword and bends another to make a grappling hook with thread as a rope. He finds peril when the water heater bursts, when he must leap across the chasm spanning from two boards that make up a box, and when a hungry spider spies his tender bones.
The special effects crew did an amazing job with it. The oversized props look wonderful. There's liberal use of back projection, matting, and split-screen. None of it is seamless but I doubt you'll care. I certainly didn't. I was too busy having fun at the movies. Seriously, I've watched more than a few of these shrinking man movies and this is by far the best one.
Criterion has given The Incredible Shrinking Man a new transfer from the original 35 mm negative. It looks fantastic. Maybe too much so because the various f/x shots, especially the mattes and back projection, stand out more than ever, but you can't really complain about that. Extras include a lively commentary from genre-film historian Tom Weaver and horror-music expert David Schecter. There are new featurettes on the special effects and Jack Arnold's career at Universal, a delightful conversation between Joe Dante and Dana Gould, plus archival interviews with Jack Arnold and Matheson's son Richard Christian Matheson. There's also a wonderful 8mm version of the film which acts like a highlight reel and a nice essay inside the booklet.