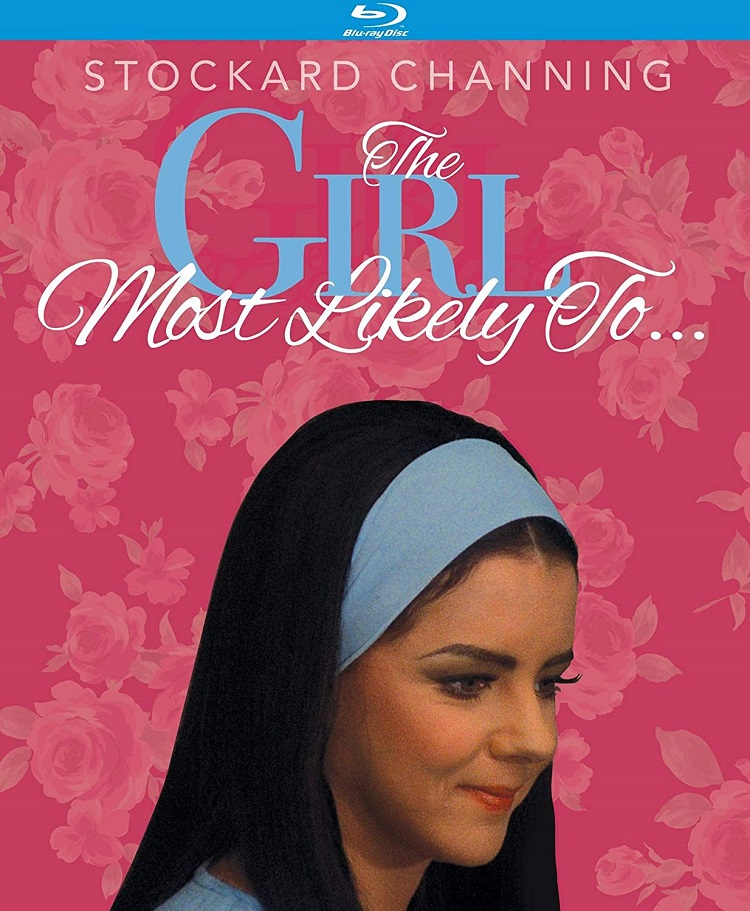 They sure knew how to make TV-movies back in the day. In The Girl Most Likely To… Stockard Channing (Grease, Six Degrees of Separation) appears in her first major role as Miriam Knight, an awkward "ugly duckling" bullied and excluded by her college peers. No matter how many times Miriam has switched schools, she just can't get a date. She is brilliant and funny, but that doesn't seem to matter to anyone who meets her, as they only superficially react to her outward appearance.
Despite the constant put-downs, Miriam is ever hopeful of finding her true love. After a wellness visit, she thinks she has finally attracted the attention of dorky Doctor Ted (Fred Grandy), but it turns out to be a cruel prank as Ted was just pretending to like her for the amusement of his colleagues. Miriam's ditzy, popular, blond cheerleader roommate Heidi (Susanne Zenor) also pulls a trick on Miriam – sabotaging her leading performance in a play, which causes the unhappy and humiliated Miriam to flee in embarrassment and get into a horrific car accident.
Miriam sustains major injuries in the accident and undergoes significant plastic surgery. She emerges a glamor puss. Her bandage reveal is amazing. Not only was the work she has had done look amazing, but her doctors seem to have given her full make-up and a brand new hairstyle to boot. The accident seems to have done wonders for her figure, too. And her makeover also seems to include a gorgeous yellow Corvette and brand new wardrobe. Wow!
Miriam has had plenty of time to consider her enemies during her recovery. She decides to exact revenge on all of her former tormentors. Payback is a bitch, and so is Miriam. She dons a variety of wigs and fabulous get-ups to do away with everyone who was ever mean to her, starting with that smarmy Doctor Ted. Stockard Channing's wry delivery and Joan Rivers's witty script makes everything not exactly plausible, but certainly enjoyable. Modern viewers can see this film as a precursor to movies like Heathers and Mean Girls.
The Girl Most Likely To… is a very dark, very funny ugly duckling comedy/thriller written by Joan Rivers and Agnes Gallin. The film was released on November 6, 1973 as a made-for-television film for the ABC Movie of the Week. The movie is a great example of '70s fashions and attitudes – ferns in macrame hangars, gold wall-to-wall carpet, large-scale floral wallpaper and lampshades, just to name a few stylish moments. Fans of classic television will recognize many familiar faces: Jim Backus, Larry Wilcox, Annette O'Toole, Ruth McDevitt, and especially Ed Asner, who plays a tough cop who finds himself hunting a campus serial killer. He takes a shine to Miriam both before and after her accident, but can he figure out that these two very different-looking women are the same person?
Kino Lorber has released The Girl Most Likely To… in a brand new 2K master, and the film looks great. The picture is sharp and colorful, with all those 70s golds and greens in glorious detail. The film, which is not rated, has a running time of 74 minutes, with an aspect ratio of 1.33:1, 1920x1080p. Subtitle and scene selections are available.
Extras include: audio commentary by film historian/author Amanda Reyes and film historian/author Kier-La Janisse and trailers for other upcoming Kino Lorber titles: Jennifer, Last Embrace, Desperately Seeking Susan, and Where's Poppa?