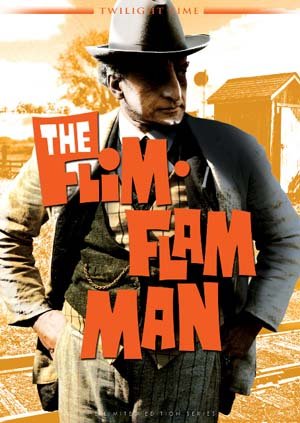 "You can sell anything on God's green Earth if a customer believes it's stolen." –George C. Scott as Mordecai C. Jones, flim-flam man.
Based on Guy Owen's novel, The Ballad of the Flim-Flam Man, this light-hearted 1967 rural romp brings us the tale of fast-talkin' con-man Mordecai C. Jones, a "Master of Back-Stabbing, Cork-Screwing and Dirty-Dealing" (and played to the hilt by George C. Scott) who wanders from county to county in the South, relieving people of any financial weight they may have in their pockets. The story here — as written by William Rose, who also penned such classics as The Ladykillers and The Russians Are Coming, the Russians Are Coming — finds our titular swindler prematurely leaving a moving train in peaceful, quiet Cape Fear County.
With his feet and other extremities on the ground, Mordecai meets up with young Curley (Michael Sarrazin), an army deserter. Pooling their resources and pocket change together, Jones promptly begins to teach Curley the fine art of confidence trickery, roaming the immediate landscape and stinging naïve country bumpkins out of their cash and cars with the greatest of ease. Naturally, their cheatin' good honest God-fearin' folk gains the attention of the local authorities (Harry Morgan and a thin Albert Salmi), resulting in one of the wildest car chases of late '60s cinema. There's even a tremendous bit part from the one and only Slim Pickens to boot in this memorable madcap movie from Irvin Kershner, the future director of The Empire Strikes Back.
The Flim-Flam Man also features Woodrow Parfrey as a store owner who is eager to receive a shipment of stolen moonshine in one wonderfully staged sequence, character actors Strother Martin and George Mitchell, and former Republic Serial performer Dale Van Sickel. Beautiful Sue Lyon co-stars as Sarrazin's potential love interest, with Jack Albertson and Alice Ghostley appearing as her parents. The film inspired a short-lived (and, by all accounts, poor) television series with Forrest Tucker filing in for George C. Scott (!) and Don Scardino as Curley, with such greats as James Gregory, Dub Taylor, Gene Evans, and Bob Hastings portraying some of the minor roles.
Never before released on DVD in the U.S., Twilight Time has done all classic comedy connoisseurs in America a favor by releasing The Flim-Flam Man to disc in a beautiful anamorphic widescreen presentation that preserves the film's 2.35:1 aspect ratio and sports some gorgeous colors to boot. The opening credits show a bit of grain, but practically all signs of debris clear up substantially (if not completely) after the story starts. The release features a more-than-adequate mono soundtrack, as well as an isolated music score track, which is a common (and entirely welcome) feature on these Twilight Time DVDs, and also comes with a booklet.