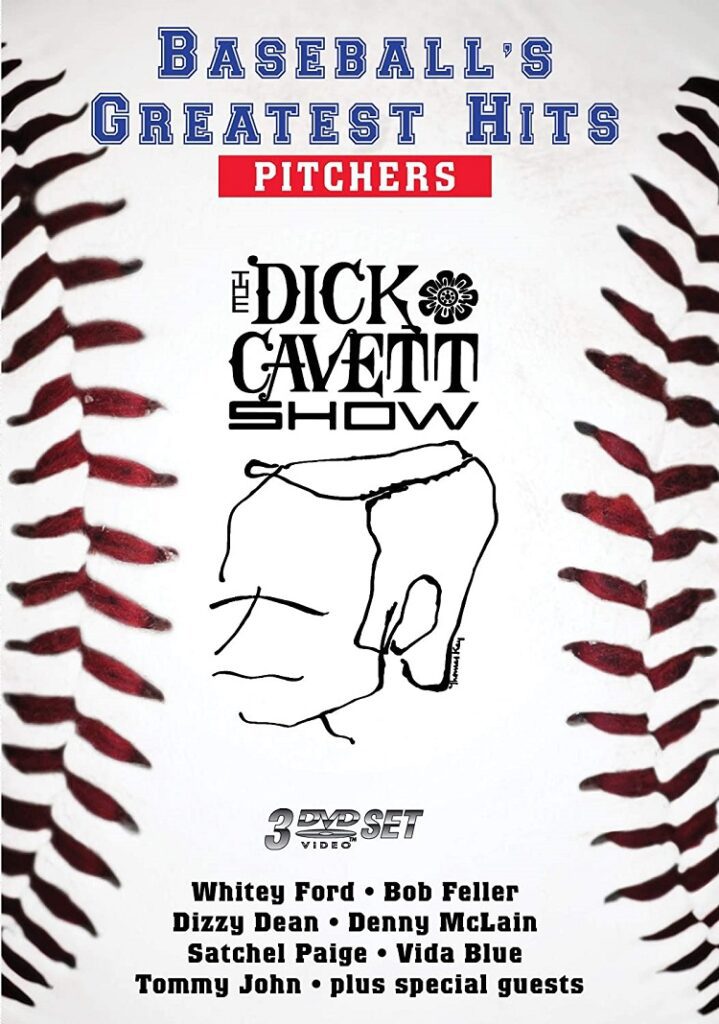 The Dick Cavett Show was a talk show that aired on different TV channels, broadcast and cable, from 1968 to 1996. S'More Entertainment is releasing The Dick Cavett Show on DVD, gathering episodes together under themes. Baseball's Greatest Hits: Pitchers showcases some of the sport's great hurlers of the 20th Century.
Released on June 25, 2019, Pitchers Disc 1 presents New York Yankee Whitey Ford and his teammate Mickey Mantle from May 9, 1970; and Dizzy Dean, whose greatest success was with the St. Louis Cardinals, appeared 10 days later. Disc 2 presents Denny McLain, who had only been a Detroit Tiger at the time of the interview, from August 6, 1970; and Satchel Paige, who had a long career in the Negro League before playing Major League Baseball, from February 11, 1971. Disc 3 presents Vida Blue, who had only been an Oakland Athletic, and Cleveland Indian Bob Feller from August 16, 1971; and Tommy John on April 13, 1991. All the shows aired on ABC except the Tommy John episode, which aired on CNBC.
There are all complete episodes, so you get Cavett's monologues and the entire line-up of guests for the evening. Ford and Mantle come out after musician/baseball fan Paul Simon had three segments with Cavett and before Marcel Marceau. It's a casual chat between the three. Dean follows Rose Kennedy and Dr. Harry Gordon, who are on hand to discuss their work on behalf of those with mental retardation, and singing team Kole & Param. Dean talks so much and so fast he leaves a listener dizzy, but he's certainly entertaining.
McLain, who had been suspended at the beginning of the season because of his alleged involvement with bookmaking and those associated with it, is understandably disgruntled. He sits for a couple of segments then in an odd tradition of the era left after a commercial break, for a double-header, rather than before it. Paige, who appears after recently being voted into the Baseball Hall of Fame, talks about his time in both leagues. He even showed off how he threw his hesitation pitch. Paige stays for the remainder of the show, which included Lillian Gish and Salvador Dali, who had an anteater on a leash.
Blue, a current sensation at 22 years old, gets two segments and is joined by former player Feller. The different perspectives having played in different eras make the pairing interesting. Cavett catches throws from Blue and Feller, and then they leave as the show continues with comedian/actor Milt Kamen and director Robert Altman. Tommy John, known as well for the surgery named after him as his career, is the lone guest for Cavett's half-hour show. They cover a number of topics in John's life, on and off the field, including the near-death experience of their son.
It's wonderful to see these interviews, which allow the viewers to see the men behind the ball players. Even if not a baseball fan, it's nice to see these vintage talk shows because of the interesting roster of people whom Cavett would chat with in an evening.