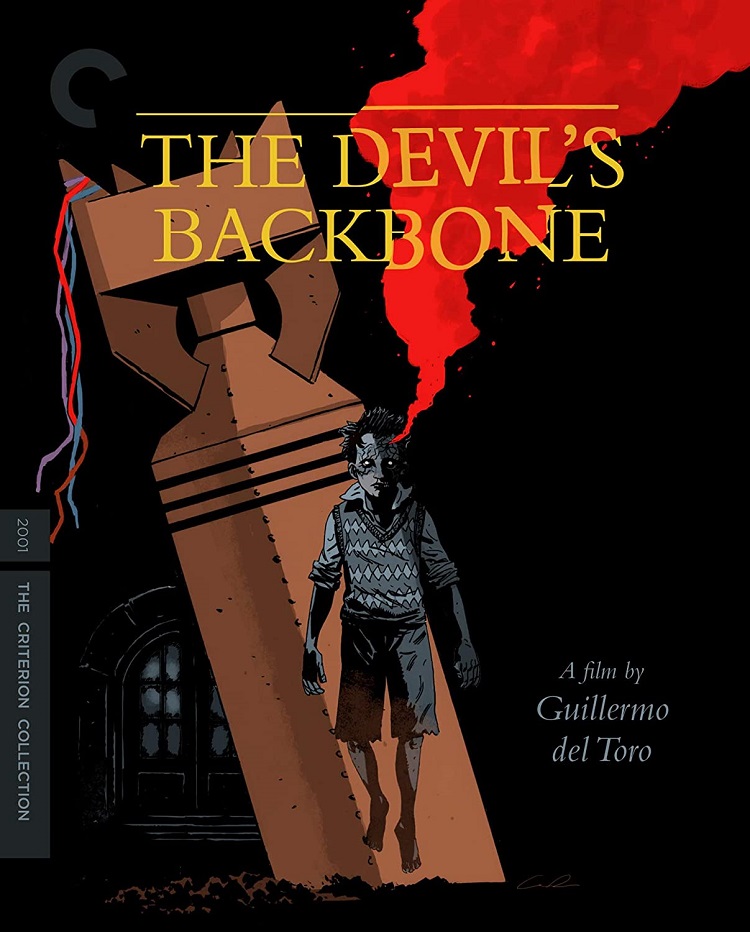 Guillermo del Toro is one of the most interesting directors currently making films because of his unique vision and style. His 2001 feature The Devil's Backbone is a somewhat traditional ghost story that offers surprises.
Dr. Casares (Federico Luppi) and principal Carmen (Marisa Paredes) run an orphanage for the children of the republican militia during the Spanish Civil War. Carlos (Fernando Tielve) is their latest ward. He thinks he is visiting with his tutor and is shocked to be left behind as he is unaware that his father has been killed in battle. After Carlos is assigned to the bed previously occupied by Santi (Junio Valverde), rumored to be dead and still walking the halls, the orphange bully Jamie (Íñigo Garcés) sets his sights on him. Once Carlos proves himself by standing up to Jamie, he starts to learn about the secrets and history of his new home. The boys are also terrorized by Jacinto (Eduardo Noriega), the caretaker who is romantically involved with one of the teachers, Conchita (Irene Visedo), and hides many secrets of his own.
The video has been given a 1080p/MPEG-4 AVC encoded transfer displayed at 1.85:1. From the booklet: "Supervised by director Guillermo del Toro and director of photography Guillermo Navarro, this new digital transfer was created in 2K resolution on an ARRISCAN film scanner from the original 35mm camera negative. Thousands of instances of dirt, debris, scratches, splices, and warps were manually removed using MTI's DRS and Pixel Farm's PFClean, while Image Systems' Phoenix was used for small dirt, grain management, jitter, and flicker." The film offers great colors and has beauty in the darkness. The image look clean and offers good details and depth. It is truly a work of art at times.
The audio is available in Spanish DTS-HD Master Audio 5.1, which "was remastered at 24-bit from the 35 mm 6-channel magnetic track. Clicks, thumps, hiss, and hum were manually removed using Pro Tools HD. Crackle was attenuated using AudioCube's integrated workstation." There is good use of effects in the surrounds to augment the mood.
Del Toro offers an introducton to the film in which he talks about how this is one of his most personal films and that it is meant as a companion piece to Pan's Labyrinth and he also provides an audio commentary. "Summoning Spirits" focuses on the development and attention to detail that went into the creation of Santi. "¿Que es un Fantasma?" is a 2004 making-of documentary offering behind-the-scenes information on the making of the film and interviews with cast and crew. "Spanish Gothic" is a 2010 interview with del Toro focusing on the influences on The Devil's Backbone and Pan's Labyrinth, and "Designing The Devil's Backbone" is a 2013 interview focusing on the design and creators of the film. ""Sketch, Storyboard, Screen" offers video pieces comparing all three side by side. "A War of Values" is a 2013 interview with Sebastiaan Faber, a Spanish Civil War scholar, who provides analysis of the film from a historical perspective. There is also a director's notebook consisting of drawings and concepts, thumbnail sketches which can be enabled to appear during the film, four deleted scenes, and the trailer.
Guillermo del Toro has weaved together a historical drama, classic ghost story and murder mystery into a tale filled with emotion, intricately developed characters, beauty, and horror. The film opens with the question "What is a Ghost?" and this concept is explored in a frightening and surprising way. Pan's Labryrinth is one of my favorite films and I see how the films are connected. Both deal with children having to deal with serious adult situations during political uprising and offer a balance of reality and fantasy. Pan's Labryrinth is much more graphic and disturbing with The Devil's Backbone being more straightforward in its storytelling.
Sadness is the overwhelming emotion of the film conveyed most convincingly through Santi. While he provides some scary moments, he is trying to communicate his secret and helps to convey another key message that of survival and redemption. The Devil's Backbone is enhanced by watching all of the extras provided in the Criterion Collection.