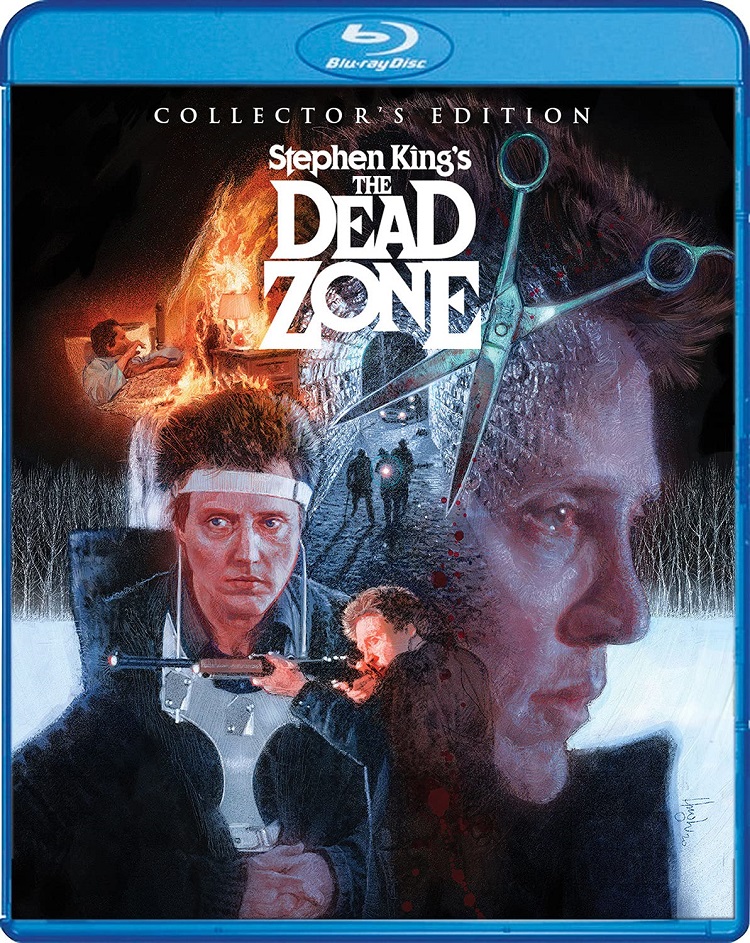 As many of us know, Stephen King is the modern master of literary horror. Most of his works delve deep into the follies of perhaps the human condition (with a little supernatural twist to a lot of them). So many of them have been adapted to the screen, with better and/or worst results. David Cronenberg's 1983 thrilling interpretation of King's 1979 story is one of the truly great ones, especially because of the detail that Cronenberg & Co. put into it. And when Cronenberg and King get together, get ready.
The great Christopher Walken (in one of his definitive and iconic performances) plays Johnny Smith, a schoolteacher who reawakens from a five-year coma after a terrible car accident. He finds that life had definitely changed for him. His girlfriend (Brooke Adams) is in a new relationship, and he suddenly finds himself blessed (and cursed) with the ability to predict the future of anyone he touches, meaning that he is able to see what will happen to them before it happens.
After touching the hand of a promising political candidate (Martin Sheen), he finds that this guy is really corrupt and will be a danger to the entire country, or perhaps the world. Because of this, he knows (or thinks he knows) what he must do, even if it means sacrificing his own life in the process.
It's no surprise to see why this film is regarded as not just one of the more beloved adaptations of a novel ever made, but also one of the classics of American horror cinema. It has amazing special effects, stellar direction, a haunting score by Michael Kamen, and a sense of humanity falling completely apart.
What if you suddenly had the power to the change the future? Would it be better? Or worse than it already seems to be?
The new Collector's Edition from Shout/Scream Factory is stacked with special features: four commentaries (cinematographer Mark Irwin; film historian Michael Gingold; film historian/author Steve Haberman & filmmaker/film historian Constantine Nasr; and film music historian Daniel Schweiger with isolated score selections); new interview with Adams; new Cold Visions: Producing THE DEAD ZONE featurette; three vintage featurettes; new Trailers From Hell with Mick Garris; trailer and TV sports; and a new still gallery.
If you appreciate good horror cinema, the type that offers less blood and guts and more subtlety with real human issues, then The Dead Zone: Collector's Edition is 100% a must-have addition to your collection. [Read Shawn Bourdo's review]
Other releases:
A Quiet Place Part II: The thrilling sequel to the 2018 hit, with the Abbott family now facing the horrors of the outside world. When they leave their home, they find that the creatures are not the only threat that lurks beyond the terrain.
The Bird with the Crystal Plumage (Arrow 4K): A new edition of Dario Argento's 1970 giallo landmark about an American writer living in Rome who witnesses an attack and is helpless to stop it. Afterwards, he finds himself a target of a mad serial killer. [Read Kent Conrad's review]
Shenandoah (Kino): The great James Stewart plays a widowed farmer who tries to live a peaceful existence with his six sons, but is forced into the war conflict, as his son-in-law joins the Confederates. [Read Mat Brewster's review]
Shiva Baby: A recent and acclaimed comedy where a college student awkwardly encounters her sugar daddy and ex-girlfriend while attending a Jewish funeral with her parents.