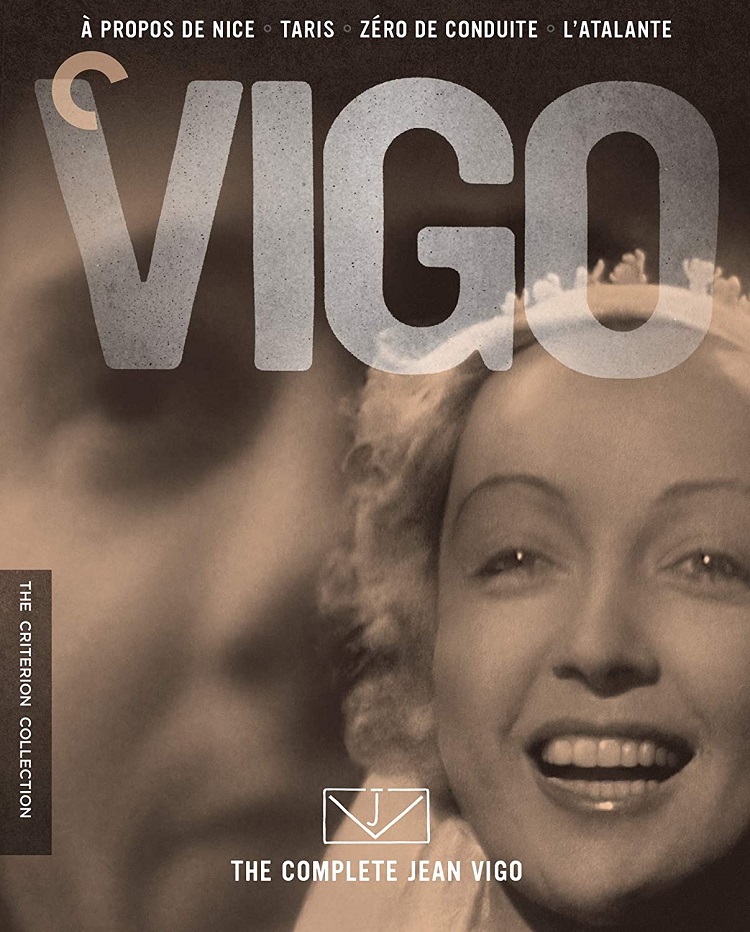 The Criterion Collection honors filmmaker Jean Vigo by presenting the four titles from his very brief career, cut short due to his untimely death from tuberculosis at the age of 29. Author Michael Temple of the biography "Jean Vigo" offers commentary on each film.
À propos de Nice (1930, 23 min) is a silent film, expect for a score created by Marc Perrone in 2001, presenting an intriguing look at the seaside town. At first, it feels like someone is just running loose with a camera, learning how to work it on the fly and filming whatever comes his way, but then some planned shots reveal a purpose. Floats are decorated in preparation for a festival of some sort. Tourists can take part in activities such as sitting along the beach, sailing, tennis, and motor racing.
About the halfway point, we get the first staged moment when a young woman sitting outside in a chair changes clothing through a series of dissolves until she is naked. Later, a man resting on the beach finds his face sunburned or covered by paint. The result was unclear. The camera moves away from the beaches and into the inner city where children are playing a dice game. Then, someone's distorted fingers are shown as well as a boy whose face has been badly scarred. While Vigo points out the difference in the lives of the haves and have-nots in Nice, I grew bored and drifted away other thoughts both times I sat through it.
Taris (1931, 9 min) features champion swimmer Jean Taris, who was holder of 23 French records and the world record in 800 meters at the time. The short comes across like a student film as Vigo uses variable speeds to examine the body in motion while swimming.
Zéro de conduite (1933), whose subtitle is "Little Devils at School," is part of a long tradition of stories where students rebel against their treatment by the adults who run it. Mildly interesting but there's nothing memorable to make it standout in comparison to similar films. I was surprised to hear Michael Temple call it Vigo's "signature film."
Vigo's best-known work is L'Atalante (1934, 87 min), a film about a newly married couple in the early days of their marriage. The film has had a long history of being modified and this version, a 1991 restoration that was revised in 2001, tries its best to replicate the original cut.
L'Atalante opens after the exchange of wedding vows between Jean (Jean Dasté), captain of the L'Atalante, and Juliette (Dita Parlo). They walk to his ship with the townsfolk, some of whom have unkind comments regarding Juliette and the short courtship that finds her leaving their small village, seeing them off. The ship heads to Paris and once there, the bright lights of the big city wow Juliette. She runs off, sending Jean into such a great depression that first mate Jules (Michel Simon) goes looking for her.
I am absolutely baffled by L'Atalante's extremely high praise. The dust jacket claims it is "widely regarded as one of cinema's finest achievements," which could be dismissed as marketing, but it was named the tenth-greatest film of all time in Sight & Sound's 1962 poll, and then rose in esteem to sixth-best in the 1992 poll. The film tells a simple story of a young couple at the beginning of a marriage. Maybe the realism portrayed was unique for its time, but there's no depth to the characters and the story is too easily resolved, so while pleasant enough, it's remarkably ordinary and forgettable. Michael Temple states the producers were disappointed because it rambled and was technically poor, and I agree with them.
The video has been given 1080p/MPEG-4 AVC encoded transfers. À propos de Nice (1.33:1) and Taris (1.19:1) were created from 35mm fine-grain master positives, Zero de conduite (1.19:1) from a 35mm fine-grain master positive and a 35mm duplicate negative, and L'Atalante (1.33:1) from the 2001 Gaumont 35mm restoration negative. The image is probably as good as they are going to look after having been cleaned up with MTI's DRS system, Pixel Farm's PFClean system, and Digital Vision's DVNR system, but their age is still evident with degrees of print damage and light flicker. A noticeable hair appears on left side during opening of L'Atalante and objects appear very soft many times throughout.
All films have an LPCM Mono track that has been improved with Pro Tools HD and crackle attenuated by AudioCube's integrated workstation. The, what I presume is an, accordion score on À propos de Nice has great clarity. L'Atalante has the most dialogue, so no surprise it contains the most minor defects from age and wear.
Criterion includes a number of special edition features about Vigo and the films. There's an alternate edit of À propos de Nice claiming to be longer but doesn't appear to so. "A Tribute by Michel Gondry" (HD, 1 min)is a rather bizarre animated film that goes by so quick, one wonders what the point was. The October 15, 1964 episode of the French television program Cineastes de notre temps (1080i, 98 min) focuses on the filmmaker's short life and brief career. "Truffaut and Rohmer on L'Atalante" (1080i, 18 min) finds New Wave directors Francois Truffaut and Eric Rohmer discuss Vigo and the film after a 1968 French television broadcast as part of a program called Understanding Cinema. Film historian and restorer Bernard Eisenschitz tells the fascinating story of the film and the four edited versions it have appeared over the years in "Les voyages de L'Atalante" (1080i, 40 min). "Otar Iosseliani on Vigo" (1080i, 20 min) is a 2001 interview with the Georgian-French filmmaker talking about Vigo's influence on his work. Lastly, there is a 44-page illustrated booklet containing essays.
For fans of the man and his work, The Complete Jean Vigo is as advertised with the inclusion of features sure to enhance the appreciation of the man and his films. Others like me will wonder what the fuss is all about.