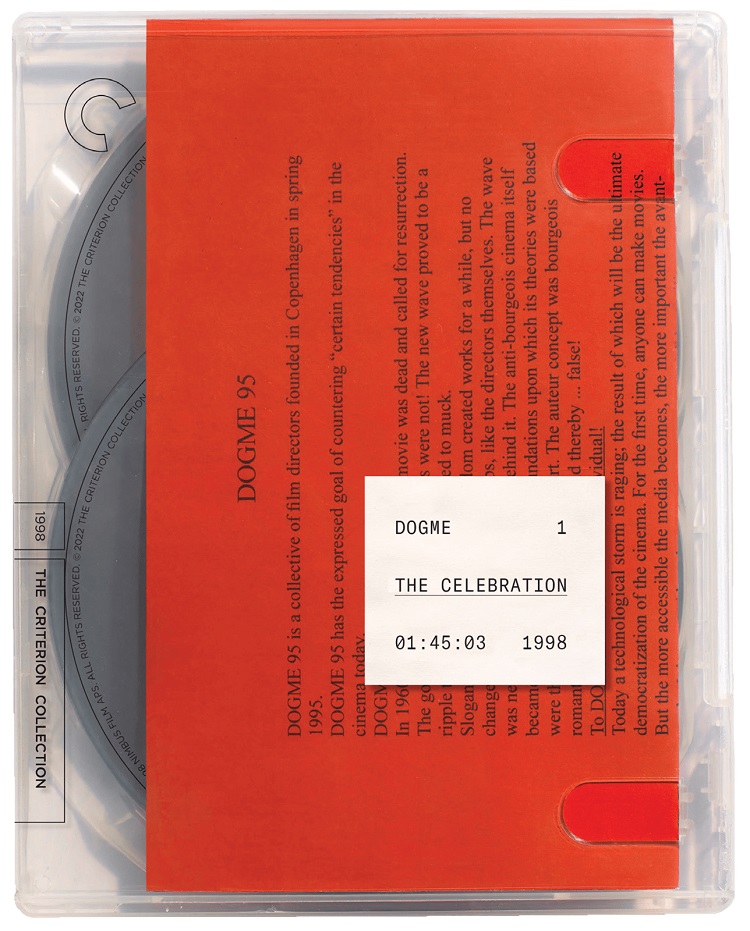 Although I have only seen one film from the Dogme 95 movement, which was Lars von Trier's Breaking the Waves (1996), I do understand and admire the reason why it exists. It gives the directors and artists complete control over their films, and eliminates the use of special effects and technology. This allows the viewer to experience the entirely of characters, their emotions/truths, the actors who play them, and the filmmakers who direct them. This movement is obviously not for everyone, but as for me, I am really into it, and desire more.
A film that I came across and find really interesting in seeing is Thomas Vinterberg's The Celebration, which looks like a bleak and uncomfortably honest look at a bourgeois family disemboweling itself from the inside out. Since I haven't seen the film, I can't really explain the plot better than I hopefully did in the previous section, so I'll list some of the supplements of the upcoming Criterion release, which sound just as interesting as the film itself does.
They include a 2005 commentary by Vinterberg; new interview with Vinterberg; two short films by Vinterberg: Last Round (1993) and The Boy Who Walked Backwards (1995); a 2002 documentary about the Dogme 95 movement, featuring interviews with Vinterberg, von Trier, and fellow filmmakers Søren Kragh-Jacobsen and Kristian Levring; deleted scenes, with optional commentary by Vinterberg; and much more. There is also a new essay by critic and author Michael Koresky.
I don't see an actual cover for the overall release. I guess that's deliberate so that nothing about the film will given away. Again, that may frustrate many film collectors, but personally I also respect that. So, if you want to experience a different type of film, and are tired of the usual overbaked spectacles that Hollywood continues to force down our throats, then this release should be very essential for your collection, assuming you're into Dogme 95, as well as Danish cinema in general.
Other releases:
The Great Escape 4K (Kino): John Sturges's fact-based tale of allied prisoners of war who planned for several of their own to escape a German camp during World War II. Starring Steven McQueen, James Garner, Richard Attenborough, Charles Bronson, and Donald Pleasence.
Halloween Kills (Universal): Laurie Strode (Jamie Lee Curtis), her daughter Karen (Judy Greer). and granddaughter Allison (Andi Matichak) prepare to once again fight the unstoppable Michael Myers, and inspire all of Haddonfield to rise up against him after Laurie is rushed to the hospital with dire injuries, believing that she has finally killed him.
Spencer: Kristen Stewart plays Princess Diana, who navigates a precarious Christmas holiday with the Royal Family in 1991, while trying to maintain her independence as she decides to end her marriage to Princes Charles.
Mass: Jason Isaacs, Martha Plimpton, Reed Birney, and Ann Dowd star in this emotionally riveting story about two couples whose lives are forever changed by a violent tragedy involving their children.