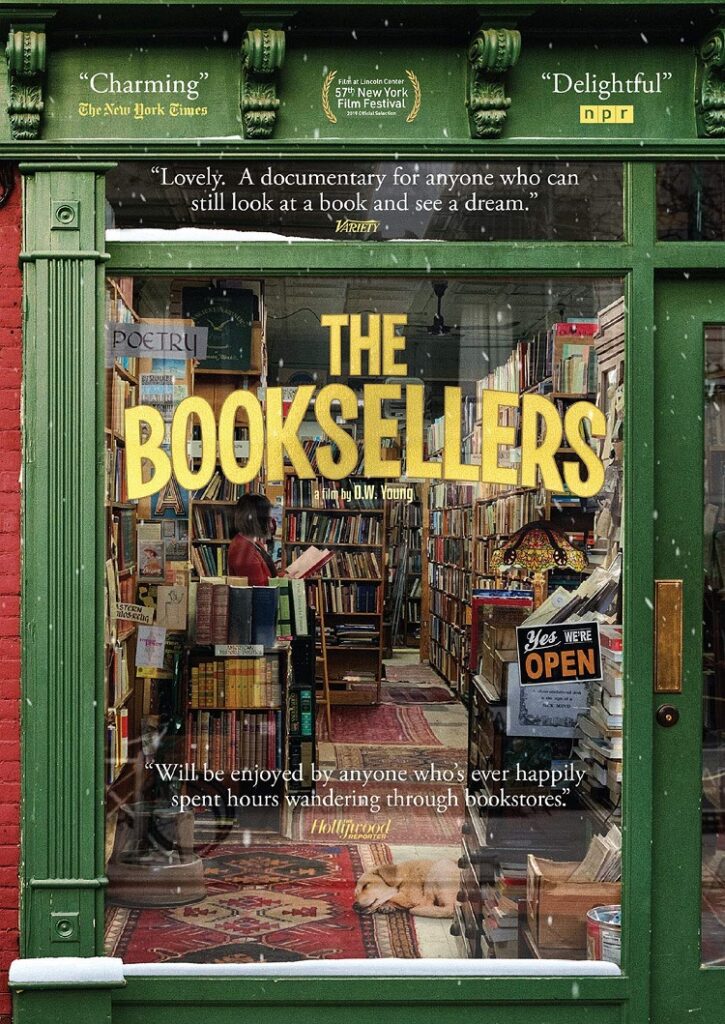 Calling all bibliophiles – The Booksellers is a documentary that you won't want to miss. And like a good book, you won't want it to end. Director D. W. Young (A Hole in a Fence) takes viewers on a colorful behind-the-scenes tour of New York's collectors and dealers of rare books.
A dedicated and passionate community, rare booksellers come from varied ethnic and financial backgrounds, but they all seem to share an enthusiasm for books and book lovers. The film highlights dedicated collectors and collections of a wide range of subject matter, from singular items like a Gutenberg bible or Leonardo's Codex, to science fiction or books by women. There are numerous close-ups of fabulous antique volumes, with gorgeous illustrations or unique book jackets. Book enthusiasts will track down their obsessions at auctions, book stores, book fairs, and, most challenging to the modern bookseller, the internet.
Viewers will recognize Fran Lebowitz, who is a frequent commenter throught the documentary on all things books, but The Booksellers strangely only lists its other numerous talking heads and featured book world folks by their first names, which is quite frustrating. Luckily the film's website has a list of all the people featured, as well as their area of specialty or interest, which includes not just booksellers, but authors, archivists, dealers, collectors, and editors.
"The moment he croaks I'm on the phone with Sotheby's" – overheard at a New York book fair
Many of the booksellers discuss how collecting books historically was a rarified hobby, mostly exclusively practiced by rich white men. Although that seems to be changing, it is still a challenge to bring diversity (of color, of gender) to the profession. The New York book world is showcased, from the classic used bookstores like The Strand and Argosy, to new and trending small independently owned bookstores, which are apparently making a comeback. Take that Amazon, which is only alluded to. Booksellers are shown working out of huge storage spaces in New Jersey as well as their tiny apartments (to avoid the sky-high city rents). The dealers all talk about the three types of rare book buyers – private collectors, dealers, and institutions – and how books are becoming artifacts. Most collectors have had to expand their collections beyond books to related ephemera to keep their collections relevant.
"Collecting is about the hunt – the internet has killed the hunt."
The internet has changed the book business, even changing how dealers and collectors talk about what books are rare or not. What used to take years or even a lifetime to find or collect can be assembled on the internet in a rapid amount of time. Many of the booksellers opine on where the industry is going. Although there are certainly concerns for the future of books and collecting (especially Kindle and other digital options), the overall experience of The Booksellers is a positive one – books are special and so are the people who collect and read them. There is nothing like holding and reading a book. And as Fran Lebowitz points out, there is something very hopeful about seeing young people on the subway with their faces buried in a book.
The Booksellers is in color and looks great on a large-scale high-definition television screen. It has a running time of 99 minutes, with an aspect ratio of 1.78:1 (Original aspect ratio: 1.85:1), 16×9. The film is in English with optional SDH subtitles, 5.1 surround and 2.0 stereo.
There is some bonus material, including the featurettes "A Body of Language," "The Caretaker: In the Studio with Cara Schlesinger," and "Some Further Thoughts from Willam Reese." Also included are The Booksellers trailer as well as trailers for documentaries Citizen K, Diana Kennedy: Nothing Fancy, Incitement, and Linda Ronstadt: The Sound of My Voice.