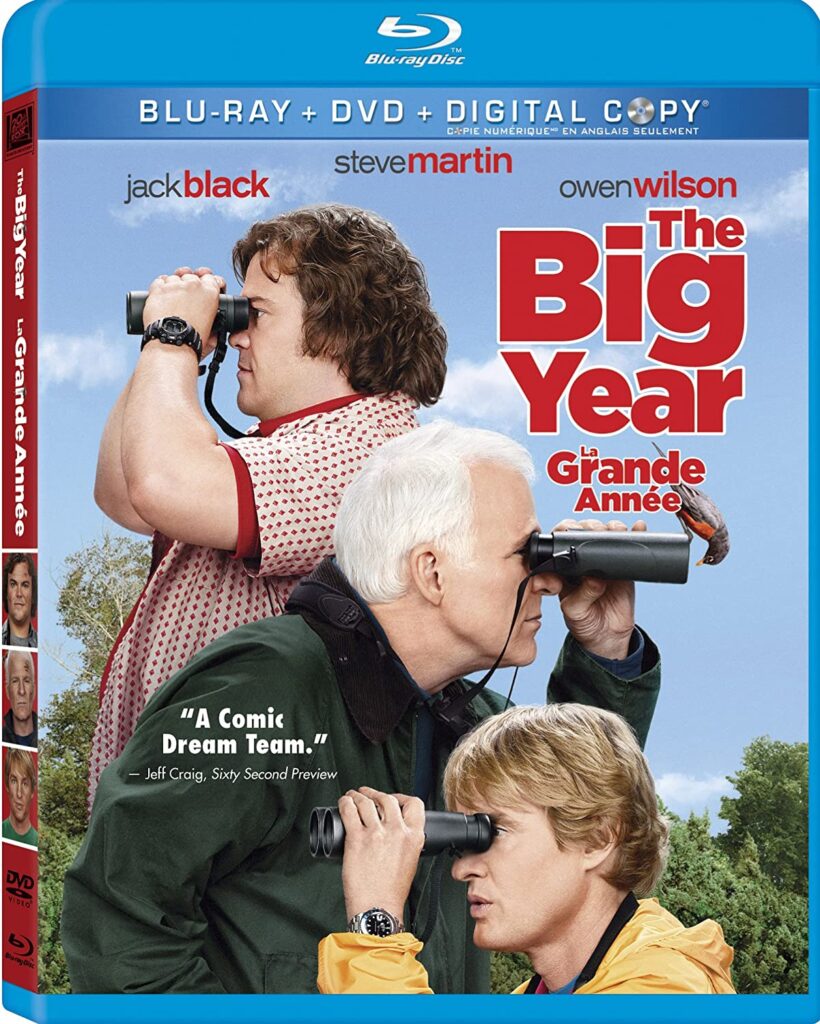 When they cast Steve Martin, Jack Black, and Owen Wilson in a movie, I figured it would be full of big laughs. I think most movie-goers were hoping for that when they saw this film. However, this was not the case with The Big Year. Instead, it was a film with great heart and a sweet story.
The film revolves around three bird watchers or "birders" who are each going on A Big Year. This is the true life competition that happens every year among bird watchers. The goal is to see who can spot the most species of birds in one calendar year in a given region. In the film, the region they compete in is North America.
Jack Black plays Brad Harris whose character serves as narrator for the film. Brad is a divorced 36-year-old who is in a job he hates and whose father disapproves of his obsession with birding. Steve Martin plays Stu Preissler, a wealthy entrepreneur fresh into retirement who has built a beautiful life for himself, but still holds the dream to win a Big Year. Owen Wilson plays Kenny Bostick who holds the current Big Year record of seeing 732 birds in one year. He is a man who wants to have a wife and family but the call of a bigger Big Year continues to haunt him.
Jack Black wasn't over the top and he toned down his "Jack Blackness" for this part. I really enjoyed him in this film. Steve Martin's character Stu is a really good guy and he played him so well; I felt like I was watching Stu's story not Martin playing a character. Owen Wilson was good as Bostick, but I feel like he is still learning the subtleties of playing a more toned-down role. However, he does make for a good bad guy.
The film uses great mix of graphics and John Cleese as a historical narrator to move the picture along. Rashida Jones, Brian Dennehy, and Anjelica Houston all play great characters as well. Denehy plays Raymond Harris, Brad's father, who learns at an older age how to meet his son. Jones plays Brad's love interest and Anjelica Houston plays a boat captain who takes birders out on the ocean. There are a few other names in this movie as well, but these three really stood out.
The Big Year felt more like and independent film with big stars. The story of people pursuing their passion, no matter how odd it may seem to others, is a touching one. It speaks to how a balance of family, work, and passion is an important thing to achieve. It is an easy watch that stays with you afterwards, and while it may not have been a huge commercial success, it's easy to see why Martin, Owen, and Black took these roles as well as the rest of the cast. This film felt like a gift that not everyone had a chance to receive.
The screener made available for this review only contained an extended version that was three minutes longer and barely noticeable. The Blu-ray also comes with an extended version of the film, "The Big Migration" featurette, 12 Deleted Scenes, and a gag reel.