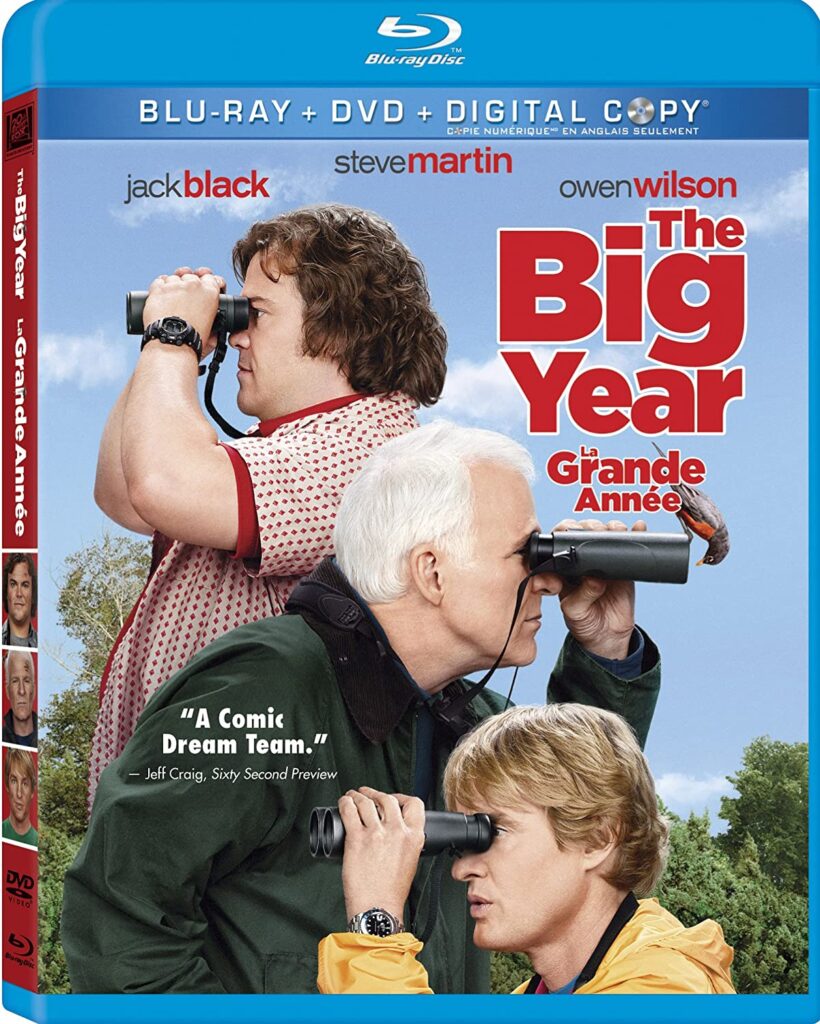 As Adolfo Celi's Emile Largo once said to Sean Connery's James Bond in Thunderball, "Every man has his passion." Now, why did I just reference my all-time favorite 007 flick in a review for an unsuccessful comedy starring Steve Martin, Jack Black, and Owen Wilson? Actually — and this is going to sound weird given the films some of the three headlining comedians of this feature have produced as of late — I found The Big Year to be one of the best comedies 2011, and one that the entire family can safely enjoy. In fact, as I look at the downright appalling revenue this film pulled in, I dare say it's a darn shame this one didn't reach more audiences in the theaters.
Fortunately, though, we can see The Big Year via the wonder of home video: a process that might (just might) pull in some of the money this one lost in theaters (it didn't even make a sixth of its $41 million budget back domestically — ouch!) thanks to poor marketing and a limited release. But, in order to do so, we have to push it. And so, I made a Thunderball reference. So sue me.
One thing that the marketing gurus (who are all, hopefully, unemployed now) neglected to mention in their ad campaign for The Big Year is its story, focusing instead on its trio of humorists (whom most audiences were tired of seeing, anyway), and promoting it as a slapstick flick. Those of you expecting their usual brand of humor (annoying, irritating, and awful) may be pleasantly surprised to learn this is something completely different. Speaking of "something completely different," another famous funnyman — Monty Python alumnus John Cleese provides his distinctive voice as the film's narrator, who delivers his dialogue à la David Attenborough in a nature documentary.
Why, you ask? Because, as the promoting genii behind the theatrical run of The Big Year forgot to tell you, The Big Year is about the art of birding, something those of us inexperienced in the ways of ichthyology might call "birdwatching." Inspired by the Mark Obmascik novel, The Big Year: A Tale of Man, Nature and Fowl Obsession, the film's title refers to an annual casual competition amongst birders wherein they try to spot the largest number of different winged species all across a specific region.
In this case, the reigning Big Year king (Owen Wilson) is looking to protect his status against any competitors. As it turns out, there are two men that are equally-keen-to-watch-the-birdies: a divorced programmer with low self-esteem (Jack Black), and a happily married wealthy CEO (Steve Martin) on the verge of a severe mid-life crisis.
I know, I know — it sounds like one of "those" movies, doesn't it? Surprisingly, though, there's more to The Big Year than a rat race. And I wouldn't really say there's much of a rat race in this movie, since it's not about some wacky competition.
From the human perspective, the film delivers a powerful message about life. Throughout the feature, we see Wilson's obsession threaten to destroy his marriage to Rosamund Pike (the fool), while Black's discovery of the prospect of love once again when he meets a beautiful birder (Rashida Jones). Meanwhile, Martin realizes that he may have waited too long to pursue his lifelong dream as his business faces one peril after another while he is away. The family vibe is also present as we see a tormented Jack Black finally form a bond with his bitter father (Brian Dennehy — choice casting if ever I saw it), and Steve Martin's onscreen son (Paul Campbell) and daughter-in-law (Cindy Busby) welcome a new heir to the CEO throne into the world.
Additional performers include Dianne Wiest (as Black's mum), Angelica Huston, JoBeth Williams (as Martin's wife), Kevin Pollak, Anthony Anderson, Tim Blake Nelson, Joel McHale, Barry Shabaka Henley, Steven Weber, and even Corbin Bernsen in a memorable bit as a crazy helicopter pilot. Most of the minor characters are just that — minor — but many of them bring a certain amount of charm with them (as well as a few well-timed adlibs here and there).
The Big Year also makes use of a number of dazzling locations (the cast and crew jotted well over 14,000 miles across North America in the span of two months in order to shoot this one), from the Yukon to the Everglades. And the lush scenery makes a superb transfer to High-Definition in this Blu-ray/DVD/Digital Copy combo from Twentieth Century Fox Home Entertainment. The Big Year is presented in a beautiful 1080p transfer with an great English 5.1 DTS-HD Master Audio lossless soundtrack accompanying (French and Spanish 5.1 Dolby Digital mixes are also included, as are optional English [SDH] and Spanish subtitles).
Special features for the Blu-ray include both the theatrical and extended cuts of the film, several deleted scenes, a gag reel, and a behind-the-scenes featurette that is actually worth watching for a change. The Standard-Definition DVD of the film only contains the theatrical version, and does not include any of the BD's bonus items.
In short, it's a pity Fox dropped the ball on this one when they released it to moviegoers nationwide. Had they presented it as the touching-but-still-funny PG-rated family feature that it really is, they could have made a few more dollars at the box office (better than a sixth of the budget at least!) from jaded family units looking to go see something that doesn't promise big laughs, but deliver scatological humor and raunchy double entendres. Actually, now that I think about it, The Big Year is perhaps the only film in cinematic history to show this many birds and never once have to resort to showing one of the flighty critters poop on anyone. How rare is that?
Give it a go — it may even prompt you to have a gain a little respect for some of the film's stars.