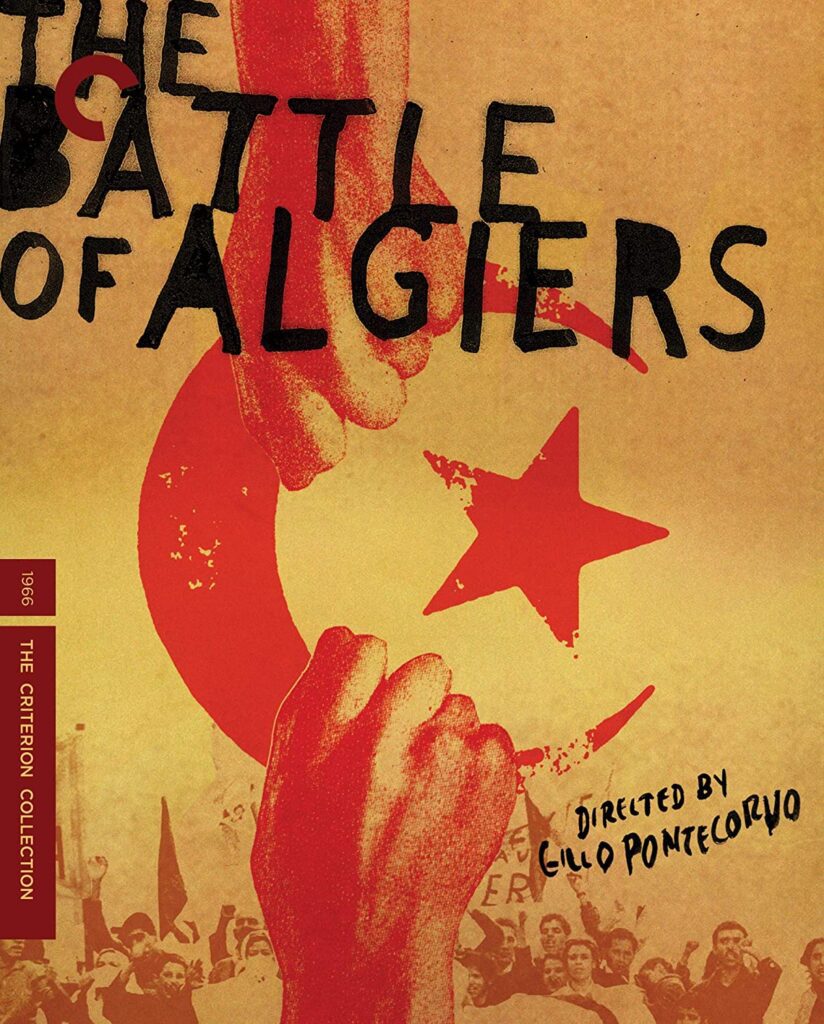 The Film
The Battle of Algiers doesn't simply tack on a cinema verité veneer to achieve a sense of realism; it lives and breathes gritty reality, so much so that one has to constantly remind oneself it isn't actually a documentary.
Some screenings of the film had a disclaimer attached at the head noting that not a single foot of film was from documentary sources, and it's understandable why. More than a stylistic flourish, the raw immediacy that pulses through every frame has ensured it's unassailable status as a political masterpiece.
The film recounts the struggle of the Algerian people to free themselves from French colonial rule in the 1950s. With guerilla tactics initiated by the Algerians' National Liberation Front and hard-fisted retaliation by French troops, the battle raged on for years and took thousands of lives with it.
Based on the accounts of National Liberation Front leader Saadi Yacef (who also plays a character similar to himself), the film is given electrifying authenticity by Italian filmmaker Gillo Pontecorvo. The film is staunchly anti-colonialist, and our sympathies are clearly aimed at the oppressed Algerians and their fight for freedom. And yet, though it's not undecided about whom to root for, The Battle of Algiers retains an air of ambivalence that forces the viewer to confront the horrors of war head-on. This is certainly no ra-ra propaganda film, with acts of terrorism and torture that are awful no matter who's perpetrating them.
Pontecorvo deftly moves between dialogue-heavy political maneuvering, often led by shrewd French Colonel Mathieu (Jean Martin), and visceral urban violence. Some sequences are almost unbearably tense, like a series of murders of French officers using hidden guns or an unforgettable trio of bomb-plantings by Algerian woman dressed as French socialites.
To say The Battle of Algiers remains incredibly relevant today seems to be stating the obvious, but it bears repeating. The potency with which this bombshell of a movie hits can't be overstated.
The Blu-ray Disc
The Battle of Algiers is presented in 1080p high definition with an aspect ratio of 1.85:1. This release improves upon the 2004 Criterion DVD in a number of subtle and pleasing ways, showing better contrast and grayscale separation and allowing grain to look especially film-like without any hint of video noise. There are spots where the film looks a little rough, especially in the beginning, but the transfer moves into some truly beautiful territory, with faces, clothing and structures showing immense amounts of fine detail. An upgrade is absolutely in order for fans of the film and the Blu-ray is a fantastic way to get acquainted with the film for first-timers.
Audio is presented in an uncompressed monaural track that handles the French and Arabic dialogue just fine. Moments of sudden loudness, such as violence-related effects and the striking and unusual Ennio Morricone score can sound a little harsh, but still retain good fidelity.
Special Features
Criterion's three-disc DVD release of the film was one of their most impressive collections of extras, and all those supplements have been ported over to two Blu-ray discs here. The wealth of material here allows one to explore the Algerian struggle from both a cinematic and historical perspective, with the more film-related features on disc one and the historical ones on disc two.
Disc one features an excellent Criterion-produced making-of on the film, with interviews with Pontecervo, Morricone, Yacef, Martin, DP Marcello Gatti and more. A piece with five directors — Julian Schnabel, Steven Soderbergh, Spike Lee, Mira Nair and Oliver Stone — features each weighing in on the film's impact on him or her. Literary critic Edward Said narrates a short documentary about Pontecorvo and his filmmaking philosophy. There's also a gallery of production stills and posters and two trailers.
Disc two features a documentary on the Algerian struggle for independence, with input from a number of historians and participants, including Yacef. An excerpt from a French documentary deals with torture tactics used in the battle, while U.S. counterterrorism experts talk about the lessons of the film. Also included is 1992 film Gillo Pontecervo's Return to Algiers, which features the director returning decades later.
The package also includes a thick booklet that features an essay by scholar Peter Matthews, excerpts from Yacef's account of the battle and his arrest, excerpts from the screenplay, an interview with screenwriter Franco Solinas and brief biographical information about more than 30 participants in the war.
The Bottom Line
Even without the thorough and fascinating bonus features or the stunning transfer, The Battle of Algiers would be an essential part of any film library. Criterion's release just makes it all the more indispensable.