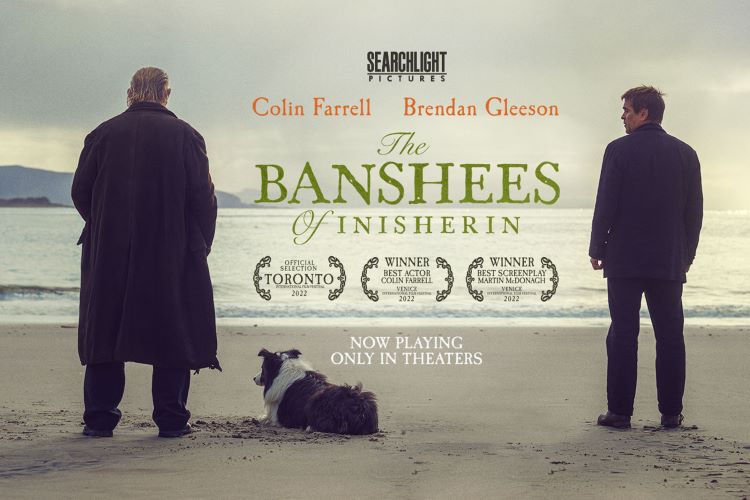 What could be better than watching two under-appreciated actors give it their all? It's watching two under-appreciated actors give it their all in a film that is a darkly delightful look at how a friendship can just suddenly end. While the subject at hand isn't something that one would think to be funny in any way and may come off as more tragic, Martin McDonagh's The Banshees of Inisherin is able to incorporate a humorous and charming approach. It's a traditional Irish folktale weaved into modern times, and it's a wonder to behold.
McDonagh has been in the playwright field for many years, only branching off to do film since 2008 with his magnificent feature-length debut In Bruges. Those unfamiliar with his work prior, myself included, saw what a powerhouse of a writer he is and saw how he is unafraid to take a film in a direction one wouldn't expect. In Bruges also featured tremendous work from actors Colin Farrell and Brendan Gleeson – both of whom reunite with McDonagh for The Banshees of Inisherin. It's hard to imagine a better combination when all three are involved, and The Banshees of Inisherin continues McDonagh's excellent streak of films that also includes Seven Psychopaths and Three Billboards Outside Ebbing, Missouri.
The Banshees of Inisherin takes place on a remote island off the coast of Ireland. Mind you, Inisherin is not a real place. But the way McDonagh brings it to life will make the viewer want to explore the area and revel in its beauty. Beautifully shot by Ben Davis, the quiet and simple atmosphere truly comes to life, and the sounds of the waves crashing on the beach are pure heaven.
Pádraic Súilleabháin (Farrell) and Colm Doherty (Gleeson) are two best friends on the island of Inisherin. One day, however, Colm decides he doesn't want to be friends with Pádraic anymore and ends their friendship. It's not because of something that Pádraic did; Colm just wants to go about his life differently. Even though the island knows of their friendship and how strong it is, Colm finds Pádraic to be too boring and wants to fulfill his legacy by composing music.
The abrupt ending of their friendship is a complete shock to Pádraic and everyone else. As a viewer, one may want to see if McDonagh will offer any answers as to why Colm just decided to end the relationship the way he did. But McDonagh doesn't offer an easy way out, nor does he try to hint at possible reasons. He lets the film play out, and his approach offers a more realistic take on how lifelong friends can suddenly be no more – even with no explanation.
The Banshees of Inisherin does go on a bit of a darker course, with Colm willing to go to extremes if Pádraic ever bothers him again. But McDonagh makes the film both dark and subtle in its humor without going too extreme. Whenever Farrell and Gleeson are trying to hash things out, it's a blast to watch. Gleeson is brash and unapologetic, and Farrell meets him at the same level. Both actors are at the top of their game here and are truly both worthy of the awards chatter they've been receiving.
Even the smaller roles here, such as Kerry Condon as Pádraic's sister Siobhán and Barry Keoghan as Dominic, one of the island's troubled lads, are magnificent to witness. There isn't a single actor who feels lesser than the others, and McDonagh is able to capture the greatness that each one has. And, yes, that also includes the donkey, Jenny. She's a blast to watch.
The Banshees of Inisherin is a bare-bones approach to storytelling and never tries to reach high. It presents itself eloquently and delivers a strong gut punch in the end. There's certainly a live-theater element to the film, but McDonagh makes it to where the film could work as both a play and a movie. It's a beautiful work of art and one that is worthy of your time.