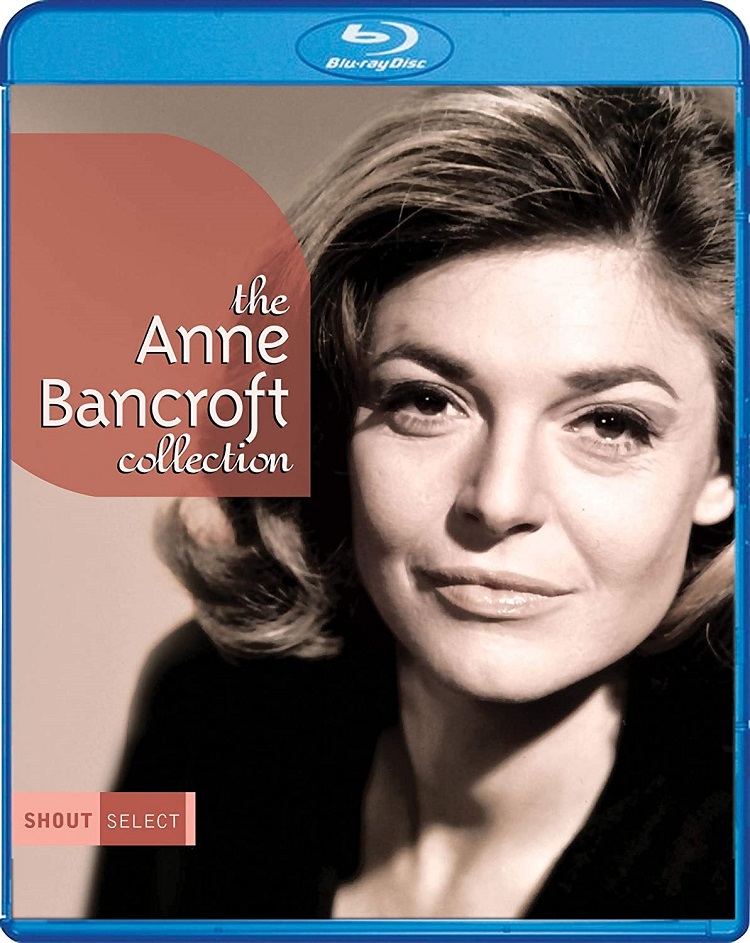 Anne Bancroft landed her first film role in 1952 as a lounge singer in Don't Bother to Knock. For the next 50+ years, she worked steadily on both the big and small screen and on stage. In that time, she won an Academy Award, three BAFTA Awards, two Golden Globes, two Tony Awards, two Emmy Awards plus a slew of others and garnered many more nominations. Today, she is mostly known as Mrs. Robinson, the older woman trying to seduce a young Dustin Hoffman (though in reality, she was just six years older than him) in The Graduate. But the rest of her long and illustrious career is mostly forgotten (outside of junior high classes that still discuss Helen Keller and then watch The Miracle Worker). The Anne Bancroft Collection, the new boxed set featuring eight of her movies from Shout! Factory, does a marvelous job of showcasing what a wonderful actress she was and how she deserves to be remembered for so much more.
This set covers the bulk of her career from that first film role in Don't Bother to Knock to her BAFTA-winning performance in 84 Charing Cross Road. It includes broad comedies, serious dramas, idiosyncratic art-house films, and era-defining blockbusters. It has some of her biggest films and a number of smaller, mostly forgotten movies. It was lovingly put together by her husband of 40 years, comedian Mel Brooks. The disks were all ported over from previous releases and the packaging is rather cheap, but it is an excellent collection of films that highlight one of the truly great movie star careers.
In Don't Bother to Knock, Bancroft plays Lyn Lesley, a lounge singer at a hotel who has just dumped her boyfriend Jed (Richard Widmark) who quickly spies a beautiful young woman, Nell (Marilyn Monroe) in the room across from his, and invites himself in. He gets more than he bargained for as she's become mentally unstable after her fiancé crashed in the Pacific and the film turns from romantic comedy to dramatic thriller. It is primarily a vehicle for Monroe who proves not only that she was a natural star, but that she truly had the acting chops to back it up. Bancroft's role is a minor, but an important one and she does it justice.
With The Miracle Worker, Bancroft was nominated for her first and won her only Academy Award. She plays the real-life character of Anne Sullivan, a semi-blind woman charged with teaching the blind and deaf Helen Keller (Patty Duke). It is a well made, beautifully shot melodrama that is about as Oscar-baity of a film I've ever seen. It garnered nominations for Bancroft, Patty Duke, director Arthur Penn, writer William Gibson, and costume designer Ruth Morely (only Bancroft and Duke won). I don't mean to say it is a bad film as it is really quite good but the subject matter was tailor-made for awards voters. The two leading actresses deserve those awards. Their performances are fully physical – they spend much of the movie fighting with each other – and wonderfully emotional.
The Pumpkin Eater is both the most British and the most arthouse film in the set. In it, Bancroft plays Jo Armitage, a complicated, lonely woman looking back at the ups and downs of her marriage to a successful screenwriter (Peter Finch). Its disjointed narrative makes it difficult to follow and its story a bit too soap opera-ish, but Bancroft and Finch are magnificent.
Once in a while a film comes along that seems to capture the cultural zeitgeist. It is a film that could have only happened at that particular time and place. The Graduate is such a film. Made in 1967, it tells the story of a young college graduate (Dustin Hoffman) who returns home filled with uncertainty and ennui. He stands for a whole generation of kids who rejected their parents' way of life, but were uncertain with what to do next. Bancroft plays the titular Mrs Robinson, a friend of his parents who suffers from her own malaise and decides to seduce him. It was a huge hit, that also helped transition Hollywood from the old mogul system to the new independent way of making movies with a whole new generation. It is completely Hoffman's film, but Bancroft is terrific playing the older, out of touch generation (though again she was only six years older than Hoffman, and but 36 at the time of filming).
With Fatso, Anne Bancroft not only stars but she also wrote and directed. Unfortunately, her gifts as an actress do not apparently translate to these other skills. The film was a critical and box-office failure and was her only attempt at writing/directing. It stars Dom DeLuise as an overweight, middle-aged man who is chastised by his family for his weight after an obese relative dies. He promises to do better, attends "Chubby Checker" meetings, and constantly fails to lose weight. He meets a pretty girl, which in any other movie would be just the thing to get him slimmer, but this is not any other movie. He keeps on eating but gets the girl anyways. I'm a pretty particular audience member when it comes to comedy. I tend to dislike broad comedies where everyone gets the joke and prefer my humor to have specificity. I feel like Fatso is so specific that it may only be funny to a particular set of humans on the planet (Italian Americans living in New York City during the late '70s/early '80s). For me, I just kept wondering how such a talented actress could have created such a dull, flat film.
To Be Or Not To Be is a remake of a 1942 film directed by Ernst Lubitsch (which we reviewed here). It is the first and only time Bancroft and husband Mel Brooks shared the screen (though he produced several films she appeared in). They play a husband and wife team who star in a theatrical comedy troupe whose lives are turned upside down when the Nazis invade their homeland of Warsaw, Poland. It is a scattered, very broad, and oftentimes hilarious comedy of the Mel Brooks variety. I was actually quite surprised when I realized that he was only an actor and had not written or directed it. Bancroft is good as usual, and proves to be adept at comedy, though her role is fairly insignificant here.
With Agnes of God, she is back to the full-on dramatic territory. Here, she plays Mother Superior at a Canadian convent where one of her nuns (played marvelously by Meg Tilly) has just given birth and killed a baby girl. Jane Fonda plays Dr. Martha Livingston, the psychiatrist assigned to determine if the nun is able to stand trial. Like The Miracle Worker, this is very Oscar-bait material, but unlike that film, the story doesn't hold up nearly as well. It asks some interesting questions about faith and mental health but then doesn't answer them in any meaningful way. The performances are all quite good though. It is mostly Fonda's show, but Bancroft plays off of her with her usual strength and grace.
One of the things I love about collection like this is finding a gem of a film that I'd never heard of before. 84 Charing Cross Road is that film in this set. It is a small film in which very little happens, but I found it utterly charming. Bancroft plays Helene Hanff, a script reader living an unremarkable life in New York City. In search of some obscure British literature books, which she cannot find in the city, she happens upon an ad for a bookshop in London and sends them a letter requesting said books. She receives a kind reply from Frank Doel (Anthony Hopkins), who works in the bookshop and the two begin a correspondence that lasts for decades.
When she learns the British are suffering under food rations, she sends boxes of canned meats and vegetables. She writes lovingly witty notes regularly and becomes quite friendly to the entire shop, and even Doel's wife. That's it really, that is the story. There is no real drama. The two never run off together, or even actually meet. The dialogue consists mostly of the various characters reading their letters under which we see bits and pieces of their daily lives played out in the background. Yet, it is a lovely movie. A tribute to kindness and the written word and a love of books. Marvelous, really.
Through these eight films, spanning some 35 years, The Anne Bancroft Collection wonderfully demonstrates what an incredible actress Bancroft was. Whether she was playing in broad comedies, had just a minor role, or was the lead in a Oscar-winning melodrama, Anne Bancroft commanded the screen. Her career deserves all the accolades and this set proves it.
The set comes in a fairly cheap plastic mega case (a chunk of mine broke at the bottom in the mail) but it does come with a very nice 20-page booklet with essays and liner notes. The disks themselves are all ported over from previous releases (including the recent Criterion Collection release of The Graduate) which contain all the previous extras. There are a lot of them including audio commentaries, interviews, and behind-the-scenes features. But if you previously own most of these films from those previous releases, then there isn't much reason to double-dip with this. But if you don't own those releases, then this is a bargain buy and well worth the price. Either way, it goes a long way into showing that Anne Bancroft deserves to be placed amongst the greatest actors of her generation.