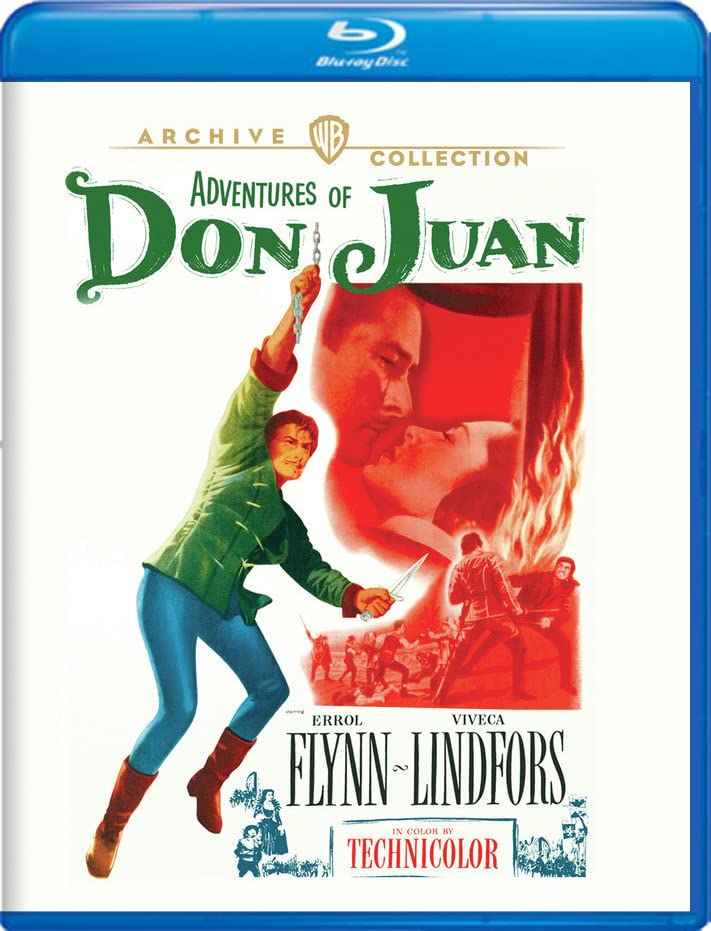 One of the great joys of becoming a classic film enthusiast is discovering an actor or actress and then immediately being able to watch more of their films. Unlike modern actors whom you have to constantly wait for them to make a new film, many classic actors have their entire filmography readily available. It is also a lot of fun to be able to recognize more and more names in old films. The more classic films you watch the more classic movie stars you get to know.
It was actually a bit shocking for me to realize that prior to watching The Adventures of Don Juan (1948) I had only ever seen one other film starring Errol Flynn, that being The Adventures of Robin Hood (1938). Had I been asked I would have sworn I had seen at least a few other of his films. He's an actor whose reputation precedes him. I knew the saying "In like Flynn" before I even knew who Errol Flynn was. I knew his reputation as a ladies man before I really even knew what that meant.
I imagine it was all that cultural information that made me think I'd seen him in more films than I actually have. Whatever the case, I've now watched The Adventures of Don Juan via a new Blu-ray release from Warner Archive and I'm looking forward to watching more films with Flynn in it.
When Don Juan works, it is a delight. When the film watches him climbing up vines to a woman's balcony to make love or when he's being chased down the same by her husband, it is a rollicking good time. When he's buckling his swashes, it is a joy to watch. But when the plot kicks in, it becomes a bit of a bore.
Flynn plays Don Juan, the real-life libertine (though I imagine this story is a complete and utter fabrication) who is known throughout Europe as a ladies man. He gets into a bit of hot water when he is caught in a romantic entanglement with a British noblewoman who is engaged to be married to a Spanish nobleman. Their marriage was a political one as the relationship between the two countries is contentious. Don Juan is sent home in disgrace, yet quickly wins back the respect of King Phillip III (Romney Brent) and Queen Margaret (Viveca Lindfors) as a fencing instructor who has sworn off any further romances.
Meanwhile, Duke de Lorca (Robert Douglas) is secretly pushing the King to go to war with England as a means to secure his own place in the court. There are other bits of palace intrigue, but none of it is all that exciting, or even a little bit interesting if I'm being honest.
Watching Don Juan try to be a good, honest citizen without any illicit affairs is about as exciting as it would be reading me writing about it. It isn't just that the plot slows down but tonally the film grinds to a boring halt. In the first part of the film while Don Juan is still romanticizing all those English women, the tone is light, playful, and full of good jokes. But once the plot gets moving everything turns overly serious. Things pick up in the last act. Don Juan naturally forgets his vows and has another dalliance with a woman who was involved in another diplomatic engagement. This brings out the swords and the fun. bringing it all to a whirlwind of an enjoyable finale.
Flynn was 39 when he made The Adventures of Don Juan and while he made many other films after it, this was his last swashbuckling adventure film. He would be dead just over ten years later. While he certainly doesn't look as young or spry as he did in The Adventures of Robin Hood (and Don Juan feels a bit like a spiritual sequel to that film), he's still quite attractive and more than capable of handling the action sequences. He still oozes charm.
The Adventures of Don Juan is a mostly charming, fun-filled adventure that does nothing if not make me want to watch more films with Errol Flynn. That it gets a little bogged down by the plot in the middle shouldn't keep you from buying, watching, and enjoying this classic piece of cinema.