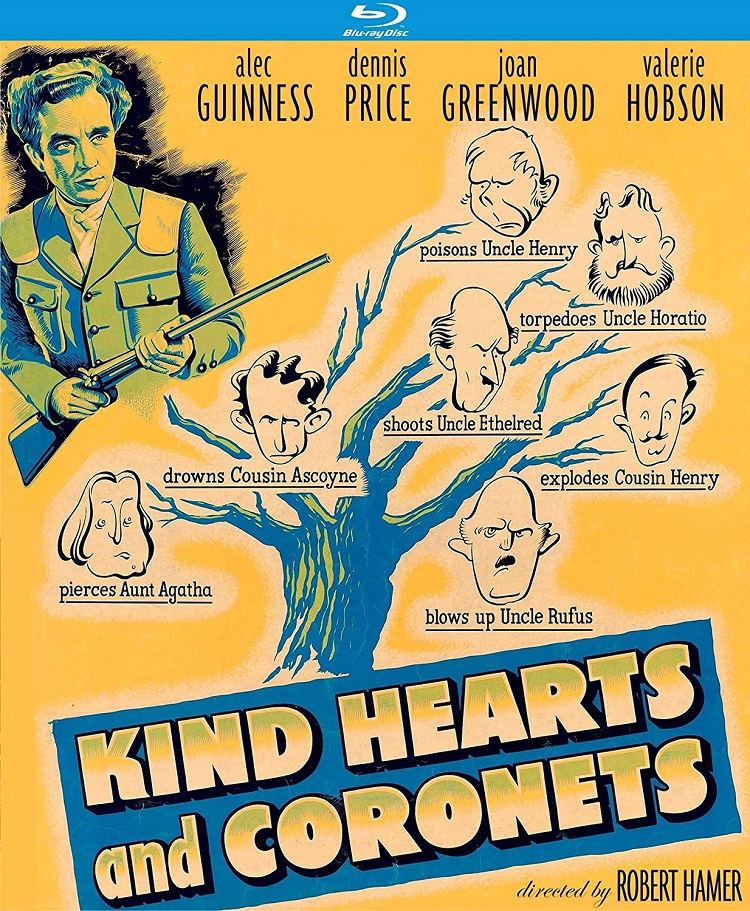 Day Three started with what turned out to be my favorite film of the festival, Kind Hearts and Coronets (1949). This black comedy stars Dennis Price as a disowned heir determined to claim his rightful place and avenge his dead mother by killing the remaining eight members ahead of him, all played by Alec Guinness. The 70th anniversary world premiere restoration by the British Film Institute involved taking the original 35mm nitrate negative, scanning in 4K resolution, and then extensive manual corrections to remove debris, warping, tears and scratches frame by frame. The result is extremely impressive.
It is understandable as to why it is ranked number six in the BFI Top-100 British films. Price is incredibly charming as the murderer on a mission. The two female supporting roles are beautifully played by Joan Greenwood and Valerie Hobson. Guinness has less screen time than I envisioned with playing so many characters but he makes each unique. He even appears as six of them in one scene, which took two days to film. Before the film, we were entertained by Jefferson Mays, who received a Tony nomination for his performance of nine family members in A Gentleman's Guide to Love and Murder, which was based on the same novel. I can't recommend this film strongly enough.
The rest of my schedule for the day ended up changing completely from what I had originally planned. Theater location, the possibility of a real meal, and the start of fatigue caused me to deviate from A Raisin in the Sun (1961), Nashville (1975), and Escape from New York (1981) for the films that follow. I am hoping that I will have another opportunity to catch them.
I wasn't able to see the entirety of my next film Love Affair (1939) due to an extended introduction by Dana Delany and my concerns about the line for the film that was to follow. I was not aware that An Affair to Remember (1957) starring Cary Grant and Deborah Kerr was a remake of this film also to be followed-by Love Affair (1994) starring Warren Beatty, Annette Benning, and Katherine Hepburn. For what I did see, this is the best of the three films. Irene Dunne sparkles with her witty, kind, and independent portrayal of the American singer who falls for a French painter played by Charles Boyer. Their chemistry is palpable and it is believable that after a couple of days of romance on the high seas they start to reconsider their relative pending nuptials to other people. I will seek this out to watch it again to conclusion.
Blood Money (1933) was the main reason for deviating from my original schedule for the day since I knew this would be harder to find after the festival than the others. Considered the ultimate pre-Code film, it was one of the first condemned by the Legion of Decency and subsequently banned with the arrival of the Production Code. Even with leaving Love Affair early and being in line an hour ahead of time, I still had one of my highest line-queue numbers yet and was a little nervous about getting in. Luckily, I made it and thoroughly enjoyed this dark, complex tale which follows a bail bondsman (George Bancroft) led astray by a wealthy socialite (Frances Dee). It is pretty tame compared to today's standards and fascinating that it was considered so lewd for the time.
While I was grateful for the schedule change after Blood Money, I was wishing I would have gone to Escape from New York after my last film of the day, Indiscreet (1958). Seeing Ingrid Bergman and Cary Grant is always delightful but this romantic comedy was not my favorite. Grant is incredibly handsome as the banker hiding a secret about his marriage from Bergman as the lovesick actress. Her wardrobe along with her impeccably lavish apartment furnished with art by the likes of Picasso make it an extremely elegant-looking film but I just never really got invested in the characters or their relationship.