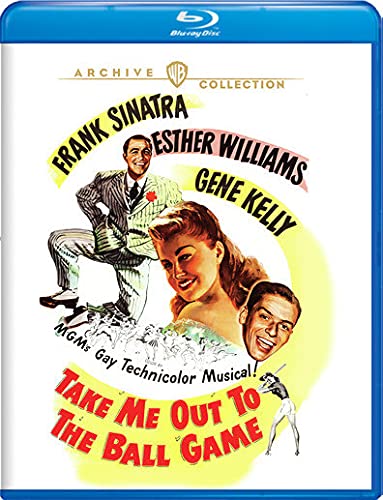 Now that it's mid-summer, it's peak time to enjoy the national pastime: baseball…in musical form. Warner Archive rounds the bases just in time with the Blu-ray debut of this classic MGM musical. The film's lineup is stacked with the sluggers Frank Sinatra, Gene Kelly, and Esther Williams in front of the camera, as well as Stanley Donen (Singin' in the Rain) and Busby Berkeley coaching behind the camera as choreographer and director. Kelly and Donen even have "story by" credits on the film, as well as credits for the staging of the musical numbers. The amazing talent guarantees a surefire hit, while the new restoration turns the stadium lights up to maximum brightness.
Kelly and Sinatra star as a couple of pro baseball players circa the 1920s who also work during the off season as vaudeville performers. When they report for spring training after winning the pennant the prior year, they're dismayed to learn that their beloved team owner has died and has bequeathed the team to an unknown young relative. That relative turns out to be the lovely Esther Williams, whose character knows quite a bit about baseball and demands professionalism from her players, chaffing playboy Kelly the wrong way. Meanwhile, another young lady (Betty Garrett) has her sights set on Sinatra, even though he's more interested in Williams. As the season progresses, so do their romances, leading up to another run at the pennant.
Although it's a Berkeley film, the subject matter means that he doesn't get any opportunities for massive soundstage spectacles with dozens of elaborately costumed showgirls. Instead, the musical numbers are generally intimate affairs, usually with just two of the stars interacting. It's a delight to see Sinatra and Kelly performing together, just as they did that same year in the more famous On the Town, although the studio direction seems to have encouraged them to ham it up as buffoons rather than suave ladies men. Indeed, that direction reportedly led to Sinatra walking away from his MGM contract, as he resented being portrayed as a wimpy clown and longed for more serious fare. Kelly didn't seem to have any similar misgivings, as he's at his most manic and bug-eyed here in a totally freewheeling performance.
As for Williams, she holds her own on land as the romantic interest, putting in some charming light vocal and dance work and avoiding her signature swimming numbers, aside from a quick solo dip in the pool. The one unforced error in the cast is Garrett, as she fails to generate chemistry with Sinatra and doesn't impress in her musical solo. Another black mark is some questionable content in a couple of the songs, one playing up the racial stereotypes of the three principal baseball players and another filled with tall tales about the girls they kissed in various towns around the country, one of which Kelly mischievously reveals he had to leave behind in Mississippi when he learned she was only 11.
The restoration is absolutely spectacular, with color saturation so rich it approaches HDR brilliance, barely perceptible film grain, and picture and sound that have been completely scrubbed of any imperfections. It exceeds even the lofty expectations set by years of impeccable Warner Archive restorations, and is a release that I would point to if asked to recommend one of their titles from a technical perspective. It's made even better with the bonus feature inclusion of two fully-produced musical numbers that were dropped from the final film, fascinating extras that allow us to see more work from these stars in their prime. Extras are rounded out with a fun Tom & Jerry short from that era, as well as the theatrical trailer.
Take Me Out to the Ball Game is now available on Blu-ray from Warner Archive. For more information, visit the Warner Archive website.