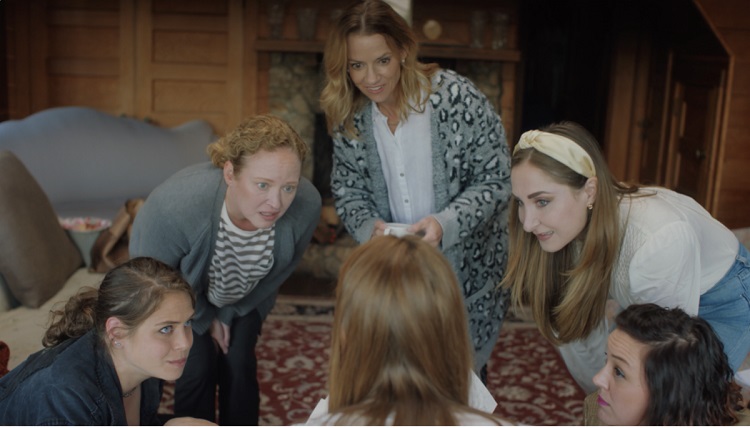 Karen-a-phobia, the fear of Karens could be an accurate tagline for Beth de Araujo's deeply disturbing Soft & Quiet, a film that's anything but. As a portrait of today's increasingly turbulent times, it couldn't be more relevant, for better or worse.
Filmed in real time and in one continuous take, the film takes place in a single afternoon and stars Stefanie Estes as Emily, an elementary school teacher who seems thoughtful and sincere, but that's on the outside. She's really a white supremacist who organizes a group of like-minded, alt-right women of different ages but same deranged viewpoints. They sit in a circle, complain about minorities and people of color, and blame them for all their troubles. After the meeting ends, she invites good friend Kim (Dana Millican), new member Marjorie (Eleanore Pienta), and abrasive Leslie (Olivia Luccardi) to her home for wine.
While getting a few things for the after-party, they encounter two mixed-raced Asian sisters (Melissa Paulo and Cissy Ly) who just want to buy something. The group berates, corner, and block them from leaving right away. When one of the sisters stands up to them, an altercation starts, and things get a little violent. Afterwards, they decide to teach them a lesson by going to their house to play a supposedly practical joke. But things go way too far and cause a series of unexpected tragedies that will change the courses of all their lives forever.
Despite leaving me very shell-shocked, I have mixed feelings about this film. Although the filmmaking technique (the single take) is hardly new, I still admired it, especially how it rises the tension to a fever pitch. However, I can't help but want to keep the film at a distance. Because of today's increasing violence, especially towards Asians and Asian-Americans, it feels too unbearable, which makes it a little too real, perhaps for its own good.
Estes is uncompromising in her role as Emily. She can be at first subtle, but then there are times where she is really scary. She comes across as an alt-right Stepford wife, one with sheer hatred and twisted baked skills (her Swastika cherry pie is a sight to behold). She seems to be a little too believable as this leader of Karens, who takes her entitlement to several extremes. The other actresses are also the same way, meaning that they are also very good at their roles, again perhaps too good. That's at least of the very few compliments I can give the film.
I don't think I'll be watching the film again for a long time. It's probably the most disquieting film I've seen so far during SXSW. It could give minorities and people of color nightmares, while also giving sick people (which definitely includes Trump supporters) some twisted ideas or perhaps inspiration. I don't want to say this, but you never really know. We obviously live in a world where basically anything can happen.